Best Luxury Hotels in Magnificent Mile, Chicago
Take a look at the best luxury hotels in Magnificent Mile.
See All Magnificent Mile Hotels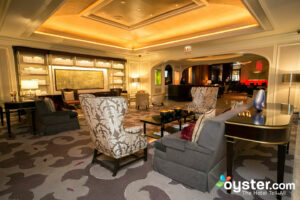 The luxurious Four Seasons Chicago is located on floors 30 to 46 of a limestone-and-glass skyscraper along the Magnificent Mile, atop an upscale shopping center. The hotel boasts a gorgeous indoor pool with a skylight and great views, an expansive spa and fitness center with modern machines, and a restaurant helmed by Executive Chef Sean Murray. Phenomenal views are a hallmark of the 347 guest rooms, which are decorated with modern art. It's one of the city's nicest hotels, and the location near the historic Water Tower and the Hancock Observatory can't be beat. The bathrooms -- most with shower/tub combos rather than separate walk-in showers and soaking tubs -- are a tad less luxurious than you'd expect in this price range, though still lovely. (The deep soaking tubs at fellow Magnificent Mile luxury hotel The Peninsula feature in-wall TVs.)
This 434-room hotel sits atop an upscale shopping mall right off the Magnificent Mile. The luxurious spa, the wonderful four-lane lap pool, the great design, and the outstanding address could make it one of the nicest hotels in town -- but the rooms fall a tad short — even after a multimillion dollar renovation in 2010 — with sophisticated but somewhat generic decor, some outdated amenities (such as CD players instead of iPod docks), and shower/tub combos in many bathrooms. The cuisine at the on-site brasserie doesn't wow, but the beautiful city views through its floor-to-ceiling windows do.
The upscale Omni Chicago Hotel has an enviable location on the Magnificent Mile, along with rare downtown perks like an indoor pool, a hot tub, a rooftop garden, and a sundeck. The 347 units at this all-suites hotel are geared toward corporate travelers though, with work desks and wet bars, though family-friendly perks such as welcome backpacks full of games for kids make it a good option for families. The hotel's contemporary American restaurant overlooks Michigan Avenue, and there's a popular lounge bar too. Travelers could comparison shop with the nearby InterContinental Chicago, which has lots of historic charm, but smaller rooms.
Everything in this modern, upscale hotel was upgraded in 2015, and it shows. Rooms in the 419-room hotel are spacious, comfortable and stylishly furnished with amenities worthy of a four-pearl property. Tastefully decorated rooms have modern touches like iPod/iPhone docking stations and plug-in media centers. Located in the heart of downtown, it's a good choice for both business and leisure travelers. While competitively priced, there are several other upscale hotels near the Magnificent Mile from which to choose, including the Omni Chicago and The James Hotel. And travelers attending an event at McCormick Place might want to consider the Hyatt Regency McCormick Place, which is a brief walk to the convention center.
This 790-room behemoth right on the Magnificent Mile mixes historic charm (a 1929 building, ornate columns in the lobby, a gorgeous indoor pool with Spanish tiles) with the contemporary decor of an upscale chain. Rooms at the hotel are located across two towers: the Executive Tower, renovated in 2015, and the Grand Tower, which underwent renovations in 2013. Standard rooms are smaller than those at the nearby Omni Chicago.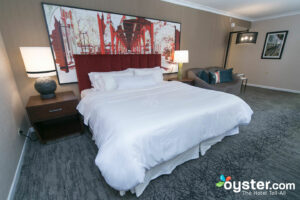 The 752-room Westin Michigan Avenue Chicago Hotel is a four-pearl property located right on the entertainment avenue of Magnificent Mile. The massive hotel draws many business travelers with its large selection of fully equipped meeting spaces and the new Westin Executive Club. A spa, fitness center, restaurant, and Starbucks cafe are also on-site, though for a hotel this size, it's surprising that there's no pool and that in-room Wi-Fi incurs a fee. Rooms feature trendy decor and include flat-screen TVs and spacious bathrooms, plus some have lake views. Renovations are taking place as of September 2015 and guests have made complaints about the noise and cleanliness due to this, as well as maintenance issues in rooms that have yet to be renovated. For those looking for a similar hotel in the same area but with an indoor pool, it may be worth checking out the Omni Chicago Hotel.
Located half a block from the famed Magnificent Mile, luxury boutique hotel MileNorth strives to give guests a modern, home-away-from-home experience that contrasts with the ornate, Gilded-Age sensibility of many other area hotels. With a cozy, living-room-style lobby whose cafe serves Starbucks, as well as a rooftop lounge with sweeping views of the city, the MileNorth can be both relaxed and trendy at the same time. The rooms are spacious for the neighborhood and price, with a unique bi-level configuration and all the requisite modern amenities, including flat-screen TVs, iPod docks, mini-fridges, and coffeemakers. There is in-room Wi-Fi and a well-stocked 24-hour gym, both of which are covered by a daily resort fee that is automatically tacked on to your rate. Still, this modern hotel is a good deal in a prime location.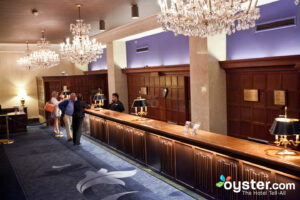 The 535-room Drake Hotel is a historic property on upscale Magnificent Mile and one of Chicago's grande dames, with an impressive lobby full of chandeliers and a beautiful classic decor. Despite its historic status, modern amenities abound: There is a large, modern fitness center; wonderful dining options on-site, including the Palm Court, where a harp player entertains the guests during the afternoon tea; and even a shopping arcade with designer names like Chanel. But while the rooms are adequate and have some modern perks (like flat-screen TVs and MP3 players), the bathrooms are sub-par and could use an upgrade. The golden days of this luxurious property might be slowly fading, but it is still a great pick for its history and high-class notoriety.
The 443-room Warwick Allerton-Chicago is one of the few hotels right on the Magnificent Mile, and its rooms -- with soothing blue-and-white color schemes, iPod docks, and flat-screen TVs -- are more modern and stylish than those at the neighboring Omni and Intercontinental hotels. But unlike its neighbors the hotel lacks a pool, and its rooms offer significantly less space than the Omni's generic two-room suites.