Best Luxury Hotels in Cinque Terre
The five ancient fishing villages that comprise Cinque Terre are tiny jewels rising out of the Ligurian Sea, clinging to rocky cliffs and mountainous terrain. Most Cinque Terre hotels are simple, small-scape operations, but these two have luxurious features that are uncommon for the area. Learn more about the top luxury hotels in Cinque Terre.
See All Italy Hotels
1
Widely considered the best (and most expensive) hotel Monterosso has to offer, the upscale 40-room Hotel Porto Roca has spectacular views of the Mediterranean Sea and surrounding hillsides. Rooms are small and have dated furnishings, but those with seaside balconies are worth the extra cost. The saltwater infinity pool and private beach area are noteworthy features, as is the property's central location for exploring the other towns of Cinque Terre. If a steep hillside setting is a deal-breaker, consider Il Giardino Incantato; the tiny bed-and-breakfast doesn't have a pool, but it's a short walk to the beach.
2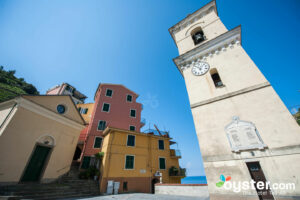 Located on the church square of Manarola, this upscale bed-and-breakfast has 12 beautiful rooms, each with elegant touches like four-poster beds and tall floral headboards. With a free evening aperitif and a couple of terraces to watch the sun set, it's a particularly good pick for a romantic stay. The marina and train station are a short walk downhill, but there are several stairs to climb at the hotel, which may make it a challenge to navigate for some travelers.