Best Kid-Friendly Hotels in Costa Adeje
Beaches, pools, and water sports galore make Costa Adeje in the Canaries an excellent choice for a family getaway. The area has the highest concentration of resorts on the island of Tenerife, but parents, don't worry! We did the legwork for you and found the hotels that are the best fits for families, taking things like room size and layout, hotel atmosphere, and food and entertainment options into account. Here are Oyster's picks for the best kid-friendly hotels in Costa Adeje.
See All Costa Adeje Hotels
1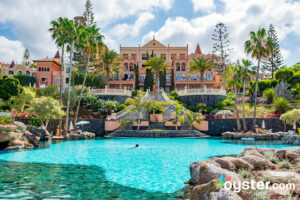 The luxurious 351-room Bahía del Duque's location, right on Costa Adeje's prettiest beach, is a major selling point. But the hotel has so much else going for it: A great kids' club complete with a kiddy pool and a teens' lounge, tennis courts, putting green, yacht day trips, astronomical observatory, and four large, attractive free-form pools surrounded by lush gardens and loungers.
2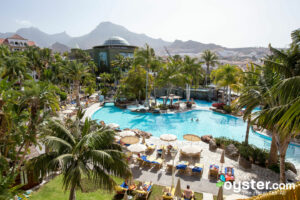 This 271-room luxury hotel is kid-friendly and large -- with five buildings, two pools, three restaurants, four bars, and a wide array of on-site amenities -- but sprawling grounds allow for uncrowded and mostly serene spaces. Rooms have elegant decor, balconies or terraces, and large bathrooms, most with separate showers and tubs. The location across the boardwalk from a sandy beach is a great perk. This is one of the best luxury hotels for the price in Costa Adeje (the Royal Garden Villas is nicer, but also more expensive).
3
A great pick for leisure travelers, La Plantación del Sur is a serene, luxurious hotel located a few blocks from one of the nicest beaches in Costa Adeje. Canarian colonial decor and solid amenities -- such as flat-screen TVs and pillow menus -- give rooms lots of appeal, and the four beautiful pools, plus a kiddy one, are rarely crowded. The hotel also offers two on-site restaurants (including a buffet), a kids' club with great activities, daily entertainment for adults and kids, two paddle tennis courts, and a free shuttle to the beach.
4
With its many kid-friendly amenities -- a kids' club, a playground, a kiddy pool section, and kid-friendly entertainment -- Jardines del Teide is popular among families traveling with young children. Decor is a little generic in all rooms and some units look tired, but there are two appealing pools (the main one has palm trees, manicured grass lawns, wooden bridges, and ocean views).
5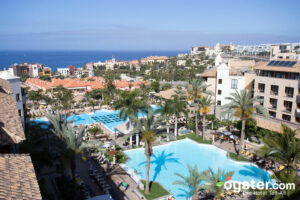 With a location right on sandy Playa del Duque, beautiful pools, several good restaurants, and a wide array of on-site amenities, the upscale Dream Hotel Gran Tacande is a great option for those looking to spend some relaxing days on the beach. Rooms are spacious, with classic decor, modern amenities, and balconies -- but some may find their style to be a little bland given the hotel's advertised luxury status. The hotel is large and popular among families, but somewhat quieter than other resorts in Costa Adeje.
6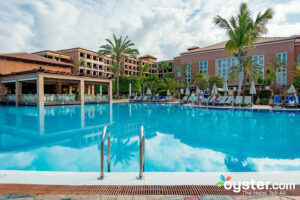 An all-inclusive resort catering to families and couples, the H10 Costa Adeje looms large as a 467-room property. Guest rooms are spacious and sunny, with contemporary decor, furnished balconies, flat-screen TVs, and free Wi-Fi. With three pools, three restaurants, fitness and wellness facilities, and a kids' club, the property offers all the amenities expected for an upscale property at this level. The hotel's beach, however, is narrow, rocky and not quite appealing. Guests looking to take a dip in the ocean can use the free shuttle bus service to Las Americas or walk to Playa del Duque, one of Costa Adeje's best beaches.
7
This large, family-oriented all-inclusive advertises itself as a luxury property, but it is actually upper-middle range, both in terms of amenities and style. The main pool (there are three) is large and heated, with a small section for kids close to the bar area, and lots of loungers. The fitness center features tennis, squash and basketball courts, table tennis, and mini golf, and the kids' club offers daily activities for children four to 12, as well as a playground and an arcade for teens.
8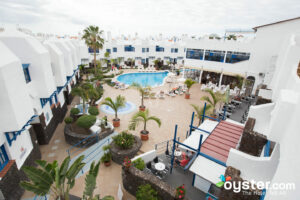 Bahía Fañabé Suites is a family-friendly, mid-range hotel located three blocks from Playa Fañabé, one of southern Tenerife's most famous beaches. Rooms are spacious and well-equipped, with kitchenettes, furnished balconies or terraces, flat-screen TVs, and sofa beds for two extra guests. There is a large free-form pool with a kiddy section; a solid buffet restaurant; a small spa; and a game room. But there are fees for in-room Wi-Fi and for using the fitness center, and street-facing rooms can get traffic noise.
9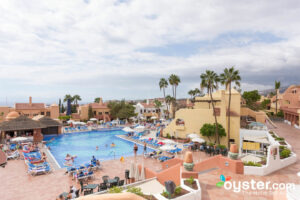 The 205-room, all-inclusive Dream Hotel Villa Tagoro offers families lots to do on-site. There is a large main pool as well as two smaller ones  -- including one for kids. Other offerings include tennis, squash, and basketball courts; daily entertainment, and activities for kids and teens. The upper-middle-range rooms are clean, contemporary (if generic), and large, with separate living areas, balconies or terraces, and modern bathrooms. It is a solid pick for those traveling with children, but some guests may miss having access to a spa and a fitness center. Also, the uphill walk from the beach -- located 15 minutes away -- can be challenging.
10
This Be Live is a mid-range chain hotel located within walking distance of a couple of great beaches. With a solid buffet restaurant; spacious rooms that can sleep up to four guests (except Promo Rooms, which have a maximum capacity of two adults); three pleasant pools; a small spa; and several kid-friendly amenities, the hotel offers good value for families. But room decor is a little uninspired, and there are several extra fees that can be annoying, including for Wi-Fi and for use of the in-room safe.
11
Hovima Santa María is a basic mid-range hotel located a short walk from the beach. Its 402 studios and apartments have fully equipped kitchenettes, flat-screen TVs, and balconies. Decor is simple and somewhat dated throughout, but rooms have all the basics for a relaxing vacation on a budget. There are two small pools, a tennis court, a kids' club, a lobby bar, and a buffet restaurant -- but the food is just average and most guests choose to either cook in their apartments or eat out. Those looking to save some cash may want to note that there are several extra fees that can add up, including charges for Wi-Fi and use of in-room safes.
12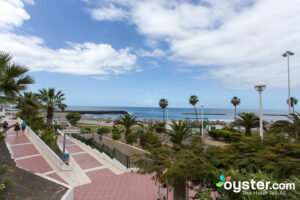 Families with young children would do well at this 473-room, mid-range all-inclusive. It is not a 4-star property (as advertised), but it does feature a few nice amenities, including a large pool with a kiddy section; a kids' club; two restaurants; and daily entertainment. The location a two-minute walk from a great beach is a major plus -- but rooms, although spacious and sunny, are basic, with dated decor, average bathrooms, and balconies furnished with plastic chairs. It's a busy hotel, so couples looking to spend some quiet days in the sun may want to compare rates at neighboring adult-only Hovima Costa Adeje.
13
This Iberostar is a large, upper-middle-range family-friendly beachfront resort located near bars, restaurants and shops, and adjacent to a small sandy beach. With two large pools; entertainment both for kids and adults; a well-equipped fitness center; two restaurants; and several meal plans, the hotel appeals to a broad range of travelers. The property is in the process of updating its rooms, with only the top floors having been refurbished so far. Renovated rooms look fresh and contemporary, with all-white decor and a few bright accents. Non-renovated units, however, are underwhelming. For a slightly more luxurious stay at very similar rates, travelers may want to compare prices at H10 Gran Tinerfe, located a few blocks away and also directly on the beach.
14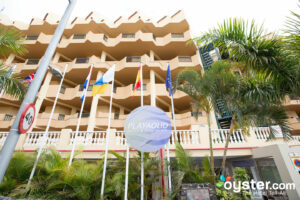 Playa Olid is a family-friendly mid-range hotel located a 10-minute walk from the beach. The property has 202 studios and one-bedroom apartments with flat-screen TVs, fully stocked kitchenettes, and balconies or terraces. Most units have received top-to-bottom renovations and are contemporary and comfortable -- but non-renovated rooms are somewhat drab and in need of urgent updates. The buffet restaurant offers a good spread, and the two pools (although small) are pleasant spots for lazy days in the sun. There is little else in the way of amenities, but for an inexpensive family vacation near the beach, Playa Olid is a good pick.