Best Kid-Friendly Hotels in Costa Rica
Beautiful rainforests, long sandy beaches, and rampant wildlife make Costa Rica an amazing vacation for nature lovers. A wide range of accommodation options, including eco-friendly stays, help make it a doable getaway for families. If you're wanting to bring the kids along to this Central American country, there are some hotels that are better suited for entertaining little ones. Here's our roundup of the best kid-friendly properties in Costa Rica.
See All Costa Rica Hotels
1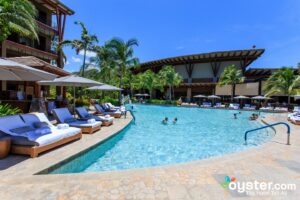 Parents won't have to worry about their kids getting bored at the secluded and luxurious Four Seasons. The kids club and teen center can be used free of charge and offer dozens of activities, both indoors and outdoors, under staff supervision. Babysitting is available for $20 an hour; there are special menus available for the young ones in all of the hotel's restaurants as well as for room service; and the resort provides rollaway beds and cribs free of charge. Plus, there are two beautiful beaches and three pools.
2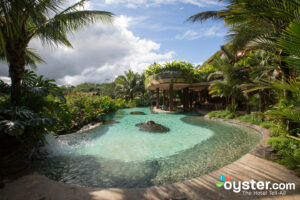 A posh wonderland for affluent Americans and their kids, the 47-room luxury resort The Springs is 165 acres of seemingly endless pools and hot springs, restaurants, and activities -- all hidden on a volcano-facing slope seemingly in the middle of nowhere. Kids are everywhere, bellying up to the sushi bar with or without mom and dad, playing FIFA 2014 on the PS4s in the game room (no parents in sight), or trying pool after pool and hot spring after hot spring. The hotel is a parent's dream, giving kids plenty to keep busy; there are babysitting service and a staff-managed game room.
3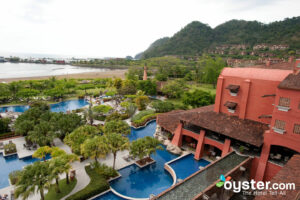 The Marriott Los Suenos is one of Costa Rica's few large-scale resorts, with 201 comfortable rooms, an 18-hole golf course, a big pool complex, full-service spa, six restaurants, and beautiful Spanish colonial architecture. But the on-site beach is extremely rocky, so you may want to take a taxi to one of the other nearby beaches instead. The Tortuga Kids Club has activities like puppet and balloon making for kids 4 to 12.
4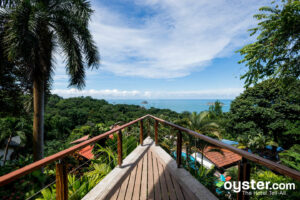 The amenities here are a main pull for families: two pools, two restaurants, a movie theater, and a wildlife refuge (complete with a crocodile lagoon and a butterfly habitat) across the street. Rooms are not particularly luxurious, but they all come with a wet bar, and most can sleep a family of four.
5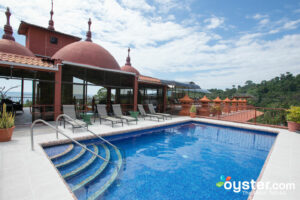 For those who want fast access to both Manuel Antonio National Park and Manuel Antonio public beach, it doesn't get any closer than three-and-a-half pearl Hotel San Bada, built directly next to the park's entrance and a two-minute walk from the sand. The hotel is large enough to provide separate facilities for families and couples. There's a wonderful adult-only rooftop bar and small pool that provides a sunset happy hour and food service, and a family pool with a waterslide and swim-up bar. Rooms, though spacious and clean, are a bit of a letdown style-wise.
6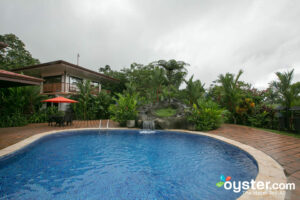 This 11-acre, 68-room resort appeals to families with kids, couples, and travelers who prize privacy, and is centrally located 10 minutes north of town on the way to the Arenal National Park entrance. Rooms are perfectly adequate for a mid-range property, and feature wood ceilings and photographs of old La Fortuna; all have outdoor space and most have a private hot springs pool and volcano views. A public freshwater pool with swim-up bar and a hot-spring pool are also available.
7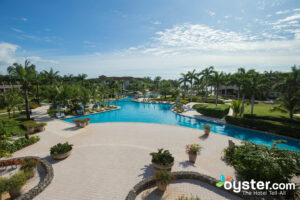 The JW Marriott is not the typical noisy and bustling kid-friendly hotel. While parents indulge in the great adult amenities (like the gorgeous, world-class spa or the free classes at the fitness center), kids can participate in the resort's free kids club (complete with video games and foosball), and swim in the stunning free-form pool (the largest in Central America). The hotel, located directly on lovely Mansita Beach, also offers babysitting services and cribs.
8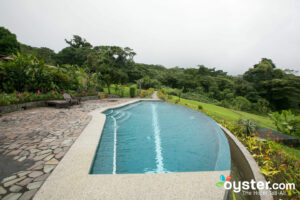 The 50-room Arenal Lodge is like a summer camp in the rainforest. It offers a good likelihood of up-close-and-personal encounters with the local fauna, thanks to the daily guided tour through the hundreds of acres of trails; guests may also be greeted by friendly, hungry coatis at the front gate. Arenal Lodge also makes a point of accommodating kids -- there are a playground, a kid's activity room, plenty of room options with flexible sleeping arrangements, and no charge for children under 12.
9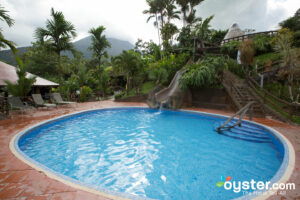 The 98-room, upper-middle-range Los Lagos is the Disneyland of Arenal, with a water park, small zoo, and hotel all rolled up into a 1,050-acre property. It appeals to families with young children, but may turn off international travelers looking for that "authentic" Costa Rican experience. Rooms are functional but rather bland and cramped -- you can tell that they're mainly meant as recharging stations for families who want to spend most of their time in the pools, zip-lines, or trying to make the alligator blink.