Best Tree House Hotels in Costa Rica
Whether your particular adventure fantasy involves the Swiss Family Robinson, Ewoks, or Peter Pan and the Lost Boys, these Costa Rican eco-camps in the canopy are a dream come true for your inner child.
See All Costa Rica Hotels
1
A hand-lettered Spanish sign on the gate reads, "Welcome to Our Paradise" -- the perfect intro for this little oasis, where guests can disconnect from their everyday world on one of the area's top beaches (Punta Uva) or in the solitude of the jungle. The lodge provides a true nature lover's experience: Sloths, monkeys, agoutis, exotic birds, lizards, and other animals are often seen scurrying about in the high palms, bamboo shoots, and small water channels stemming throughout the Gandoca-Manzanillo Wildlife Refuge locale. One of Tree House Lodge's four rooms is the Tree House, a magical space built around 100-year-old Sangrillo trees, with an open-air living room, bathroom (where toilets and a shower are built into the trunk), and full kitchen; a wooden bridge leads up to bedrooms higher up in the trees. Like every other house, there's a quaint terrace out back with couches, tables, chairs and benches, a barbecue area, and a flame-heated hot tub in the shape of a cooking pot with a lid. The open layout here can feel exposed, but it isn't within direct line of sight of any neighboring buildings.
2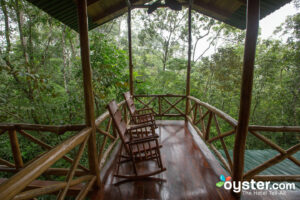 For travelers seeking the company of howler monkeys and tree branches, staying in one of the seven sky-high tree house bungalows at this eco-resort would very much be barking up the right tree. The rough-hewn wooden bungalows sit at eye level with tree sloths, monkeys, and other arboreal wildlife, making you feel like a part of the rain forest, not just a temporary observer. When guests care to return to the forest floor, there are private trails leading to a waterfall and swimming hole, and a common area for breakfast that feels like it came straight out of summer camp (coffee is delivered to the tree houses every morning before breakfast). Every night, there is an organized walk through the rain forest with an exclusive guide who speaks English and Spanish.
3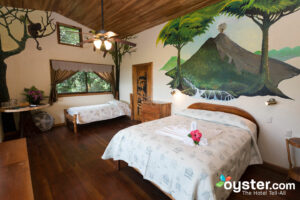 This quirky and cheery hotel is one of the most remote options guests can book in the Arenal region; only Finca Luna Nueva Lodge (which also has a working farm) can compare in terms of seclusion. Almost every room at Leaves and Lizards is unique, and nearly all offer spectacular views of the surrounding countryside. The Tree House room features a lofted sleep area for kids (accessed via a knobby log ladder, of course), a kitchen, outdoor shower, and panoramic views of the volcano and mountainous rainforest. There are no TVs or air conditioners here, but few guests seem to mind.
4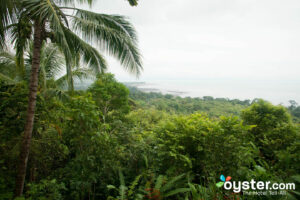 Pulling up to Lapa Rios -- Costa Rica's original eco-lodge -- for the first time feels very much like walking into a scene in "Jurassic Park" (minus the dinosaurs). Built over 350 feet above the sea, this luxurious retreat was designed in harmony with the surrounding forest and beach environment -- only a minuscule part of the 1,000-acre private reserve is developed. The thatch-roofed main lodge and 17 tree-house-like bungalows line three ridges and are made from locally harvested materials. Each bungalow has fabulous ocean views and a huge private deck, as well as a thatched roof, mosquito netting, and gorgeous woodwork. Their large bathrooms feature two showers (one rainfall shower). Back in the main building, climb the three-story circular stairway to overlook the forest canopy and the ocean.
5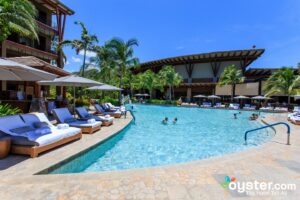 The Canopy Suites at Four Seasons Resort Costa Rica are a five-pearl hotel's take on the tree house experience. While these units are not hoisted into the branches, they are perched in the hills amid the trees, with views of the Pacific Ocean. Suites have undulating roofs inspired by armadillo shells and decor featuring materials like wood, bamboo, and stone. But these are far from the rustic tree houses so common in Costa Rica. Four Seasons' suites feature marble bathrooms with separate soaking tubs and walk-in showers, stocked minibars, and nightly turndown service. The suites' extra-large terraces have tables and chairs and loungers; some have infinity-edge plunge pools.
6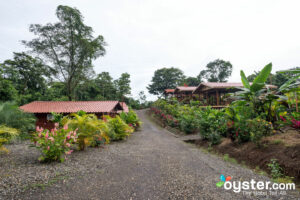 This rustic property caters to a wide range of guests, from nature-loving couples seeking a romantic tree house getaway to adventurous families needing a place to bed down after exploring the nearby volcano park. All 18 freestanding cabins are bright, open, and rustic with modern amenities including free Wi-Fi, mini-fridges, and private balconies. However, the Treehouse and Glass Bungalow categories upgrade to three walls of floor-to-ceiling windows with lovely, panoramic rain forest views. The list of modern amenities in every category is solid; it includes flat-screen TVs, air-conditioning, mini-fridges, coffeemakers, and fast, free Wi-Fi.
7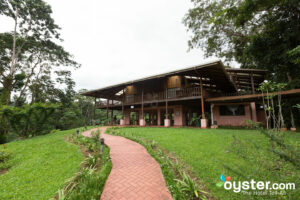 Finca Luna Nueva Lodge is a hotel where the 200-plus-acre farm takes precedence, not the other way around. This shows in every aspect of a stay here, from the free-range pigs and water buffalo you might encounter on one of the trails (don't worry, they're behind lightly electrified fencing) to the free daily tour of the farm, where guides explain the hotel's eco-conscious philosophy. Finca Luna Nueva Lodge's collection of rooms include mellow bungalows and two-story plantation-style houses -- Casa Luna and Casa Sombra. Both houses are large and stilted, with wraparound porches and just a handful of rooms (four and three, respectively). All rooms in Casa Luna and Casa Sombra are high-ceilinged, decked out head-to-toe in wood, and have lofty views of the surrounding rain forest. Casa Sombra is set on the property's highest point, so it affords stunning views of the valley and Platanar Volcano.
8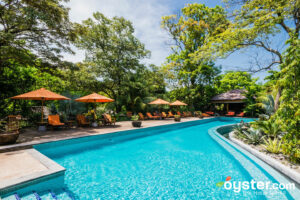 The Bodhi Tree Yoga Resort is an eco-chic property in Nosara, a hip surf town and yoga center. All 26 of its rooms feature outdoor rain showers with pebbled floors, canopy beds, air-conditioning, and free Wi-Fi. The bungalows are slightly elevated above the ground. Each of the freestanding units is immersed in greenery and features private wooden decks and sloping wood-plank ceilings with overhead fans. Room rates include breakfast and one yoga class per day.