Best Boutique Hotels in Cozumel
Cozumel's Hotel Zone has all the big, bland lodgings you'd expect from a major cruise port. These six boutique hotels stand out for their style, intimacy, and personalized service.
See All Cozumel Hotels
1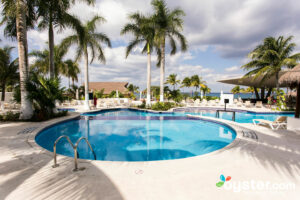 The four-pearl Fiesta Americana Cozumel All Inclusive is an intimate boutique hotel with plenty of amenities. Interiors and all 102 rooms are sleek and cool, with trendy art pieces, clean lines, and stylish wood furniture. All rooms are outfitted with flat-screen TVs, free Wi-Fi, and minibars, but they lack coffee- and tea-making facilities. The rooms' furnished balconies are lovely, especially those with ocean views or terraces with private pools. The small beach has direct ocean access to a snorkel-friendly part of the sea from a boat dock with over-the-water beds and a trampoline. As an all-inclusive hotel, there are plenty of dining options, which include a buffet restaurant, four restaurants with Mexican and international cuisine, and coffee bar. Though families can enjoy a kids' club and daily and nightly activities, the atmosphere is more suited to couples and adults.
2
This upper-middle-range property delivers an all-inclusive experience near the beach. The lovely grounds shroud the open-air architecture in greenery, while decor combines a tasteful contemporary style with rustic touches like thatched roofing, stone floors, and wooden ceiling beams. The resort's main focus, as evident by its name alone, is exploration and providing guests with adventures and new experiences. Many activities are included in rates here, such as the daily guided expeditions around the island by way of snorkeling, horseback riding, kayaking, hiking, driving dune-buggies, and other means. With just 56 rooms, it's pretty small for an all-inclusive resort, especially compared to others on the island, so the atmosphere feels private and service is attentive and personalized. For rooms with ocean views and faster access to features, check out the resort's sister hotel, Fiesta Americana.
3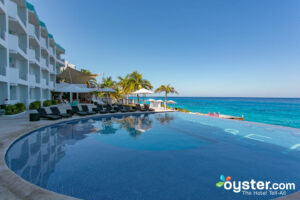 For a 44-room hotel, this hip oceanfront boutique offers an impressive set of features, including a PADI-certified diving hut, a one-room spa, and yoga classes several times a week. Its gorgeous infinity pool takes center stage during the day, with lounge music and bar service. It's not big enough for laps due to its two-tiered design, but the ocean views are excellent. The whirlpool -- built on the natural rocks that shape the bay -- is a favorite at sunset. All rooms are individually decorated with unique crafts made by Mexican artisans. This is part of an outstanding effort by the hotel to help domestic craftspeople; there is even a workshop space on the property where guests can learn to make various Mexican crafts from local instructors.
4
Casita de Maya is an intimate two-story hotel centered around a small swimming pool in a cute courtyard. The value boutique is located about a 10-minute drive from the beach (and near the Cozumel International Airport) and guests get free access to Playa Azul Beach Club with their stay. Rooms are wonderful for the price. All are incredibly spacious and come with a flat-screen TV, mini-fridge, Mayan art, and free Wi-Fi. The American owner lives on-site and is happy to recommend nearby restaurants or arrange for a local chef to prepare authentic breakfasts and dinners at the hotel, with advance notice. But those wanting trendy oceanfront accommodations will likely prefer Hotel B Cozumel.
5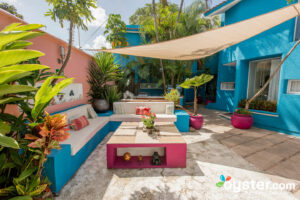 From the exterior, the marine-blue Villas Las Anclas looks almost nondescript. But once past the gates, guests are greeted with the sight of a pretty high-walled patio with a barbecue area, a bubbling waterfall, and a jicama tree. The property's seven two-story villas are centered around the patio, each one with a built-in sofa, a kitchen, and a flat-screen TV with a DVD player and cable. As the villas provide kitchens and are within fast walking distance of restaurants, food and beverages (other than free coffee in the lobby) aren't provided at Villas Las Anclas, but there are many free creature comforts, such as fast and reliable Wi-Fi, beach towels in the villas, and filtered water near the barbecue area. However, families may prefer the spacious rooms at Casita de Maya, as the cement spiral staircases in the villas here are not ideal for small children.
6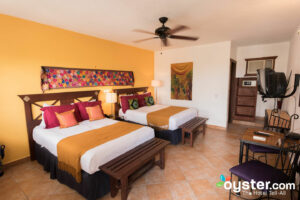 Flamingo Hotel is a sweet and simple three-pearl boutique with low rates and one of the best locations in Cozumel. It's built just one block from the main drag of Avenue General Rafael E. Melgar and three additional blocks from the ferry to Playa del Carmen, putting the Hard Rock Cafe, souvenir shops, and bars within a five-minute walk, but most of the noise and chaos is still far from the guest rooms. Each of the 18 rooms is individually decorated and includes free Wi-Fi, cable TV, and air-conditioning. Aqua Bar, located just off the lobby, serves free coffee in the morning and cocktails for happy hour. A simple continental breakfast is included in the room rates. If a swimming pool is a must-have, try Casita de Maya or Villas las Anclas instead.