Best Kid-Friendly Hotels in Destin
With beautiful clear, green water and exceptionally soft sand, Destin is a popular pick for beach-seeking vacationers. Most tourists spend their days building sand castles, parasailing, or simply soaking up the sun. For traveling families, the best hotels will have large rooms, a pool, beach access, and other kid-friendly amenities. If you're looking to head to the Emerald Coast with the little ones in tow, then check out our picks for the best kid-friendly hotels in Destin, Florida and get inspired!
See All Holiday Surf & Racquet Club Hotels
1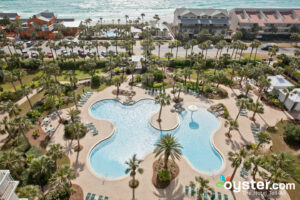 Sterling Shores is one of the nicer (and larger) condo resorts in the Destin area. The property has a bit more style than the competition, though the bar isn't especially high. The rooms are bright and airy, and there are two pools at the resort. While allunits have a Gulf view, the beach is actually across a small road. With special events for kids and a small movie theater, Sterling Shores is a great choice for families.
2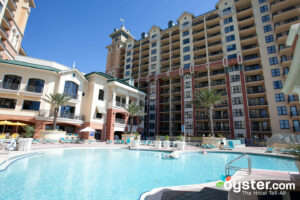 The massive Emerald Grande at HarborWalk Village is a significant presence in the Destin skyline. It's perched above the shopping, dining, and entertainment destination HarborWalk Village, and offers great views of Destin Harbor. Spacious condoshave balconies, full kitchens, and laundry facilities -- attracting families looking for space -- but decor can vary widely between units. Perks include a funky-shaped outdoor pool, well-equipped fitness center, and free Wi-Fi, but there is a mandatory resort fee and some guests complain of nightly noise from HarborWalk village.
3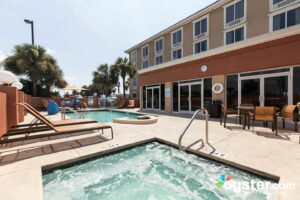 The 72-room SummerPlace Inn in Destin has the look and feel of any number of chain hotels scattered along the Florida Panhandle, but it is actually an independently owned property. British-Colonial style rooms are priced friendlier than at nearby resorts, and the hotel has eco-friendly policies. Perks include a free daily breakfast, two pools, and free Wi-Fi, but some guests complain about the lack of direct beach access.
4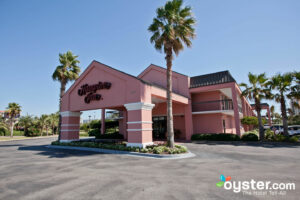 The 104-room Hampton Inn Destin is a typical hotel chain option with a few perks. A free daily breakfast, outdoor pool withJacuzzi area, and close proximity to the beach are all appealing features, but some guests complain about noise from the nearby major highway. Rooms are clean and modest, with microwaves and mini-fridges. While Internet is free and the Hampton Inn is located near other tourist attractions in Destin, some amenities are outdated and some rooms still allow smoking.
5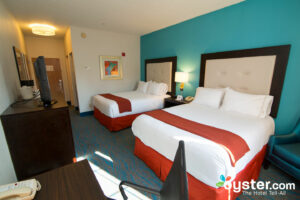 The 74-room Holiday Inn Express Destin E - Commons Mall Area offers a value-priced vacation in walking distance to shopping and the beach. Guest rooms are clean and modern, with microwaves and mini-fridges, and suites with fold-out couches and wet bars are available. The property also offers an outdoor pool, a small gym, and free continental breakfast with cinnamon rolls. However, rooms don't have balconies or inspiring views.