Best Boutique Hotels in Downtown Los Angeles
Los Angeles' revitalized downtown is filled with foodie haunts, cultural hot spots, and major city landmarks. Here are the top boutique hotels in the neighborhood.
See All Downtown Hotels
1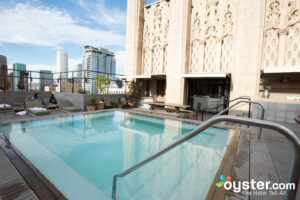 Combining industrial chic, vintage, and quirky, the Ace Hotel Downtown Los Angeles makes its home inside the historic 1927 United Artists building. The original factory floors and concrete ceilings are punctuated by arty and eclectic decor. Music is the theme here, and many of the dimly-lit rooms come with Martin Guitars and Ace x Rega turntables, plus a curated selection of vinyl records. All -- from Small to Ace Suites -- include free Wi-Fi, flat-screen TVs, minibars, Rudy's toiletries, and Pearl + soaps. Upstairs, the rooftop bar offers events every night, and there's also a rooftop pool with great views. The on-site restaurant, L.A. Chapter, serves kicky American cuisine. The Ace caters to the stylish, hip, young and free-spirited, and draws a lot of musicians and those doing business in the nearby Fashion District.
2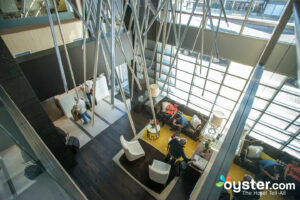 The 74-room Kimpton Hotel Wilshire is a chic business-oriented hotel located near -- but not in -- Beverly Hills. Kimpton lacks the Ace's bevy of features (like the 24-hour fitness center, juice bar, coffee shop, and Tokyobike rentals), but it does have a rooftop pool area with restaurant and bar, ample lounge space, and panoramic views of downtown and the Hollywood Hills. Fun extras here include a nightly wine reception, in-room wellness services, free Wi-Fi for loyalty members (the program is free to join), and earth-friendly practices, which garnered the hotel a Silver LEED certification.
3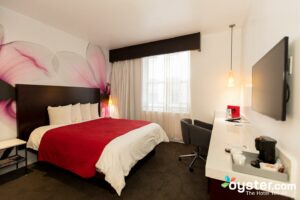 The O is a beautifully and distinctly designed hotel. Its color palette is on the gray scale, with occasional flashes of red, and the looks creates a blending of sharp lines and fluid curves. Above the reception, the mezzanine of O Hotel's restaurant curves in a black wave. Like the common spaces, rooms are contemporary and distinct, but some units don't have windows and feel claustrophobic. Plus all of the bathrooms are small and lack tubs (compared to the Kimpton's luxurious bathrooms with deep soaking tubs). A generally low-lit property, this isn't the place for light worshippers, or even those who like to read. The design and color scheme make the O memorable, but its distinct aesthetic might not appeal to everyone.