Best Kid-Friendly Hotels in Germany
Take a look at the best kid-friendly hotels in Germany.
See All Germany Hotels
1
The upper-middle-range Circus Apartments are nestled within one of East Berlin's top tourist neighborhoods, Mitte. Part of Berlin's Circus group, this boutique property consists of 22 apartments in a modern brick-and-glass building that's completely separate from their nearby hostel and hotel rooms. Recently renovated, the units are furnished in a trendy style and have full kitchens and washer/dryers. High-end touches like stainless steel appliances, iPads loaded up with kid- and tourist-friendly apps, balconies, and organic bathroom products come standard. A ground-floor cafe serves light snacks and breakfast for a fee. The Circus Apartments has agreements with nearby gyms, but travelers in search of spa amenities might prefer the nearby Adina Apartment Hotel.
2 The 23 plain, pleasant rooms in this hotel are set within a renovated Neo-Renaissance villa a few blocks from the ample grounds, parks, and museums contained with the Nymphenburg Palace complex, 20 minutes to the west of central Munich via public transportation. Guest rooms are clean, simple, and somewhat dowdy, with wood-paneled ceilings and wrought iron beds. The best features of this mid-range property are its warm, helpful staff and its quiet location with easy access to the city center. While the restaurant only serves breakfast, guests here, who tend towards an older crowd seeking a quiet respite from the bustle of the city, have access to a good number of restaurants within a short walk of the hotel. The hotel offers free bikes for guests to use, and there's a lovely little garden for relaxing.
3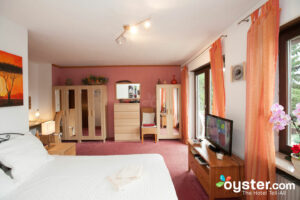 This four-room bed and breakfast on the outskirts of Munich has an intimate, friendly ambience and attractive if basic rooms, which share bathrooms. The hosts serve a good, hearty breakfast, and are on hand to help guests. The rooms, which range from Doubles to Triples to a Family Room and come with flat-screen TVs and microwaves, are simple but homey if a bit institutional. Although the rooms might not have the soundproofing found in large hotels, guests seem won over by the pure charm of the place, which includes a house dog.
4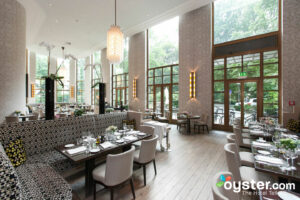 Opened in 2007, the five-pearl, 160-room Charles Hotel is undeniably luxurious with spacious and opulent bathrooms, original 19th-century art, and a range of amenities including a full-service spa and Munich's largest indoor pool. It's conveniently located on a quiet side street adjacent to the city's Old Botanical Garden and within a brief walk of Munich Central Station and numerous restaurants. But, it's outside the city center, and such luxury comes with hefty room rates. For upscale accommodations at a smaller hotel in the heart of the city, guests could consider the less pricey Hotel Torbraeu. Another alternative could be the luxury Muenchen Palace Hotel, which is also outside the city center, though it has excellent transport connections and free bikes along with significantly lower rates.
5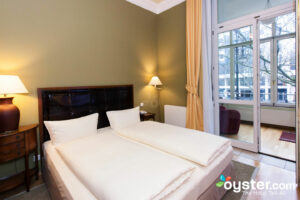 An upscale boutique hotel in the western part of Berlin, Louisa's Place is in a district surrounded by high-end shopping. Its 47 spacious suites have kitchenettes and living rooms, plus most have balconies, but the earth-toned color palette can lean toward gloomy. The historic property has a wood-paneled library and a pool with a delicate mural and small bar, but the fitness center is painted an off-putting mustard yellow. There's a swanky, sixties-era bar, as well as a restaurant that features a tasting menu and a long communal table. Other features include a high-ceilinged spa and a hair salon. It's not within walking distance of top sights, however. The Mandala Hotel has a more central location and also offers large rooms with kitchenettes, but it doesn't have a pool.
6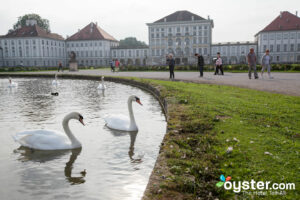 The 18-room, family-run Hotel Kriemhild is located in a somewhat sleepy residential neighborhood near Nymphenburg Palace, and is six blocks northwest of Munich's main train station -- it's about a 15-minute train ride to the city center. The Kriemhild's rooms include suites with separate living and sleeping areas and air-conditioning (not a given in Munich), but aside from a computer station, the hotel has no business center, no fitness center, no common meeting areas, and the cold breakfast buffet comes with a fee. But the hotel is clean, friendly, and accommodating, and has free Wi-Fi. Travelers might also want to check out the nearby Nymphenburg Palace and the Hirschgarten.
7
Made up of 11 apartments of various sizes in an historic building, Brilliant Apartments offers a cozy and homey place to stay in the trendy and picturesque Prenzlauer Berg district of Berlin. The area is central, but fairly quiet, too, with lots of restaurants and shops within walking distance, and all major sights within a quick metro ride. There's a great cafe, Krone, on the first floor, which serves breakfast for a fee. The apartments are spacious and tastefully decorated, with separate kitchens, sitting areas, and dining areas.
8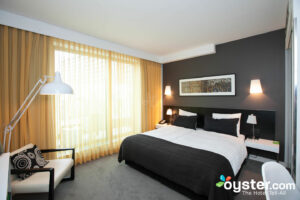 The upscale, 145-room Adina Apartment Hotel Berlin Hackescher Markt is conveniently located in East Berlin in easy walking distance to a plethora of shops, restaurants, nightlife, public transportation, and sights, such as Museum Island. With artsy, modern style, the hotel features an eclectic collection of furniture and bright accents that come off tasteful against moodier, dark backdrops. Lots of public seating areas and a well-reviewed on-site restaurant and bar give guests spaces to relax. The studio, one bedroom, and two bedroom apartment-style rooms are spacious, stylish, and packed with amenities, including a fully equipped kitchenette. There's also a small on-site sauna, two whirlpools that sit under a cool starry ceiling, and a functional fitness area. Guests biggest complaint? Wi-Fi costs extra and the connection is poor. As an alternative, travelers could consider the 25hours Hotel Bikini Berlin, another design-conscious upscale hotel but one with free Wi-Fi.
9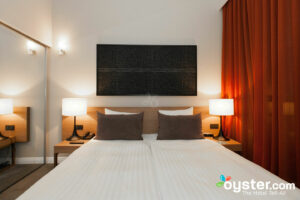 The Adina Apartment Hotel Berlin Checkpoint Charlie is a modern four-pearl property with a romantic atmosphere, situated within walking distance to attractions, shopping, and public transportation. The 127 apartment units come with kitchens or kitchenettes, living rooms, and washers and dryers. Some even have balconies. However, Wi-Fi costs extra. Features include a quality on-site restaurant as well as an indoor heated pool and hot tub. There's also an outdoor courtyard that makes a lovely spot for a late-night drink. For a similar romantic hotel that has free Wi-Fi and a chic rooftop bar, Hotel AMANO is a good alternative.
10
The Park Hyatt Hamburg provides a high standard of quality consistent with the chain. The main train station, the Warehouse District, the Old City, and several other attractions are within a 15-minute walk. The hotel is also situated on the city's most popular shopping promenade. With nine well-equipped meeting rooms and a catering service, the Park Hyatt Hamburg is ideal for events and business gatherings, and a fine choice for tourists who appreciate luxury amenities and a central location. Just note that the (off-site) parking and the breakfast – though vast and scrumptious – can be pricey. For families, the hotel offers substantial discounts for separate children's rooms, and supplies cribs, baby chairs, pint-size bathrobes, and baby shampoo.
11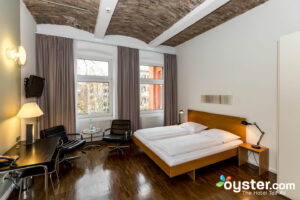 Hotel Johann is a mid-range property offering few frills but pleasant and comfortable rooms at a reasonable price. The hotel's 33 rooms are clean and contemporary with rich wood floors, high ceilings, and, sometimes, original exposed brick ceilings or accent walls. There are two Family Rooms for up to four, while the other rooms are split between nicely sized Doubles and snug Singles (which can actually accommodate two for the budget-minded). The hotel has a lobby bar, a nice breakfast room, and an outdoor patio. Breakfast and honesty-bar snacks in the lobby are pretty reasonably priced, too. The hip Kreuzberg location is convenient to Berlin attractions in all directions, though it's a 10-minute walk to the U-Bahn. Travelers preferring to be in Mitte might consider Calma Berlin Mitte, which has similar property features.
12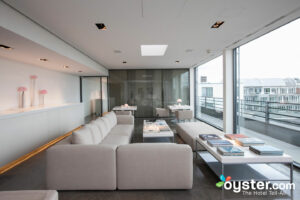 The upper-middle-range Mandala Suites is a great apartment-style option thanks to its second-to-none location in central Mitte and quality amenities. Its 81 rooms are suitable for those whose work calls them to Berlin, as well as tourists attracted by relatively low room rates and self-catering facilities. Top attractions and restaurants are a short walk away, and access to two subway lines make exploring farther-flung neighborhoods easy. Rooms are large and spacious, decorated in classic furnishings, and many offer balconies with excellent views of the streets below. Those looking for a more boutique feel might do well to look into Leonardo Hotel Berlin Mitte, which is in the same neighborhood.
13
The upscale, 139-room Adina Apartment Hotel Berlin Hauptbahnhof is conveniently located in walking distance to public transportation and tourist attractions, including the Natural History Museum and the Central Station (Berlin Hauptbahnhof). The hotel has studios as well as two-, three-, and four-bedroom apartments with a subdued color palette and contemporary style. Rooms feature fully equipped kitchenettes, laundry and washing machines, and a host of other amenities -- but Wi-Fi incurs a fee. The hotel also has a bar and a restaurant, which serves a great breakfast buffet (extra fee) as well as lunch and dinner. Wellness facilities include a small gym, sauna, and indoor pool. As an alternative, travelers may want to consider the Catalonia Berlin Mitte, which offers free Wi-Fi, but it doesn't have a pool.
14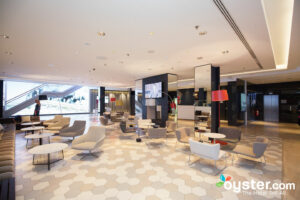 This 268-room NH property is located on the pedestrian-friendly Friedrichstrasse near the train station of the same name, within a short walk of the tree-lined Under den Linden Boulevard. Rooms and suites are on the bland side, but do offer flat-screen TVs, minibars, and marble bathrooms. Hotel perks include appealing common spaces, like the lobby with fireplace, a chic glass-roofed breakfast room, and a high-end Italian restaurant, Vivaldi. The Intermezzo wine bar is a contemporary space serving cocktails and light fare. There's also an outdoor summer terrace. A wellness center features a sauna, relaxation area, and small fitness room, but Wi-Fi and underground parking are available only for a fee.
15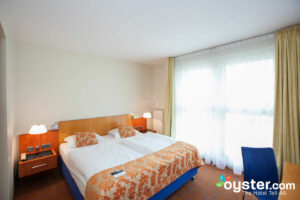 The Mercure Hotel & Residenz Berlin Checkpoint Charlie, an Accor Hotel, blends the historic and modern in Berlin's trendy, artsy Kreuzberg neighborhood. The 136 rooms are spacious and colorful, and have minibars and flat-screen TVs -- some even include balconies. The hotel offers a small, 24-hour fitness room and sauna, as well as a bar, limited room service, and a breakfast buffet so guests can fuel up before exploring the nearby attractions like Checkpoint Charlie. It may be worth checking the prices of the Novotel Berlin Mitte hotel on Spree Island, also an Accor Hotel, but with extra amenities like a restaurant and a larger fitness center.