Best Luxury Hotels in Barcelona's Gothic Quarter
As one of the most popular tourist destinations in Barcelona, the Gothic Quarter is home to plenty of hotels, including some of the highest-rated luxury hotels in the city. Take a look at the top luxury hotels in the Gothic Quarter.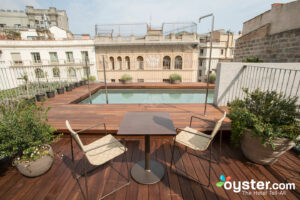 Despite its location in Barcelona's busy Gothic Quarter, Mercer Hotel Barcelona is an oasis of calm, offering the intimacy of a boutique hotel and the amenities of a larger property. A sweet fragrance permeates its historic -- make that ancient -- interior, some of which dates to the first century. The building's history is reflected in its stone walls, archways, and Roman wall that dates to ancient Barcino (Latin for Barcelona). While the hotel has preserved its history and ancient remains, its decor is thoroughly modern. The 28 rooms, which incorporate stone walls, beamed ceilings, and sleek design. All rooms have large windows, flat-screen TVs, rain showers, Molton Brown toiletries, slippers, and twice-daily housekeeping service. The hotel also offers several cocktail and dining options, including the Le Bouchon tapas bar and Jean Luc Figueras' Mercer Restaurant JLF, a rooftop lounge and small pool, a hanging garden, and some of the most comfortable beds around.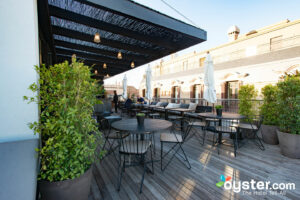 The chic, 30-room Hotel The Serras -- opened in 2015 in a building that dates back to 1846 -- offers modern luxuries in an intimate, boutique setting that's surrounded by one of the Gothic Quarter's most popular areas. The rooftop terrace bar and pool have spectacular views of glitzy Port Vell, while the hotel's fine-dining restaurant overlooks the old city's palm-lined streets. From top the bottom, the entire hotel has a sophisticated, designer touch, and its pristine guest rooms exude a sleek, spa-like serenity. Amenities include 24-hour room service, smart TVs, and Nespresso coffee machines, while bathrooms are especially upscale with large, rainfall showers. Same as Mercer Hotel, there are no spa facilities (though in-room massages are available here) and rates can be double those of other luxury hotels. However, Mercer gets the edge for its gastronomic restaurant, tapas bar, and cocktail lounge.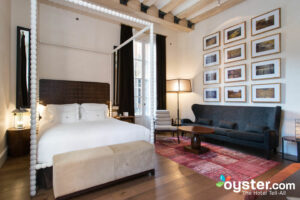 Just at the entrance to the Neoclassic Placa Reial, a beautiful historic square, Hotel DO occupies a grand 1856 building and was completely renovated in 2011. The boutique luxury hotel has just 18 beautiful rooms; some have extraordinary views, but all have great modern-chic style, Egyptian cotton linens, big windows, and lavish bathrooms. These large, light, and high-ceilinged rooms deserve their luxury billing, but note that they do not have the Nespresso machines found at Hotel The Serras. A spa, rooftop terrace and pool, three brilliant restaurants, and a beautiful lobby round out this luxe property's many amenities. The hotel is popular with luxury travelers and local partiers alike who frequent the hotel's and neighborhood's many restaurants and bars, so it can be a bit noisy into the night.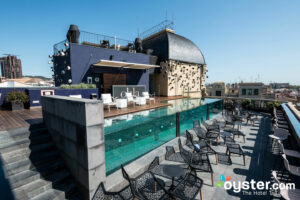 Centrally located in the Gothic Quarter, this stylish and luxurious boutique option offers 74 modern rooms with high-tech amenities and free Wi-Fi. One stand-out feature here is sexy stall showers that are located right in the middle of the rooms. The chic rooftop pool and lounge offers incredible city views along with a space to sunbathe. Dining options include La Plassohla Restaurant and a separate cocktail bar; however, Hotel DO's gastronomic ambitions get higher marks, as its three restaurants are truly exceptional.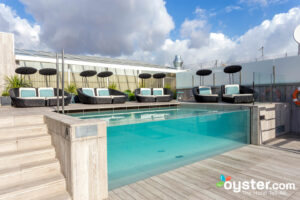 Born from a derelict building reconstructed from scratch in 2016, the Catalonia Magdalenes has retained the distinctive salmon-pink balconied facade of the original structure. Sections of an ancient Roman aqueduct discovered during construction were also incorporated into the design. The property is immaculate and particularly stylish, from its bijou basement spa and gym to its superb rooftop pool terrace. Its 61 guest rooms are chic and well-equipped with sizable desks, seating areas, flat-screen TVs, minibars, kettles, USB ports, and great Wi-Fi, and some have small balconies or window alcoves. Heated towel racks and roomy walk-in rainfall showers can be found in modern bathrooms. An excellent breakfast service and free poolside tapas complete what is an impressive package, though there's stiff competition from neighboring Ohla Hotel, which has a larger rooftop pool and more spacious guest rooms.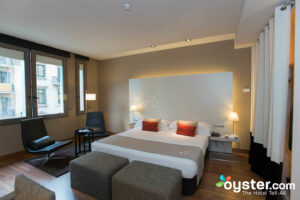 Built in 1926 by the renowned Spanish architect Adolf Florensa, Grand Hotel Central features a striking facade that drew inspiration from Chicago skyscrapers of the time and exudes a blend of neo-classical elegance and Art Deco grandeur. And while its 147 rooms are fresh and contemporary with excellent amenities (though a little dark, especially when compared to the airy rooms at Hotel DO), it's the rooftop terrace with infinity-edge pool and panoramic city vistas that really steals the show. A Michelin-starred chef at the restaurant's helm also means outstanding -- if expensive -- dining, while wellness facilities are also high-end, though pricey.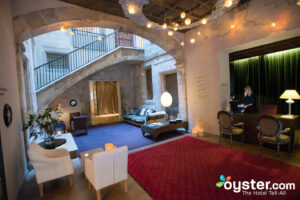 The upscale, 22-room Hotel Neri Relais & Chateaux is housed in what used to be two separate mansions, one of which dating to the 12th century. The result is gorgeous architecture seen in the Library's original wood coffering and stone arch in the lobby. The rooftop garden is a highlight (though there's no pool, like Grand Hotel Central and every other hotel on this list) and contains various seating, including hammocks, positioned in a feng-shui style. Rooms are spacious and filled with simple, stunning decor, but some experience outside noise and lighting is very dim. The on-site restaurant receives good reviews and a welcome drink is a thoughtful touch. It's a great pick for tourists who want a boutique-style property that's centrally located.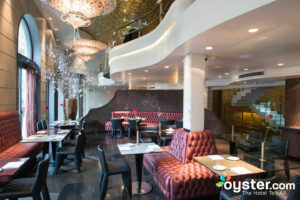 Set in a mid-19th century palace with an Art Nouveau-meets-Modernist facade, Hotel Bagues speaks to its architecturally stunning Las Ramblas setting. The 31-room boutique hotel was remodeled in 2010 and has an ultra-modern, darkly cool aesthetic. Home to the centuries-old jewelry shop of Art Nouveau jewelers Bagues-Masriera, the hotel has thoughtfully decorated each room and suite with pieces from the collection. Guest rooms are seductively styled with animal prints and dark leather, and some suites have more opulent touches such as gold-leaf detailing. While the standout feature of this hotel is its location, it also offers a bar and restaurant, and a lovely rooftop terrace with a small pool overlooking the Gothic Quarter.