Most Romantic Hotels in the Hamptons
Oyster knows what travelers look for in their hotels. When we review properties around the world, we evaluate how every feature stacks up against the competition, from the rooms to the pools to the restaurants. So if you're planning a trip and need a place to start, you've come to the right place. Take a look at our top picks for romance in the Hamptons and get inspired!
See All Amagansett Hotels
1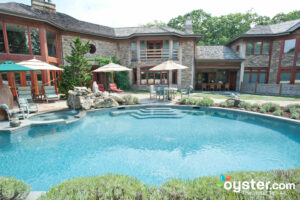 This elegant B&B in East Hampton is exactly what its name suggests: a house full of art. It was designed and decorated by the owners, Michael and Rosalind, who combine mutual talents in art and hospitality. There are only four rooms for rent, but there are all the amenities of a larger property, including endless communal spaces, an outdoor pool, and fitness center. Although big in scope, the Art House retains all of the personalized charm of staying with friends. Its intimacy, its location within walking distance of a private beach, and its handsome rooms (complete with extras such as fireplaces and whirlpools), make this our top pick for romance in the Hamptons.
2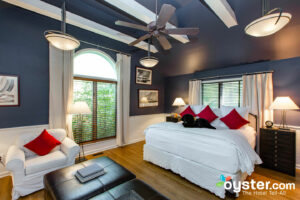 This historic home turned bed and breakfast in East Hampton is meticulously maintained and decorated. Although it's just a short walk from the village center, it remains a hidden gem that stays open year-round. The owners, Gary and Sylvia, have included their personal touches in the 10 rooms and suites, right down to the stuffed Gordon Setters on each bed and photography on the walls. The location is not directly on the beach and rooms come at a high price, but the top-notch breakfast and easy walk to restaurants and shops make it a stand-out option.
3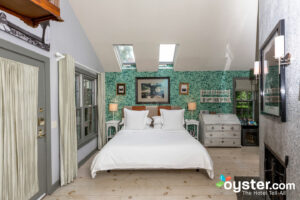 This historic yet chic property in the center of East Hampton appeals to the stylish Hamptonite crowd with 16 rooms and suites, plus three cottages decorated in Scandinavian design. Owned by a Swedish entrepreneur with 20 hotels around the world, this one is just steps from the village and a bike ride to the beach (with free beach cruiser loaners available). The pretty front porch, trendy restaurant, and distinct amenities (such as doggie menus and yoga classes in the Buddha garden) make this a popular choice for well-heeled couples.
4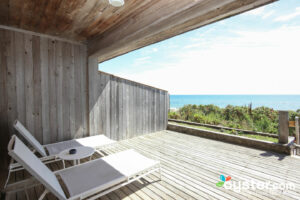 The 109-room, upscale Gurney's Montauk stands out among Hamptons hotels, quite literally: It's one of the largest resorts in the area, and it also has the best beachfront location. No other Montauk resort compares in terms of features, and no Hamptons resort can match its truly terrific, and massive, stretch of sand. The free spa facilities (including an indoor pool and Roman bath) are also a highlight. Ongoing renovations have made (most of) the rooms contemporary and attractive, and many have stunning ocean views from private verandas. The elegant fine-dining restaurant also has views of the water. Just note that there have been some minor growing pains as this older property -- once a time-share resort popular with local Long Islanders -- transitions to a Hamptons hot spot.
5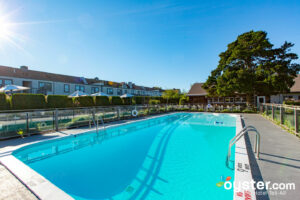 This American Tudor-style hotel in Montauk is a summer hot spot that maintains an essence of "cool" without pretension. The 61 rooms and suites have a surf-chic vibe and appeal to the Manhattan set with amenities such as high-quality linens and Aveda products. Though not directly on the beach, expansive grounds include lawn games, daybeds, hammocks and an organic restaurant and bar. The outdoor pool -- with live music on weekends -- is popular; the party scene may be a downside for couples in search of romance, but the stylish rooms and location close to the beach (a three-minute bike ride away) help compensate.
6
The Montauk Beach House occupies a long, two-story contemporary building with glass balconies and large windows, set in a natural landscape with native feather grass. The interiors are rustic in style, with white-washed wide-plank floors, and paneled walls in white and soft gray, with an eclectic mix of rustic and vintage furniture, creating an inviting, relaxed atmosphere. There are lots of cozy indoor and outdoor areas (including two pools and a large sun terrace), where guests can relax and mingle. The vibe here is very young and trendy -- it's a place where people come not only to relax but also to party.
7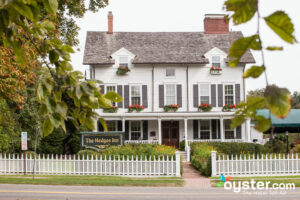 This charming, welcoming East Hampton inn -- built in 1870 -- is a cozy gem. Decorated with a nod to the sea, the 12 unique rooms, varying in size and bed configurations, are all decked in tranquil shades of blue and white. None of the spaces are huge (this is a renovated historical home, after all), but they are more spacious than one might expect and are immaculately maintained. All rooms have luxe toiletries and plush robes available as well. Romantic weddings can be arranged using the inn's gorgeous gardens and terrace for ceremonies and receptions, with guests often staying on the property.
8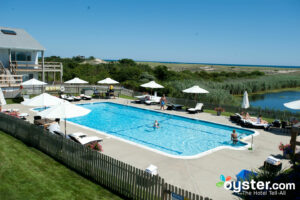 This condo beach property's private Amagansett beachfront makes it a worthy mid-range romantic pick. This two-story, motel-style building has 32 units available to the public only six months out of the year, and is surrounded by flower boxes and green lawn. Property high points include the outdoor pool, private beach access, and location within walking distance of the hamlet of Amagansett. All units come with a kitchen, though they range in modernity and decor (with some pushing the dated-and-dowdy limits, and others crossing the line of colorful contemporary).
9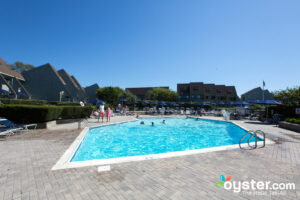 The Surf Club Resort sits on an eight-and-a-half-acre site lined with staggered, two-story townhouses -- some face toward the pool, while others look out over the beach and the ocean. The setting is lovely, with sand dunes covered in sprays of sea grass reaching toward the ocean from the decks of many of the property's buildings. Like many of the condo-style properties in the area, each unit at the Surf Club is individually owned and decorated, so their looks vary. There's no on-site restaurant, but there is an attractive heated outdoor pool, a fitness center, and tennis courts. The main draw of the Surf Club, though, is its location directly on the beach in Montauk.
10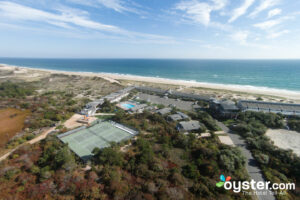 The Driftwood on the Ocean is a large condo property on the dunes of a quiet Montauk beach. Each of the 52 units, which include Studios, Suites, and Cottages, vary. Some have old-fashioned furnishings and broken blinds, for example, and others are pleasantly furnished in a beach-cottage style with exposed wooden beams or vaulted ceilings. All have kitchenettes or kitchens, and some have patios or decks that overlook the ocean. The well-maintained grounds include barbecue grills, picnic tables, playgrounds, basketball and tennis courts, shuffleboards, and a large pool.
11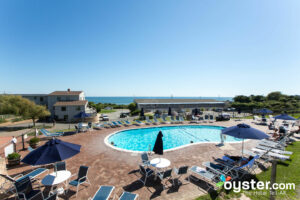 With its shaker shingled exterior and blue-and-white awnings, it's immediately clear that the Beachcomber both embraces its name and looks the part of an eastern Long Island beach getaway. All 88 individually decorated rooms have air-conditioning, a full kitchen, living area, and balcony offering the sights and sounds of the ocean -- several multi-room apartments are also available. The hotel has a heated pool, tennis court, sauna, and free Wi-Fi (although the signal can be spotty), but no on-site dining. This is a popular pick with families and couples on summer holidays, and many guests come back year after year.
12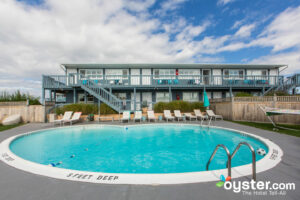 This stylish boutique motel's quiet Montauk Harbor area is just a five-minute walk from the Downtown Montauk's bars and restaurants. Just across the street is a beautiful beach that tends to be very quiet. The 27 simple, modern rooms have colorful accents, air-conditioning and flat-screen TVs, though bathrooms are fairly small and could use updating. Wi-Fi is free and there's a good pool, garden, and shop on-site. Guests wanting a more upscale option with a spa should consider Gurney's Montauk Resort & Seawater Spa, though expect to spend a lot more money.
13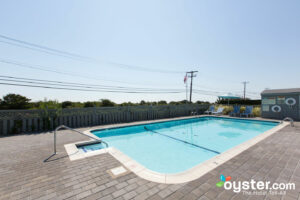 In terms of small, humble beachside lodging, the quiet, low-key Beach Plum Resort ticks all the boxes -- it has a homey ambience, simple style, and a laid-back ethos that's all just a short walk across the road to the beautiful beach. Most guests come here for this direct beach access. This is a condo-style property and each unit is privately owned, so decor varies throughout. However, many have an appropriately nautical look, with a look that includes soft blues and white, dark carpeting or wood-laminate flooring, and light wood-veneer furniture. The place lacks a restaurant, but during the summer, it offers free yoga and fitness classes.