Best Business Hotels in Hong Kong
Oyster knows what travelers look for in their hotels. When we review properties around the world, we evaluate how every feature stacks up against the competition, from the rooms to the pools to the restaurants. So if you're planning a business trip and need a place to start, you've come to the right place. Take a look at our top picks for business in Hong Kong, and get inspired!
See All Hong Kong Hotels
1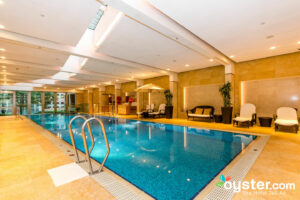 The gorgeous Landmark hotel is a top-notch business hotel for many reasons. With a great location in Central, the city's business hub (also home to clubs and restaurants), this hotel stands out from competitors because of its size: It's a boutique property with only 113 rooms (the Kowloon Shangri-La and the Mandarin Hong Kong both have over 500), making for a mroe intimate feel. The interior design is exceptional: The lobby, restaurant, and rooms feature warm brown and silver tones, with Asian-inspired accents (typical of the Mandarin brand). The hotel has every amenity a business traveler could want -- a large fitness center with a yoga and Pilates studio, several meeting rooms, a French restaurant helmed by a Michelin-starred chef, and a gorgeous spa. Plus, the hotel provides loaner laptops and is connected by a covered, air-conditioned walkway to numerous businesses and the airport express. The spacious, high-tech rooms feature marble bathrooms with deep soaking tubs, iPod docks, at least three flat-screen TVs, and Wi-Fi. The Wi-Fi unfortunately requires a fee, but this detail doesn't keep the Mandarin Landmark from topping our list.
2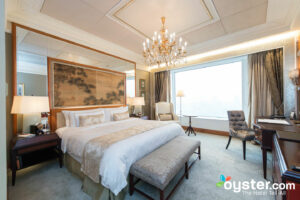 Arguably one of the most elegant hotels in Hong Kong, the 565-room Shangri-La features opulent details -- including the largest Chinese silk painting in the world, and TVs in every bathroom. Elegant rooms are outfitted with silk throws, gilded wooden furniture, crystal chandeliers, and high-tech features such as large flat-screen TVs and free Wi-Fi, as well as large work desks and coffeemakers. Business-friendly amenities are extensive: a 24-hour fitness center, freebies such as a shuttle to nearby areas, shoeshines, a well-equipped business center, several meeting rooms, a business center, and 24-hour room service. Plus, with a prime location in Hong Kong's business district, it's a great choice.
3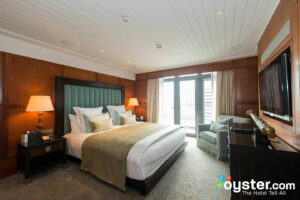 The Mandarin Oriental is a popular choice among business travelers. It has 501 elegant rooms featuring contemporary Chinese decor, large windows with wonderful views, and gorgeous bathrooms with sleek glass-enclosed showers and bathtubs. Highlights include a nice spa, a modern fitness center, an indoor pool, upscale services such as floor butlers, and a convenient location in the heart of Central. There is also a wide array of dining options, including three Michelin-star restaurants. The meeting rooms offer gorgeous views of the harbor.
4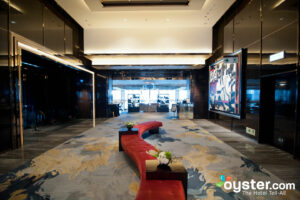 Located in an up-and-coming business area west of Tsim Sha Tsui, the Ritz-Carlton is connected to a great shopping mall and corporate offices, and also offers easy access to the airport train and the MTR. Large rooms feature decadent touches, such as plush beds with 400- to 600-thread count linens, iPods and iPod docks, Nespresso coffeemakers, and high-end toiletries. The hotel is set on floors 102 to 118 of Hong Kong's tallest building, and while acrophobes may not appreciate being this far from the ground, the height does make for breathtaking views -- that is, when the sky is clear. Highlights include a stylish indoor pool, several meeting rooms, a sleek gym, and a top-notch spa.
5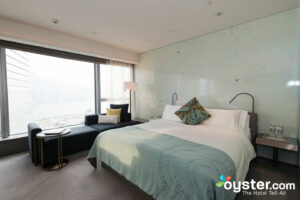 The 393-room W Hong Kong is a fun, modern hotel in Kowloon. In many ways, this W feels like all others; it features funky decor the W brand is known for -- bizarre sculptures, pop art wall murals, and bright, colored lighting -- as well as a Bliss spa and a Living Room, with free Wi-Fi. Plus, it offers the signature Whatever/Whenever service (which will provide guests with anything -- so long as it's legal) so business travelers in particular can enjoy this. But this W feels a bit more special, and luxurious, than some you might find in the U.S. The Bliss spa is absolutely gorgeous, with beautiful teak tubs and soft lighting, and the stunning rooftop infinity pool on the 76th floor offers poolside service and dizzying views. The decor is downplayed in the rooms, which have bright green comforters, high-tech amenities, and sleek slate bathrooms. The hotel also offers a 24-hour business center, cell phone rentals, 10 meeting rooms, a fitness center, and 24-hour room service.
6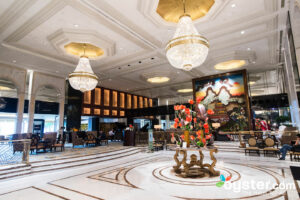 The Shangri-La is considered one of the top hotels in Hong Kong for a reason -- it's hard to find fault. Beautiful rooms have elegant furnishings, wood accents, and floor-to-ceiling windows, most with sweeping views of Victoria Harbor or the skyline. There are several fine dining options, as well as a more casual tapas bar and a lobby lounge with bar service, but the highlight here is the Shang Palace, a wonderful Cantonese restaurant boasting two Michelin stars and outstanding service. The fitness center, spa, and classy business center make it a nice pick for business travelers. Plus, Wi-Fi is free.
7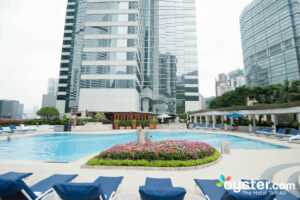 This 602-room hotel is located on the western border of the Central district, within walking distance to attractions, the subway, and corporate offices. The property is set atop the famous Pacific Place shopping mall, and boasts wonderful amenities such as casual and fine dining options; a spa complete with a sauna, a solarium and treatment rooms; an uber-modern fitness center with free poolside classes on weekends; and stunning views. Rooms are modern, high-tech, and luxurious, and have marble bathrooms with separate showers and tubs. Business travelers are also attracted to the beautiful business center and the extensive meeting space.
8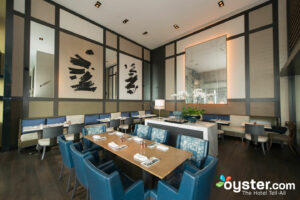 The 549-room Grand Hyatt is a massive hotel in the Wan Chai neighborhood, and is packed with amenities, including seven upscale restaurants, a heated rooftop pool, lighted tennis courts, and a spa. The hotel is a popular choice among business travelers, given its 25 meeting rooms, 24-hour room service, large fitness center, and direct access to the Hong Kong Convention and Exhibition Centre. However, some guests feel that the Grand Hyatt is past its prime. Though more than half of the rooms feature harbor views, they have slightly bland decor, and are a tad smaller than expected from a luxury hotel in this area.
9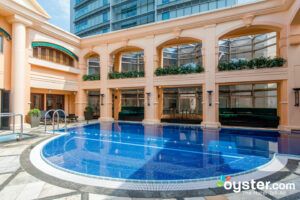 In the heart of the popular tourist area Tsim Sha Tsui, the 495-room Langham Hotel is located conveniently near the ferry and MTA, and the hotel itself fits right in to its high-end surroundings. The gorgeous European-style lobby features high, gilded ceilings with huge crystal chandeliers, and the rooms have fancy golden fixtures in the bathrooms and modern amenities like iPod docks, flat-screen TVs, and free Wi-Fi. Although there are plenty of dining options right outside the hotel, The Langham does have several of its own restaurants, including The Bostonian, an American-style lounge with a raw bar, and the Michelin-starred Tang Court. Business-friendly amenities include the very well-equipped fitness center and The Langham Club -- a trendy lounge with a DVD library, a modern business center, and buffet-style kitchen stocked with snacks.
10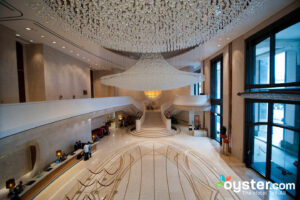 The Harbour Grand impresses guests upon entry. The massive marble lobby with huge chandeliers is imposing, and the stately, yet modern, look continues throughout the hotel. Rooms here are up-to-date, with none of the stuffy grandeur of some other luxury hotels in Hong Kong. Simple, sexy decor with peek-a-boo bathrooms, large sepia-toned wall photos behind the headboards, and views of the harbor give the rooms a sophisticated vibe, and they have been updated with flat-screen TVs and Wi-Fi (for an additional fee). Though the hotel has all of the amenities business travelers could want -- 12,000 square feet of meeting space, a business center with secretarial service, a free bus shuttle, an up-to-date fitness center, four restaurants, and 24-hour room service -- it attracts an equal number of leisure travelers, thanks in part to its large outdoor pool.
11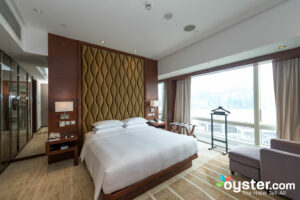 The 381-room Hyatt Regency sits atop a six-story shopping mall in the heart of Tsim Sha Tsui. The Hyatt Regency has everything one would expect to find in an upscale chain hotel: contemporary rooms with plush beds, marble bathrooms, and high-tech amenities; both casual and fine dining options; and an attractive pool. Spectacular vistas of Victoria Harbour and Hong Kong Island can be viewed from some guest rooms, the gym, and a few common areas. Business-friendly amenities include 24-hour room service, lots of meeting space, and a business center. Plus, it's direct access to MTR stations and cabs is a nice perk.
12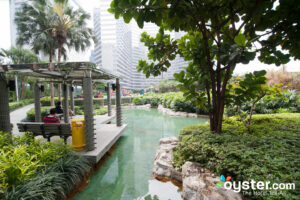 This 857-room behemoth is a favorite among business travelers, thanks to its location next to the Hong Kong Convention and Exhibition Centre. It's also near the Wan Chai MTR station, Central neighborhood, and the Star Ferry landing. It boasts gorgeous views from its upscale rooms and wonderful restaurants, and offers great features such as a fitness center (although it's located in the hotel next door), extensive meeting space with natural light, a Michelin-starred Cantonese restaurant, and stylish, contemporary rooms with glass-enclosed bathrooms. However, there are a few downsides to this otherwise great hotel -- namely, fees for Wi-Fi and parking, hard mattresses, and long waits by the elevators.