Most Romantic Hotels in Iceland
So you and your S.O. have already done the exotic beach trip, the wine-country tour, and the rustic cabin thing. Need a new idea for a romantic getaway? What about stargazing from an outdoor geothermal hot tub in southern Iceland or dipping into the volcanic island's famous Blue Lagoon, surrounded by a stunning landscape of mountains and lava flows? Check out our picks for the most romantic hotels in Iceland, and get inspired!
See All Iceland Hotels
1
Located off a main road heading to the south coast of Iceland, the Hotel Ranga is situated along a small river in relatively empty grassland -- a convenient spot from which to venture to some of Iceland's more remote natural wonders like glaciers, volcanoes, black sand beaches, and hot springs. The 51-room luxury hotel is best known for its exceptional views of the Northern Lights, and even has its own observatory with high-end telescopes for serious stargazers. Frequented by celebrities and honeymooners, the hotel features cozy cabin decor, an exceptional restaurant with a free breakfast, and outdoor geo-thermal hot tubs. Guest rooms range from continental-themed suites to Standard and Deluxe Rooms with simple decor; most have hot tubs and outdoor terraces.
2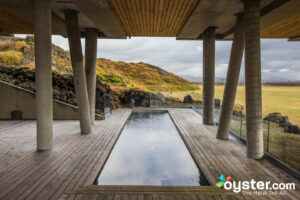 An eco-friendly designer hotel, the 45-room ION Luxury Adventure Hotel is perfect for secluded escapes. A mix of industrial-chic aesthetics and natural materials define the rooms, which have salvaged hardwood floors and a gray color palette accented by sheepskin furs, glazed concrete, and wood. Many offer wonderful mountain and rugged hillside views, though some look onto the nearby geothermal power plant which powers the hotel. The New Nordic restaurant has a huge outdoor deck, while the Northern Lights Bar is smartly designed with a wall of floor-to-ceiling windows to provide optimal viewing of the namesake phenomenon.
3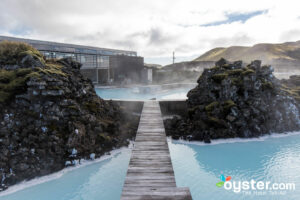 Steam billows from the rugged landscape all around this serene, minimalist hotel, which was built on an old lava flow near the famous Blue Lagoon resort. Limited access to the Blue Lagoon (open to the public) is included, but the Silica Hotel also has its own beautifully designed geothermal lagoon that's exclusive to guests. The hotel's 35 rooms have hardwood floors and understated furnishings that highlight the incredible landscape outside; each room opens to a wooden patio set on the old lava flow. There's a restaurant serving contemporary Icelandic cuisine, as well as a cafe, and a lagoon-side bar.
4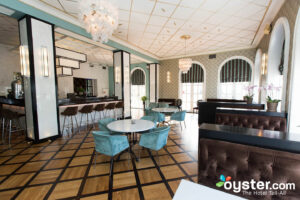 Originally opened in 1930, the Hotel Borg has since become a Reykjavik landmark, restored to its original splendor with elegant Art Deco details. The 99 rooms are understated with a muted color palette and Art Deco accents; they include bathrooms with heated marble floors and a range of amenities including a minibar and free Wi-Fi. There's a glamorous bar and restaurant that serves seasonal dishes, as well as a spa and small fitness center. Breakfast and parking cost extra, but the location across the street from Austurvöllur square makes walking and dining convenient.
5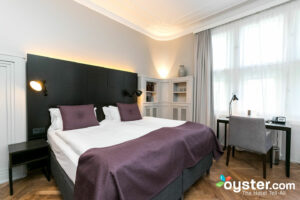 An upscale and historic property in the center of Reykjavik, the Apotek Hotel has 45 elegant rooms with high ceilings, sitting areas, parquet floors, white-tile bathrooms, and city views that overlook Austurvollur Square. The design-centric restaurant bar on the ground floor showcases a backlit wall of pharmacy shelves, hinting at the building's past as an apothecary in 1917. The Apotek has neither a gym nor spa, but guests who book online can use the fitness center and spa at the club next door.
6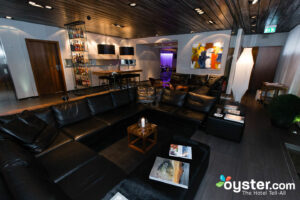 Designed by an Icelandic architect, the CenterHotel Thingholt's interiors are filled with leather, polished stone, rough concrete, and slick lighting inspired by the deep caves, lava flows, and waterfalls of Iceland's landscape. The upscale hotel's 52 rooms have sexy decor, mood lighting, and contemporary bathrooms with large and luxurious walk-in rainfall showers. The hotel's spa resembles an Icelandic cave, and has a sauna, rainfall shower, and large hot tub where guests can have shoulder massages while they soak. The fine-dining Isafold restaurant serves seasonal, local cuisine, and its bar has a nice selection of whisky, beer, and wine.
7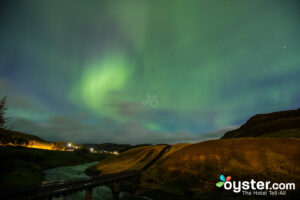 A remote setting along the Varma River makes Frost and Fire Hotel a great spot for romantic getaways, and well-suited for any traveler looking for an authentic Icelandic experience. Steam rises around its outdoor pool and geothermally heated hot tubs. The hotel's 22 rooms are airy, with vaulted ceilings and windows and private entrances that face the river. For dining, Restaurant Varma serves seasonal local delicacies -- think reindeer steak with root vegetables in a fig and bearnaise noisette, or hot smoked goose breast with brie and raspberry sauce. The free breakfast includes local goods and smoked trout from northern Iceland. Guests can also boil their own free-range eggs outside in the hot springs.
8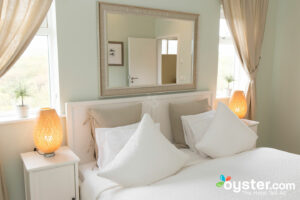 Hotel Grimsborgir is an upscale, 64-room hotel in a secluded location that's great for viewing the Northern Lights. The location means there is little to do around the hotel, beyond taking personal day trips by car or with the hotel's sightseeing tour bus (for a fee). Rooms are sophisticated, with flat-screen TVs and minibars, while apartments have two to four bedrooms, lounge areas, and full kitchen -- some also have private hot tubs. Features include an expensive restaurant and bar, communal hot tubs, massages upon request, and free breakfast -- but no full spa.