Best Boutique Hotels in Jamaica
Jamaica's hotel sector may seem rife with massive chains, but look closer: some independent properties in Montego Bay, Ocho Rios, Negril, Port Antonio, Kingston, and Treasure Beach are like nothing else in the world. For travelers who value quirk over cookie-cutter, here are the best boutique hotels in Jamaica.
See All Jamaica Hotels
1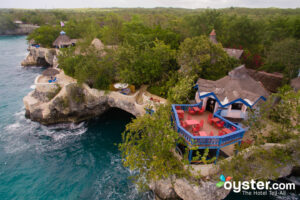 With its exclusive boutique vibe, and dramatic cliffside setting, The Caves is considered one of Jamaica's most romantic escapes. The 11 unique, private cottages and suites at this upscale all-inclusive property unfold along lush garden paths and dramatic seaside cliffs carved with steep stairways down to the water and into incredible grottos. There's a clifftop bar, a grotto bar, and private candlelit cave dining on offer. Top notch food celebrates local ingredients, and the scene is laid-back and bohemian -- suited to travelers who appreciate outdoor showers and artful decor in favor of conventional luxury. However, a stay here doesn't come cheap, and Tensing Pen and Rockhouse offer cheaper nearby alternatives with impressive pools in similar settings.
2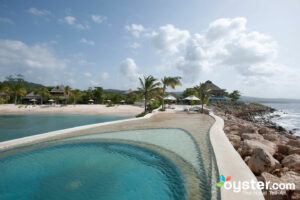 The 21-room GoldenEye is hands down Jamaica's hippest and most luxurious resort. It's also one of the island's most historic, as the former home of Ian Fleming, and the hideaway at which the author scribed all 14 of his James Bond novels. Today, the property includes stunning cottages and villas overlooking a private beach and lagoon, as well as two happening restaurants, two pools, a tree house spa, and an extensive roster of on-site activities. The rates might cause some to flinch, but those who can afford it will find little cause for complaint.
3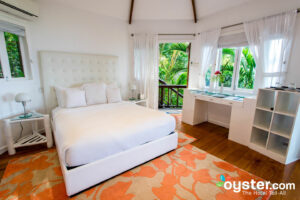 The Geejam is made up of only five private, high-tech cottages on the lush foothills of Port Antonio. The setting is gorgeous, the service is extraordinary, and one of the Caribbean's most beautiful beaches is only 10 minutes away. The resort is designed to offer privacy above all else -- there's no communal pool and no direct beach access, and guests often take all their meals in their individual cabins, each fenced off from the common pathways.
4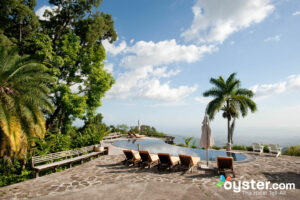 This former coffee plantation nestled among the steep and winding hills of Jamaica's famous Blue Mountain is a little oasis above the very un-resort-like city of Kingston. The resort offers plenty of intimacy and privacy, with just 12 cottages on more than 26 acres. It also has the features of a larger property: an expansive spa, a breezy restaurant and bar, a hilltop pool with panoramic vistas, lush gardens, and ample relaxation space. Rates might be considered a steal given the property's level of luxury -- if it weren't for the inaccessible location and lack of beachfront.
5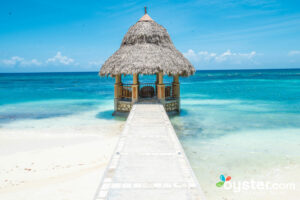 Hermosa Cove is a four-pearl, nine-room resort with an eco-friendly vibe on the beach in Ocho Rios. There is a personal, homey atmosphere here, from cooked-to-order meals made with locally sourced ingredients (some of which are grown in the resort's gardens) to the artful wooden carvings throughout the property. Despite its close-to-nature attitude, there are luxurious touches in the colorful villas, and amenities can include private pools, iPod docks, and flat-screen TVs. The environment is quiet and peaceful -- great for those looking to relax in a location away from the commercial resort party scene.
6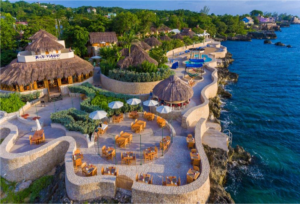 A peaceful and beautiful resort, The SPA Retreat Boutique Hotel was designed to be a true escape for couples and small groups that want to relax, be pampered, and enjoy a quiet experience. For adults only, the intimate hotel (maximum 47 visitors) features individual cottages, all-inclusive packages for dining at the on-site restaurant and bar, a variety of spa services, and an incredible view of the Negril cliffs and Caribbean. The hotel's gorgeous design and luxurious treatments make it a great upscale option for weddings, health and wellness retreats, and special events, as well as travelers that simply want to escape and unwind in a tropical setting.
7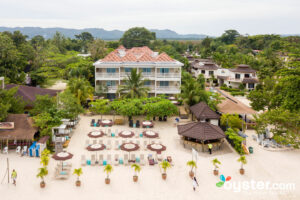 Sandy Haven is an upscale, 35-room resort on Negril's Seven Mile Beach. Rooms have chic, contemporary decor incorporating leather headboards and (slightly scuffed) dark wood furniture; some bathrooms have nice mosaics showers with rainfall showers and luxe toiletries like exfoliating soap. Property offerings include an outdoor spa, decent-sized gym, elegant pool area with hot tub, and either casual beachside dining and drinks or a more formal dinner experience with premium spirits and wine list. It's best-suited to couples or individuals (rooms are priced per person) who want the features of a large all-inclusive, but the relaxation and exclusivity of a boutique.
8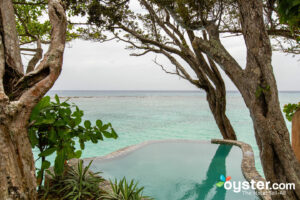 A small, romantic resort that once drew Marilyn Monroe and Arthur Miller, the Jamaica Inn is about quiet luxury -- a single thatch-roofed bar, a small pool, and beautiful rooms with big terraces and colonial decor. The 48 suites and cottages include free Wi-Fi, high-end bathrooms, and water-view balconies (some with private plunge pools), and the lack of TVs and radios preserves the quiet, unplugged vibe.
9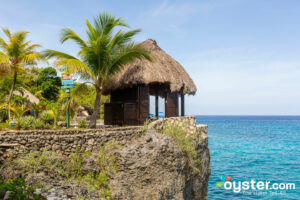 The lush, laid-back Rockhouse creates a holistic haven -- gourmet dining, morning yoga, cliffside loungers, a premium spa, no kids under 12, and beautiful eco-appropriate design. The Rockhouse strives to be part of the community. Rooms come with socially conscious, locally made Starfish Oil soaps and bath products. All furniture is crafted from local timber. From its inception, the designer was forced to limit his impact on the surrounding jungle, and the hotel strives to operate in an environmentally-conscious manner, including solar-heated hot water.
10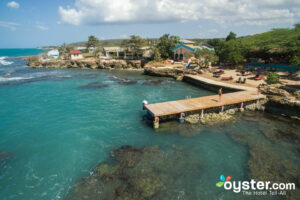 With 84 hippy-chic cottages, rooms, and villas in secluded Treasure Beach, Jake's is a member of Bespoke Hotels, a trendy, luxury hotel group. Guests come to unplug -- there's no phone, Internet, or TV in the cottages. The black-sand beaches aren't Jamaica's most impressive, but the Driftwood Spa, on-site painting and yoga classes, and excellent food make this a particular favorite.
11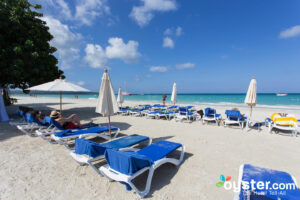 With a central location on beautiful Seven Mile Beach, a pool and whirlpool, and clean, comfortable rooms, the Negril Tree House Resort is a great budget option for families, couples, and groups. A good-sized buffet breakfast is included, and the hotel also features a beach bar and grill with freshly-made jerk chicken, as well as room service. While the resort is small and has fewer amenities than some of the other properties on the beach, its proximity to other activities and restaurants provides guests with plenty of nearby options. Massages on the beach can be arranged and yoga classes are available. The beachfront restaurant and bar occasionally host live music, and though the scene is lively, it's not out-of-control spring break style.
12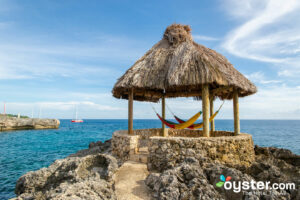 With an intimate collection of 17 cottages (22 rooms), Tensing Pen is where guests come to unplug -- no TVs, phones, or radios in the rooms -- and enjoy the breathtaking cliffs of Negril's west end. The pool, spa, and restaurant are a little smaller and less popular than at the similarly priced, similarly styled Rockhouse boutique, but most guests prefer the quiet exclusivity found here.
13
For travelers who want to enjoy a resort experience but still prefer a more intimate hotel, the Coyaba Beach Resort is an attractive upper-middle-range option. The 50 plantation-style rooms are spacious if a bit dated, and guests won't feel crowded or cramped at the private beach (even though it's small). An all-inclusive option lets guests dine and drink on the property, but many rate the food as mediocre, so it may be better to stick to the room-only plan and explore the local restaurants in Montego Bay; the so-called Hip Strip is around 10-minute taxi ride away. The airport is just a five-minute drive away, and the resort does experience plane noise. Still, couples will likely appreciate the spa services, lush gardens providing shade and privacy, and the quiet pool.
14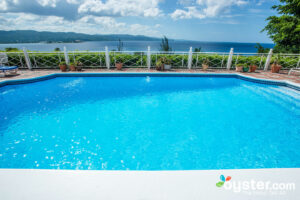 Situated atop a quiet, residential hill, Polkerris Bed and Breakfast offers some of the most charming lodging in the area, all in a compact and refined package. While only a 10-minute walk to the Montego Bay tourist district, it feels worlds away. Each of its 10 upper-middle-range rooms is individually designed with a Tuscan-inspired decor. Standard amenities include free Wi-Fi, flat-screen TVs, mini-fridges, and most feature patios with garden or ocean views. The list of common amenities is solid for a hotel of this size, including two pools, a lovely open-air lounge, and commanding harbor views from almost anywhere on the property.