Best Value Hotels in Jersey Shore
Oyster knows what travelers look for in their hotels. When we visit properties around the world, we evaluate how every feature stacks up against the competition, from the rooms to the pools to the restaurants. So if you're planning a trip and need a place to start, you've come to the right place. Take a look at our top picks for value in Jersey Shore, and get inspired!
See All Jersey Shore Hotels
1
This massive, 17-acre oceanfront resort attracts families with its spacious condos and rental homes, four large pools, private beach, and plentiful amenities. The 200-plus rental units at Seapointe Village, available only for weekly rentals during peak season, are all individually owned -- so the decor and renovations vary widely. Rentals are on the pricy side for Wildwood Crest, but you won't find better amenities for miles around. Just remember to stock your kitchen, because there's no on-site restaurant at the resort -- just a small beach cafe.
2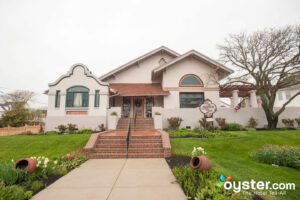 Unlike the majority of the Victorian-style bed and breakfasts in the Cape May area, or anywhere on the East Coast, the Mission Inn, built in 1912, was constructed in the classic California Spanish architectural style. Perfect for couples seeking a romantic getaway by the beach, the upscale inn includes individually designed rooms (each themed after a different California mission) and an impressive home-cooked daily breakfast.
3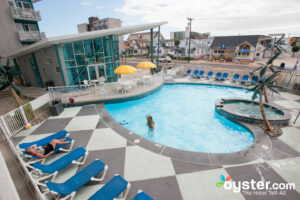 The Starlux is a family-friendly boutique hotel with highly stylized 1950s futuristic decor. Just over a block from the beach and Wildwood Boardwalk, this 45-room property is a short walk from restaurants and shops. Highlights include a heated outdoor pool, hot tub, game room, and fun-spirited guest rooms with lava lamps and mini-fridges. Free perks like beach chairs, rental bikes, and continental breakfast make the Starlux a solid value in the heart of town.
4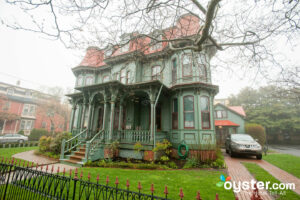 Owned by a couple, The Queen Victoria is a beautiful, mid-range B&B in Cape May with 30 rooms in four picturesque homes. Decorated with charming antique furnishings, the hotel has an excellent location as well -- it's a short walk to the beach and Washington Street Mall. A tasty breakfast buffet and afternoon tea and snack service are served daily. Queen Victoria has bicycles guests can borrow and outdoor showers for cleaning off after a day at the beach
5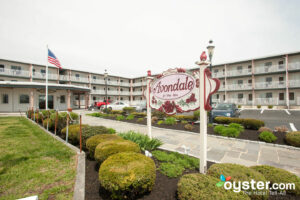 Avondale by the Sea is a beachfront property popular with families and couples who flock to Cape May every summer for a beach vacation. The hotel has an almost unbeatable location directly across the street from the ocean and a six-minute walk to pedestrian-friendly Washington Street Mall. Rooms are clean but basic, with some dated touches (patterned bedspreads) and some nice amenities (flat-screen TVs, mini-fridges, free Wi-Fi). Free breakfast and a reserved parking space are nice extras. There's a big outdoor pool but no fitness center.
6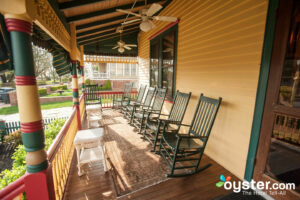 he Albert Stevens Inn is a mid-range, three-pearl bed and breakfast in a peaceful, residential neighborhood in Cape May. The 10-room, antique-filled property attracts couples looking for a quiet place to stay with lots of great perks like free bike rentals, gourmet breakfasts, and an afternoon snack reception. Rooms are decorated in a traditional style and offer a mix of high-tech and low-tech entertainment (think flat-screen TVs and board games). The two verandas (one open-air and one covered) offer nice places to relax, but there is not much else in the way of features. The nearby Southern Mansion is a comparable bed and breakfast option.
7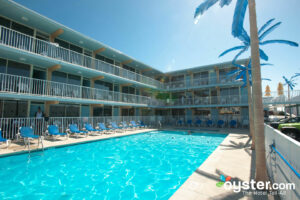 Renovated in 2012, the Blue Palms is a family-friendly beach hotel with two heated pools. Located in the center of downtown Wildwood, a block from the beach and the Wildwood Boardwalk, this appealingly kitschy budget hotel is a short walk from restaurants and shops. Rooms are clean if a bit basic, and some have kitchenettes, sofa beds, or bunk beds. Free perks like rental bicycles, beach chairs, and continental breakfast in the summer add value.