Best Beach Hotels on Kauai
Of the four most popular Hawaiian islands, Kauai is the smallest and least developed, but it still wows with natural wonders like the 10-mile-long Waimea Canyon, towering waterfalls, and gorgeous oceanside rock formations at Queen's Bath and Spouting Horn. And though the beaches on Kauai are rocky and narrow, many of Kauai's beaches are uncrowded or isolated — ideal for quiet walks, picnics, and picture-perfect views. Take a look at our expert picks for the best beach hotels on Kauai, and get inspired!
See All Kauai Hotels
1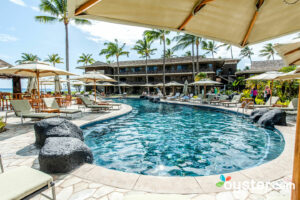 This 121-room Poipu boutique hotel offers five-star features -- rooms with fine Egyptian linens, Italian marble bathrooms, and personal espresso machines, and a free fitness center with individual cable-TV monitors. With just one pool and restaurant, it lacks the extras of the mega-resorts -- but the service is more attentive and pampering.
2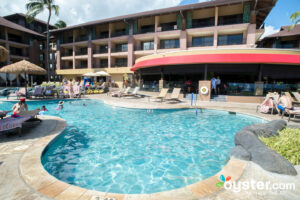 One of several resorts on Kauai's Poipu Beach, the 394-room Sheraton Kauai offers solid, if not spectacular, amenities -- afitness center, five restaurants including Lava's and Rumfire, a spa, and a long stretch of oceanfront -- at attractive rates. Its small pools aren't quite as nice as those at pricier resorts but keep in mind that the hotel has undergone a $16 million "Revitalization"; expect positive changes at the beach pool, restaurants, bars, etc.
3
A 333-unit, south shore condo fronting Poipu Beach, with limited service and varying decor, though plenty of open space, the Outrigger Kiahuna Plantation offers an experience similar to the Castle Kiahuna, with which it shares the Kiahuna Plantation; both have access to the pool, golf, and tennis across the street, but there's slightly better service here.
4
Located next to the Kiahuna Plantation and Koa Kea, this 238-room Poipu resort offers huge two-bedroom villas with kitchens, three great pools, and a 24-hour fitness center, but there's no full restaurant and you can find more luxurious units on Kauai for a similar price.
5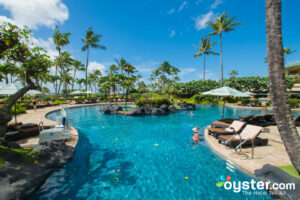 One of the best luxury resorts on Kauai, the 602-room Grand Hyatt Kauai draws guests with spacious, Hawaiian-inspired rooms, three incredible pools, a behemoth saltwater lagoon, 10 dining options, including a host of high-end restaurants, a renowned spa, a twice-weekly luau, and immaculately kept tropical grounds. Its large range of features allows it to have broad appeal, and a non-stop cycle of families, honeymooners, business travelers, and wedding parties filter through the property week after week.
6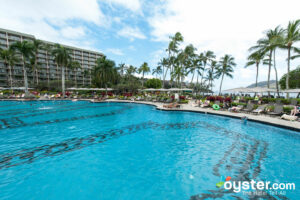 Renovated in 2009, this 356-room, family-oriented resort on Kalapaki Beach boasts big flat-screens in every room, a Jack Nicklaus-designed golf course, and the biggest single-level pool in Hawaii. It might not have the fancy frills of the pricier Grand Hyatt, but it's still the best resort for the buck in Kauai.
7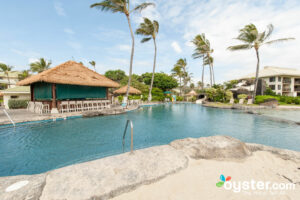 This private, quiet property has large rooms, gorgeous sunrises over a rugged beach, a waterslide and sand-bottom pool, and a romantic bar with live music. It's a good choice for a quiet, relaxed stay. Just know that for similar rates, the Kauai Marriotthas better service, better food, high-design pools, a more usable beach, and more stuff to do.
8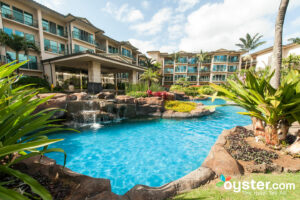 At this condo resort, you get a huge one- and two-bedroom suite that's among the best on the island. A family-friendly pool is just one of the hotel's family friendly bonuses. On-site dining is slim, and the beach is unremarkable, but full kitchens, a grocery store across the street, and a convenient location can make up for those shortcomings.