Best Boutique Hotels in Key West
Tourists head to Key West for its year-round sunshine and gorgeous beaches. The small city is full of charm, Victorian architecture, and plenty of nightlife for revelers. For a more intimate stay in this Florida Keys city, a boutique is an ideal option — the rooms are cozy, the vibe is relaxed, and there's often more personal service than at a big resort. If that sounds like your style, check out our picks for the best boutique hotels in Key West and start planning your getaway!
See All Key West Hotels
1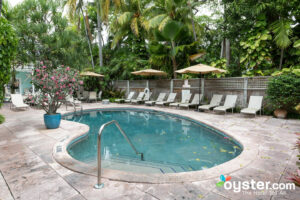 Refurbished from 1884 conch houses, the Marquesa Hotel is a compound of four buildings surrounding lovely interior gardens and two pools. A narrow staircase off the lobby leads to the individually decorated rooms. Light and airy rooms feature flat-screen TVs, mini-fridges, and cozy sitting areas with ottomans. Bathrooms are basic and clean with shower/tub combos and marble sinks. Suites have private terraces with cute wicker furniture and some are adjacent to one of the hotel's pools. An appealing on-site restaurant, Cafe Marquesa, serves fresh local seafood. No children under 14 are allowed at the hotel, providing this property with a distinctly romantic feel. Free Wi-Fi and parking add value, and the Old Town location two blocks from Duval Street is convenient.
2
Orchid Key Inn is a 24-room, upper-middle range boutique located on Duval Street in the heart of Key West's tourist area and within walking distance of lively bars, outdoor cafes, and unique shops. Though it doesn't look like much from the outside, the interior of the hotel is renovated, elegant, and stylish with an orchid design motif found throughout the property and chic rooms. There is a big pool with lush landscaping and one free drink during happy hour at the poolside bar, but no on-site restaurants serve lunch or dinner. Rates are competitive given the hotel's central location and modern style.
3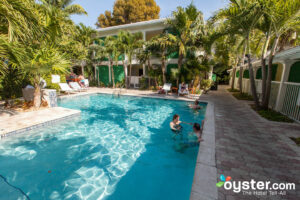 The Almond Tree Inn is an upper-middle-range boutique, offering 22 stylish rooms decorated in yellow, green, and white tropical decor. It's a great value compared to other nearby hotels, providing both free breakfast and a free happy hour. Property features include a serene pool courtyard with waterfalls and lush landscaping, and the location is in the heart of Old Town Key West, within walking distance of Duval Street.
4
Alexander's Guesthouse is an intimate, 17-room bed and breakfast designed especially for the LGBT community and supporters. It's a historic property that's been completely renovated -- including the guest rooms, living room style lobby, pool area, and kitchen. The only meal served on property is the free breakfast, but there are tons of dining choices located within walking distance on lively Duval Street. Rates are comparable to competitors and rooms tend to book fast during the busy seasons, with a strict cancellation policy and minimum stay requirement at times.
5
This 40-room resort caters to the upscale traveler with luxurious, beach-chic cottages and high-end amenities. It is located on Sunset Key, a residential island off Key West, and is affiliated to the Westin Key West, with which it shares some features, such as the fitness center and the restaurants (though only guests of Sunset Key can use the on-site amenities; Westin guests do not have access to them). The hotel itself has wonderful amenities, including a lovely pool, a gorgeous beach with palm trees and clear waters, and a pleasant spa. Its location, though idyllic and exclusive, might be somewhat inconvenient for travelers who want to be close to shops and restaurants (the hotel only has one eatery on-site).
6
The 19-room La Mer Hotel and Dewey House is an upscale, adults-only property built at the turn of the century on South Beach. With its breezy yet elegant style, beachfront dining terrace, and access to a sister hotels' pools, spa, and three bars, this property offers the features of a resort with a bed-and-breakfast atmosphere. Guest rooms are beautifully decorated in a classic style, and have flat-screen TVs, mini-fridges, and coffeemakers; some open to balconies. The property serves free breakfast, along with occasional treats like chocolate-covered strawberries, but there's a pesky resort fee and minimum stays are occasionally required.
7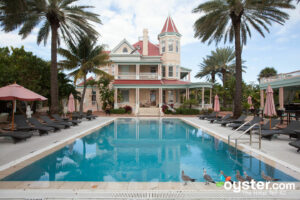 The Southernmost House is an adult-only property in an historic Victorian home directly on the ocean and just off popular Duval Street. This 18-room, mid-range inn feels sophisticated but laid-back, and has hosted the likes of Hemingway and Capote. Its genteel sitting porches, antique furnishings, and original Tiffany-glass entrance canopy connect visitors with old Key West, while the spacious, individually designed guest rooms offer modern comforts, such as flat-screen TVs and mini-fridges. Free breakfast is served daily, and there's a lovely zero-edge pool overlooking the ocean. Noise from Duval Street can infiltrate some rooms, and service is not always as personalized as some might expect from a bed-and-breakfast.
8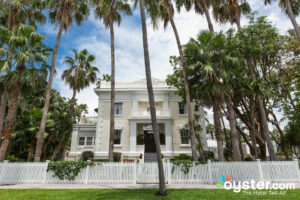 This charming, eight-room property is housed in a historic building on a quiet street in Old Town Key West, within walking distance to some of the major tourist attractions, and to a couple of good beaches. Each of its rooms has a distinct character and few amenities (a flat-screen TV and little more), but they come with charming decor (four-poster beds, antique touches) and relaxing views of the well-tended grounds. The hotel has no amenities whatsoever -- just a tiny pool -- but there are some great freebies like free Wi-Fi, free parking, and a free breakfast basket delivery.
9
Some guests might steer clear of the home of the haunted stuffed doll that inspired the movie "Chuckie," but Artist House, one of the most photographed houses in Key West, is immaculate, bright, colorful, and welcoming, with nothing spooky about it. This restored Victorian mansion serves European pastries at breakfast and hosts a free daily happy hour. It's located within a few minutes' walk of Duval Street and the heartbeat of Key West.
10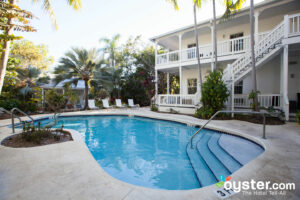 The 18-room Paradise Inn is an adult-only boutique hotel with historic flair located in Key West's Old Town close to Duval Street. The upper-middle-range inn is quaint and relaxed. Management is committed to preserving the peaceful elegance of the hotel and its restored cigar-maker cottages, and doesn't allow bachelor or bachelorette parties or other raucous behavior. Rather, there is a civilized afternoon wine and cheese hour by the palm-shaded pool. Rooms, many of them suites with private balconies, are sunny, spotless and spacious.
11
One of the six properties included in Historic Key West Inns, the tastefully renovated and mid-range Cypress House, on a quiet corner in old town, has 22 spacious rooms, and a comfortable outdoor pool area. It's a block from Duval Street, the seaport, and Key West's many shops, restaurants, and bars. Free margaritas are served at a daily happy hour and breakfast is included in the rate. The historic hotel does not permit children.
12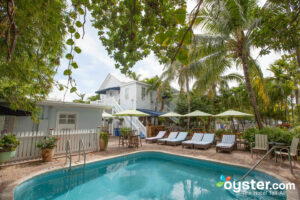 The Duval Inn is about a block away from old Key West's shops, restaurants, and bars but is an oasis of sorts with a jungle-like courtyard and small pool. Each room is rich in character and individually decorated. Families are welcome here and can stay in adjoining rooms. Some of the rooms have full kitchens. Priced similarly to other historic bed and breakfasts near Duval Street, the mid-range Duval Inn offers a free daily happy hour and breakfast. Be aware that parking is limited.