Best Luxury Hotels in The Strip, Las Vegas
From its restaurant scene to its live performances, Las Vegas is not short on over-the-top glitz and glam. And when it comes to luxury hotels, Sin City delivers, too, with enormous rooms, stunning spas, beautiful pools, airport transfers in Rolls-Royce limousines, and Michelin-starred chefs, to name a few. Take a look at the best luxury hotels in The Strip.
See All Las Vegas Hotels
1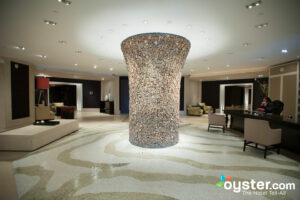 Skylofts is the luxury section of MGM Grand, offering some of the most exclusive accommodations not just within the hotel but in Vegas. All of the rooms are one-, two-, and three-bedroom duplex lofts (they start at 1,400 square feet) with big living areas and sophisticated but understated urban decor; prices are usually upwards of $1,000 a night. High-end extras include airport transfers in a Rolls-Royce Ghost limousine; a calm, private reception area for Skylofts guests with a separate entrance; in-loft check-ins (no waiting in line!); and access to Skylounge on the 29th floor for cocktails and appetizers. But most facilities, such as the main fitness center and the spa, must be shared with MGM guests.
2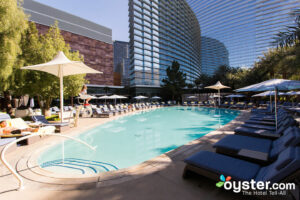 Located atop the ARIA Resort & Casino, the 442-room ARIA Sky Suites is a luxe, more serene alternative to the many party-oriented hotels on the Strip. Its suites are chic and modern, with a wide array of high-tech amenities such as tablets to control lighting and curtains, extravagant bathrooms with jetted tubs, and floor-to-ceiling windows -- some offering panoramic Strip views. Service is top-notch here, with personal concierges, a private lounge with free drinks and snacks, and free airport transfers in a limousine. Guests get access to all of the features at the ARIA Resort & Casino, including all of its restaurants, the spa, the pools, and the gym, plus, the Sky Suites has its own private pool. It's worth comparing rates with SKYLOFTS at MGM Grand, a luxe option with a similar concept.
3
Occupying the 35th through 39th floors of the Mandalay Bay Resort, the Four Seasons Hotel Las Vegas is an oasis of calm in a city known for its frenetic energy. Guests at the Four Seasons can look forward to decadent Art-Deco inspired rooms with huge marble bathrooms, sophisticated on-site dining, a renowned spa, and the luxury hotel brand's signature "anticipatory service." Though there's no dedicated casino here, the Mandalay Bay's is an elevator ride away. The only downside is the hotel's location on the Strip's southern end. Travelers who'd prefer a more central Strip location should check out the equally luxurious Mandarin Oriental.
4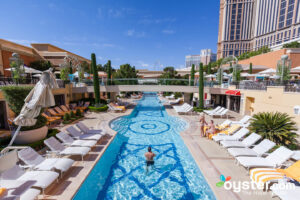 Wynn Las Vegas is a four-and-a-half-pearl luxury hotel at the northern end of the Las Vegas Strip, a bit far from the action. It's 2,716 air-conditioned rooms have posh interiors with large flat-screen TVs, marble accents, and gorgeous Strip or mountain views. Upgraded Tower Suites include perks like a private pool, private check-ins, and free breakfasts. Wynn's sprawling casino is one of The Strip's most chic, but can be smoky when crowded. The 13 fine-dining and casual restaurants include a steakhouse, Asian, Italian, and American cuisines, plus a buffet with often long waits. Other amenities include multiple pools, a spa and gym, nightclub, golf course, and meeting rooms. Travelers seeking a sophisticated stay without a casino might consider the Mandarin Oriental, Las Vegas with its Asian-inspired rooms, two pools, and serene spa.
5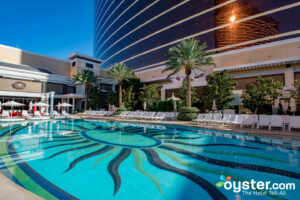 Opened in December 2008, the 2,034-room Encore is all about pure opulence, from its impressive interiors to its decadent spa to the array of dining options, gaming tables, and several attractive pools -- including a European-style pool with topless sunbathing. The giant suites are some of the biggest on The Strip (starting at 745 square feet!) and one-up even the Wynn's (Encore's next-door sister), plus they're decked out with mod-cons and luxurious marble bathrooms with soaking tubs and separate showers. Tower Suites come with perks like a dedicated concierge, access to a private Tower Suites pool, and free in-room breakfast. Two nightclubs regularly host top DJs, while shows at the Encore Theater are also top-notch. There's a luxe casino on-site, and even a golf course. It all comes at a price though -- rates are high, as are food and drink at any of the venues, plus there are daily resort fees added. The Italian-inspired Venetian is a lovely alternative with lower rates, gondola rides, and faster access to the southern end of The Strip.
6
Big, elaborate, and packed with the kind of luxuries you see at the Bellagio and the Wynn, the Palazzo has some of the best and biggest standard rooms on The Strip. Its world-class spa, 10 pools, busy casino, and name-brand fine dining all connect to its sister property, the Venetian, via an haute couture mall. It's less theme-y than many Vegas hotels, but right at the top of the list in terms of glitz and extravagance.
7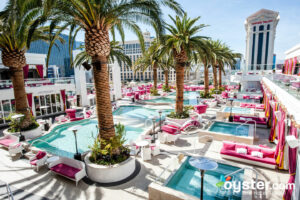 Situated in the heart of the Las Vegas Strip, The Cromwell is a four-pearl boutique hotel with vintage-style interiors and its own casino. There are 188 rooms and suites, many with views out over The Strip, and while all have elegant decor, most lack coffeemakers. Amenities are geared toward leisure travelers and include Drai's Beachclub Nightclub, an indoor/outdoor club with long hours and multiple pools, but it's restricted to guests 21 and over and there's a fee. There are also a couple of restaurants, namely a 24-hour snack bar and an elegant Italian joint, created by celebrity chef Giada De Laurentiis. Overall, it's a great place for young partygoers, but families are better off somewhere more kid-friendly, such as the much larger MGM Grand Hotel & Casino.
8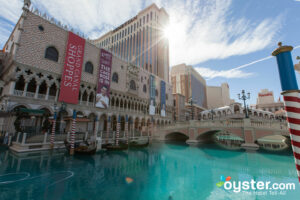 Like the Paris and New York-New York hotels, the 5,030-room Venetian is an enormous and extravagant tribute to a place far from the desert, complete with gondola rides and a replica of Saint Mark's Square. Compared to the other theme-driven Vegas properties, the Venetian distinguishes itself with enormous guest rooms, a world-class spa with 90 treatment rooms, and heaps of premier restaurants.
9
These elegant condominium towers behind the MGM Grand give guests easy access to great restaurants and shows, the biggest casino in town, and a huge, fun pool complex -- plus the option to chill out away from the fray. The luxurious rooms, all suites, are among the best Vegas has to offer.
10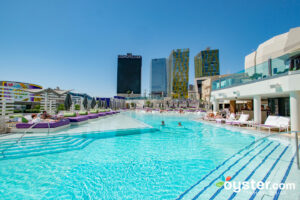 The Cosmopolitan has quickly established itself as one of the trendiest spots on the Strip. The typical Vegas kitsch has been swapped out for aggressively modern design and futuristic touches (guests sign in on an iPad). Fanfare aside, rooms are large and feature comfortable, designer furnishings and modern, open bathrooms. All types of travelers seem to come here, from frat boys to gambling grandmothers, but the nights decidedly belong to the younger crowd at BOND and Marquee -- as do the days, during Marquee's seasonal "dayclub" party poolside. It's certainly not the most family-friendly option, but couples looking for a phenomenal spa and nearby action won't be disappointed.
11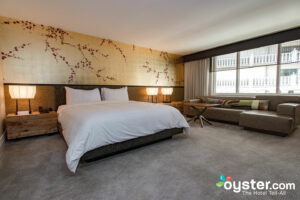 Nobu is a hotel within a hotel, located within one of the towers at Caesars Palace. The 181-room property -- from the creators of the Nobu Japanese restaurant chain -- offers more upscale accommodations than the main Caesars hotel, with a Japanese twist: Japanese-themed David Rockwell design, feng shui floor plans hot tea waiting upon arrival, and minibars stocked with Japanese beer and sake. Guests get 24-hour room service from the Nobu restaurant downstairs (not to mention priority reservations), and the Nobu breakfast menu is available exclusively through room service. Guests get access to all of the Caesars features, such as the fitness center, spa, and PURE nightclub, as well as a private check-in desk and concierge services (though no separate lobby).
12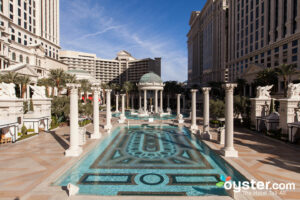 Since 1966, the 2,419-room Caesars Palace has defined excess on the Strip -- a massive spa with Roman baths; elaborate mosaics and classical architecture around the pools; one of the biggest casinos in Vegas. But base-level rooms are smaller, more drab, and older than the Vegas norm. You can upgrade to a more recently renovated room, but check the Venetian's rates first.
13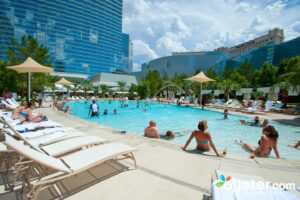 A 4,004-room mega-resort, Aria stands as the shiny centerpiece of the $11 billion City Center, opened in December 2009. Everything at Aria is done on a grand scale, from the soaring ceilings to the 16 restaurants, and not at the expense of good service, either. And the design, while whimsical and creative, aims for refinement and class rather than Vegas kitsch, creating a lovely luxury hotel -- and one that's still affordable.
14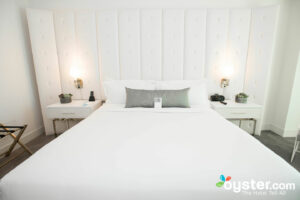 This 1,117-room, 4.5-pearl property is the result of an $80 million renovation, completed in Fall 2014, of the former THEhotel at Mandalay Bay. The revamping brought striking desert-inspired art installations to the lobby and chic, white furnishings in the suite-style rooms. There's not much in way of entertainment or dining on-site, but it's connected to the huge and lively Mandalay Bay. For guests or business travelers wanting a quiet retreat still near the Vegas hustle and bustle, the Delano is a prime pick.
15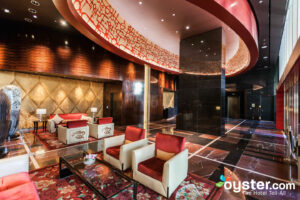 Waldorf Astoria is a luxurious hotel located at the southern end of The Strip and across from the high-end Shops at Crystals. Its air-conditioned rooms have posh, Asian-inspired interiors with marble bathrooms and extensive evening turndown service. The three swanky restaurants get mostly positive reviews and serve French, Asian, and American cuisines. The property lacks a casino, though, and the two pools don't have enough lounge chairs to meet demand. Other features include a gym offering free fitness classes, a stunning spa, a tea parlor, and free car service within a mile of the hotel.