Best Boutique Hotels in Paris' Latin Quarter
Alive with young energy, the Latin Quarter is home to narrow streets lined with small shops, booksellers, old cinemas, and countless restaurants and bars. Nearly all of the hotels in this Left Bank neighborhood are small and intimate, but here are the boutique hotels that truly earned our seal of approval.
See All 5th Arrondissement (Latin Quarter) Hotels
1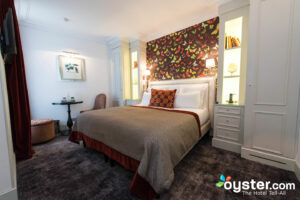 The 30-room, upscale Hotel Monge is a beautiful boutique in the heart of Paris' bohemian 5th Arrondissement. Sparkling, 2016-renovated interiors blend classically elegant decor with modern design. The small, but well-appointed rooms have flat-screen TVs, sleek bathrooms, minibars, and safes. A wellness area has a steam room and offers massages, but there's no fitness center. Free all-day drinks and snacks are served in a cozy lounge, and an area serving quality breakfast (fee) becomes an honesty bar in evenings. Although removed from major sights, the hotel is still central and Rue Mouffetard's vibrant bars and shops are nearby, as is the Pantheon and metro stations for farther destinations. Wi-Fi is free throughout.
2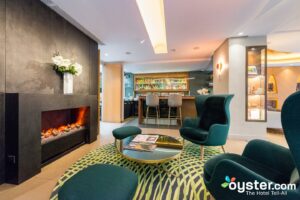 Le Six is a 41-room boutique hotel situated on a quiet street in the lively Latin Quarter. It offers contemporary rooms with pale wood floors and contrasting chocolate accents. Room amenities include flat-screen TVs, minibars, and spacious bathrooms with L'Occitane products. The top-floor suite is a standout room at this hotel, with not one, but two balconies. Additional hotel perks include a spa with hammam and exposed-brick lounge area for cocktails by the fireplace. While Le Six lacks a full restaurant, breakfast is served daily, and fiber-optic Wi-Fi is free. Prices may be higher than at nearby hotels, but the design-driven philosophy and great location make this hotel a solid pick.
3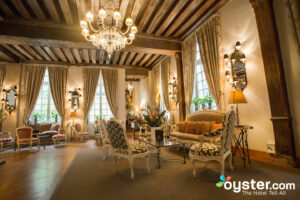 With its elegant courtyard garden and intellectual past, the 49-room Hotel d'Aubusson is, for many of its guests, the epitome of the Paris experience. The luxury boutique hotel occupies a stately home that began drawing coffee-sipping writers and academics in the 1700s; the tradition continues to this day with weekly literary talks. Rooms are stylish and sophisticated, with Hermes toiletries, sumptuous textiles, and cool modernist takes on canopy beds.
4
This 27-room, four-pearl boutique hotel happily marries the Latin Quarter's romantic side with its youthful Sorbonne spirit. Offering a très chic take on Lewis Carroll's children's tales, Le Lapin Blanc (or, in English, The White Rabbit) is notable for its clean-lined look and dreamy decor, all of which provide a welcome respite given the hotel's lively location on Boulevard Saint-Michel. The guest rooms -- complete with custom wallpaper and Scandinavian-style furnishings -- could have been lifted from the pages of a decorating magazine, but the property is otherwise short on features.
5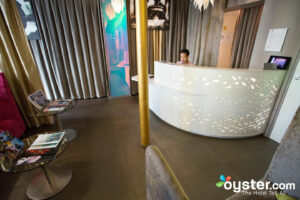 Seven Hotel Paris is a one-of-a-kind, intimate boutique, where romantic rooms have science fiction-like details such as floating beds, LED fiber-optic lights, and windows that blur with a touch of a button -- though less than private showers may be a deal breaker for some. There's a (charged) breakfast buffet that receives good reviews, plus an on-site bar, but not many other features. Wi-Fi is free.
6
Geared toward romantic couples and business travelers, this 27-room, upper-middle-range hotel has a great location -- central but quiet -- in the Latin Quarter. Several cafes and restaurants and beautiful churches and museums are in the immediate vicinity. Most of the rooms were renovated in 2015, and range from simple singles to more expensive seventh-floor rooms with king-sized beds and private terraces with fantastic views of the city.
7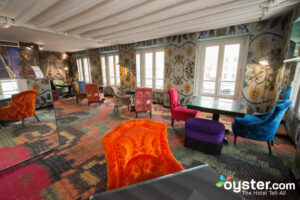 Perhaps one of the best aspects of this upper-middle-range hotel is its prime location overlooking the Seine, right across the bridge from the Ile de la Cité. It's hard to find better views of Notre Dame and from here, and guests are in the midst of the culture and dining of the Latin Quarter. Rooms are also something special; designed by Christian LaCroix, they have merge the building's historic architecture with eclectic furnishings and funky medieval-themed wall murals. The building is about 400 years old, so it has some quirks, such as a second-floor lobby not accessible by elevator. Street-facing rooms can be noisy, but the views from the top floors are incredible
8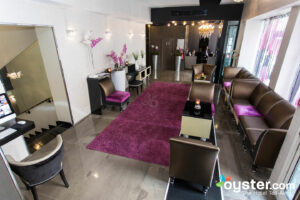 The upscale, 47-room Grand Hotel Saint-Michel has a prime Latin Quarter address next to the Sorbonne. Rooms are stylish and plush, but compact, and feature flat-screen TVs and contemporary bathrooms. There's plenty to see within walking distance, including the Luxembourg Gardens, Notre Dame Cathedral, and the Pantheon. Although there's no on-site restaurant, the hotel does serve a varied buffet breakfast (for a fee) as well as a free afternoon tea. There's a gym with an attached steam room and a small meeting room with sophisticated decor.
9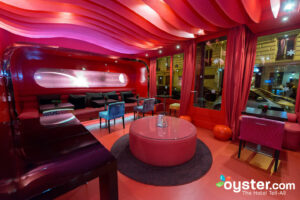 The Five Hotel, a 25-room boutique property, will appeal to those looking for a romantic, reasonable stay on the Left Bank. Located in a quiet section of the busy Latin Quarter, this three-pearl property is close to public transportation, but it's a haul on the metro to reach most top sights. Decor is lush and atmospheric, especially the sultry, fire-engine red lobby and lounge. Rooms can be just as splashy and they have flat-screen TVs, iPod docks, and sleek bathrooms -- though minibars/mini-fridges and extras like coffee and tea facilities are missing. T
10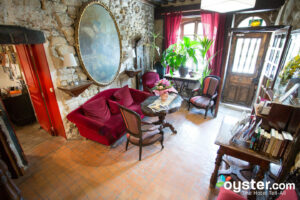 The historic 16-room Hotel Esmeralda is a boutique on the Left Bank steps from the Notre Dame Cathedral and the Seine, placing it in one of Paris' most enviable neighborhoods. While the lobby features plenty of charming details -- gorgeous stone walls, a rickety, but authentic, winding staircase, and plenty of antiques -- the rooms are very basic with bland furnishings. There are no amenities (not even breakfast), and there is no elevator (stairs are steep), but it's hard to beat the Hotel Esmeralda for value. If you're looking for a unique budget stay steps from major tourist sights and charming restaurants, cafes, and shops, you can do little better than this hotel.