Best Value Hotels in Lima
Oyster knows what travelers look for in their hotels. When we review properties around the world, we evaluate how every feature stacks up against the competition, from the rooms to the pools to the restaurants. So if you're planning a trip and need a place to start, you've come to the right place. Take a look at our top picks for value in Lonima, and get inspired!
See All Lima Hotels
1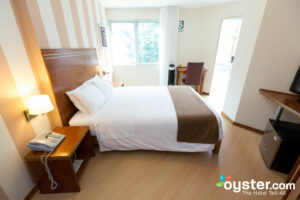 A mid-range hotel just a block from the beach, the Runcu features clean, bright rooms with large windows, flat-screen TVs, and colorful accent walls. The Runcu is a small hotel, with no pool or fitness center, on a busy street in popular Miraflores; street noise can be an issue at times, and the elevators show wear and tear, but the hotel's cheerful demeanor -- as well as freebies such as breakfast and Wi-Fi -- make the Runcu a good value.
2
San Blas is a small, no-frills property located in northern Miraflores, close to shopping, dining and attractions. It has 38 basic but comfortable (and clean) rooms with generic decor, a tiny average restaurant, and a few computers in a hallway. There's no fitness center or pool, but the flat-screen TVs, Jacuzzi tubs (in Executive rooms), and free Wi-Fi make this one of the best picks for the value in Lima. Triple Rooms that can accommodate three travelers can also help small families or groups save on cash.
3
The Casa Andina Classic - Miraflores San Antonio is a mid-range, 49-room hotel in the safe Miraflores neighborhood. Basic rooms are clean and contemporary, and the hotel is within walking distance of the beach. Freebies include breakfast in the sunlit restaurant, Wi-Fi, and parking. The property was renovated in 2011, and has flat-screen TVs in the rooms, unlike its sister hotel, Miraflores Centro. It's is a decent pick for its lovely interior patio, tranquil neighborhood, and some rooms with balconies and soaking tubs.
4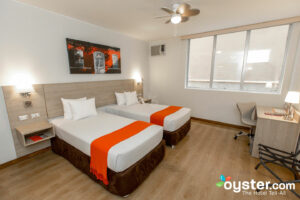 The Casa Andina - Miraflores Centro is also a barebones hotel in Miraflores. Rooms are clean and comfortable, just like at sister property Miraflores San Antonio, but could use some updating -- they have old tube TVs and dated bathrooms. The hotel is a good value, considering the central location, though; rooms have enough space for families or small groups, and extras include a free breakfast buffet and free Wi-Fi. Rooms have light wood furniture, contemporary style, colorful touches, and air-conditioning, but there is only one room type.
5
The mid-range Mariel Hotel has a central location on the eastern side of the lively Miraflores district. All 40 rooms have flat-screen TVs, stocked minibars, and comfortable beds with fluffy duvets. Rooms also have air-conditioning and Wi-Fi, and 24-hour room service is available. The on-site restaurant serves Peruvian and international cuisine, and the lounge is a nice spot to grab a Pisco Sour at night. A good breakfast buffet is included in the nightly rate. Overall, this is a good pick for the location and the clean, appealing rooms.
6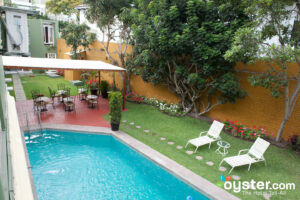 The 20-room Basadre Suites is located in San Isidro, a quiet and safe neighborhood between hopping Miraflores and Lima's Historic District. Rooms are basic but quaint and have some attractive decor details, and come with flat-screen TVs and mini-fridges. The grounds are charming, with manicured lawns, a small pool, and quirky little fountains made of rock. Great freebies such as Wi-Fi and breakfast add to the value, but visitors looking for a more modern hotel may want to compare prices at the nearby Atton San Isidro.
7
Housed in a beautifully restored Spanish Colonial-style pink mansion in the heart of Miraflores, the Antigua Miraflores Hotel is a charming property, with tiled floors, wonderful woodwork, and lots of traditional Peruvian details throughout. The gorgeous common areas were renovated in the early 2000s but preserve the flavor of an elegant colonial residence, from the small but solid restaurant where the free breakfast is served every morning, to the tranquil courtyard. However, the rooms, though spacious and bright, are basic, with dated comforters, and can feel a bit musty. All in all, its location on a quiet street in hopping Miraflores is hard to beat, and the property's historic charm and very affordable prices helps compensate for the average rooms.
8
The no-frills Bayview Hotel has a great location in the Miraflores district, within a few minutes' walk of the waterfront and Larcomar shopping center. The 24 basic rooms have old tube TVs, but do offer comfortable beds, lots of natural light, and in some, furnished balconies. The restaurant, which has outdoor seating in a nice garden, is a highlight, and the cozy lobby has a big flat-screen TV. The cheap minibar items, multiple freebies (Wi-Fi, an adequate buffet breakfast, on-site parking, a Pisco Sour at check-in), and excellent location make this colonial-style hotel a good value.