Best Value Hotels in Lisbon
Oyster knows what travelers look for in their hotels. When we review properties around the world, we evaluate how every feature stacks up against the competition, from the rooms to the pools to the restaurants. So if you're planning a trip and need a place to start, you've come to the right place. Take a look at our top value hotel picks in Lisbon, and get inspired!
See All Lisbon Hotels
1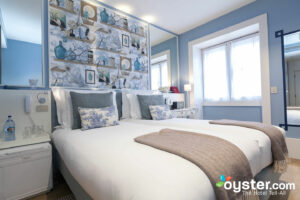 he 45-room LX offers surprisingly reasonable rates for a luxury boutique hotel of this caliber. It's located just south of Bairro Alto, within walking distance of the Tagus river and some major attractions. The hotel is known for its funky design; the hip sushi restaurant features bright furniture, rugs, and patterned wallpaper, and each floor of guest rooms has a different theme based on a neighborhood, place, or person in Lisbon history. They actually don't vary much aside from the themed wall murals, and all are impressive. With baby blue walls, plush bedding, upscale furniture, and small flat-screen TVs, the rooms feel cozy and high-end. Probably the coolest "funky" feature of the hotel is the graffiti-like mural on parts of the building that can be seen from some rooms. But the hotel does not have a fitness center or spa, and families may not love the frosted glass walls of the bathrooms.
2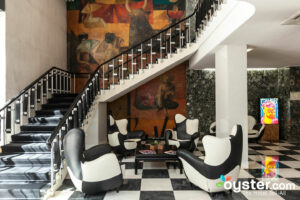 This historic boutique with a cool retro vibe throughout is a great value with a central location off Avenida da Liberdade. Rooms feature fun, quirky decor (such as framed movie posters and green, geometric prints); plush beds with crisp white linens; electric kettles; flat-screen TVs; and mini-fridges. Family rooms help families and groups save even more, as they offer a little more space and a third bed. Bathrooms still have generic Best Western style (the hotel used to be owned by the international chain until it was bought by Sterling Design), but feature Saboaria Portugueza toiletries, and are generally very clean. Property highlights include a pleasant winter garden with comfy couches, a full-service business center with an area for kids to play while parents use the computers, and a small bar. The restaurant attached to the hotel is a popular spot serving up international and Portuguese cuisine.
3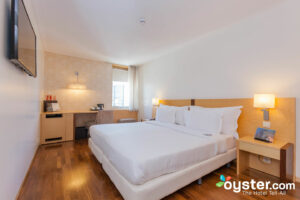 The 148-room HF Fenix Urban is a nice mid-range property in a quiet location a block from the Parque metro stop. The clean, modern rooms feel Ikea-esque (think: blonde wood, plush beds with crisp white duvets, white walls), and feature flat-screen TVs and stocked minibars. There's little in the way if amenities, and the bar and restaurant are nothing special, but the hotel does offer free Wi-Fi and discounted passes to a nearby local gym. This is a good value pick for both business travelers and families -- some rooms feature bunk beds, sofa beds, and microwaves.
4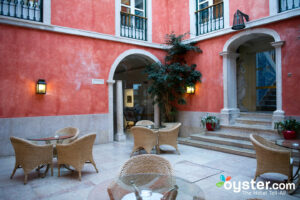 The 147-room Hotel Real Palacio feels like two separate hotels. Though all guests can enjoy the elegant lobby, which features antique furniture, classic artwork, and lots of natural sunlight from the windows framed with floral curtains, only 12 guests can stay in the Palace rooms, housed in the 17th-century palace. These rooms, though not ultra-luxurious, are decorated in a Rococo style reminiscent of when the palace was built; they feature canopied beds and rich curtains in pastel colors. But all other guests stay in rooms in the main building, which lack the historic look and feel. Instead, they have blonde, IKEA-like furniture and beds accented with striped red runners. All guests have access to the hotel's many amenities, which include two restaurants (one with a free breakfast buffet) and a health club outfitted with a fitness room, a Turkish bath, a Jacuzzi, a sauna, and one treatment room (which offers limited spa services). The location is somewhat removed from the action, but you get a lot for the price.
5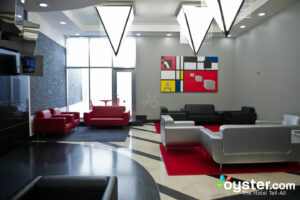 The Alif Avenidas (formerly the Dom Manuel I Hotel) is a modern business hotel located across the street from Sao Sebastiao metro stop. It was completely renovated in late 2010, and it now features 64 decent-sized rooms (by Lisbon standards) with flat-screen TVs, comfortable beds, and empty mini-fridges. Decor is contemporary, and some rooms feature bright red accent walls -- but there's a fee for Wi-Fi. The restaurant and bar are mediocre at best, but the breakfast buffet (not included in the standard rate) is decent, and there's a small business center with two computers and a printer. In short, it's a good value pick for business travelers considering the often affordable rates.