Oyster's Guide to the Los Angeles Food and Wine Festival
Attention foodies (and wine lovers): From August 9th to 12th, Los Angeles will play host to the second annual Los Angeles Food & Wine Festival. After a successful (and delicious!) first year, the fete is back again featuring dozens of renowned chefs: Andrew Zimmern, Wolfgang Puck, and the Voltaggio brothers, just to name a few. We at Oyster have found the perfect hotel for every type of foodie making the trek to L.A., so all you have to worry about is how best to stuff your face. Dig in!
See All Los Angeles Hotels
1
With spacious, beautiful rooms, a rooftop pool, a full-service spa, and tasteful, contemporary decor, this hotel delivers the level of luxury you'd expect from a Ritz. Its downtown location in the L.A. Live entertainment complex means you're close to numerous restaurants, but on-site WP24, Wolfgang Puck's Chinese restaurant, should not be missed.
2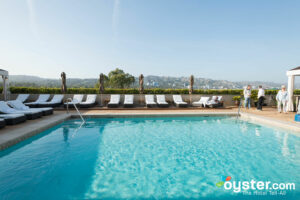 Hidden away in a quiet residential section of Beverly Hills, this 119-room hotel pampers guests with extraordinary service (including a rare, flexible checkout policy), huge 650-square-foot standard rooms, a tasty Asian-Italian fusion restaurant, and a 24-hour rooftop pool with 360-degree views. All in all, this is a hotel with few equals.
3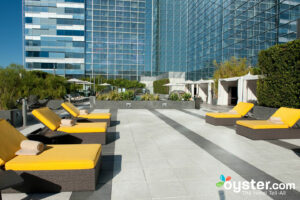 Built in early 2010, this 878-room hotel offers a beautiful pool, great views from the rooftop bar, tons of meeting space, and plenty of restaurants -- everything from a Chinese restaurant to a local and organic-focused "market" to an Italian coffeeshop. Although the L.A. Live Center is a huge hub in downtown Los Angeles (home to the Staples Center and Nokia Theater), the neighborhood is far from most other tourist attractions.
4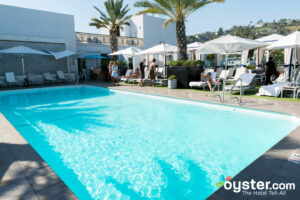 Just off the Sunset Strip, the London offers the highest levels of luxury and service at reasonable prices. With 200 beautifully appointed, 750-square-foot rooms, a rooftop pool with panoramic views, and a restaurant (with two Michelin stars) from celeb chef Gordon Ramsay, the hotel attracts a sophisticated set.
5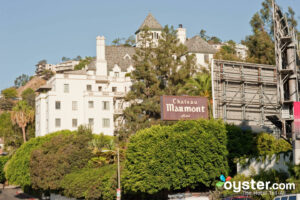 As Hollywood's most notorious celebrity hideaway, the Chateau Marmont is the best spot for A-list sightings, especially in its two fantastic (yet reasonably priced) restaurants. Execute chef Carolynn Spence heads up food at both the formal restaurant in the main chateau, and at Bar Mormont just down the street from the main hotel entrance.
6
This iconic Beverly Hills hotel is a top luxury pick for business or leisure, families or romance. With beautiful guest rooms, great service, and a gorgeous spa, it's hard to find fault. But the real highlight may be the hotel's Wolfgang Puck restaurant, CUT, where it's all about the steak, baby.
7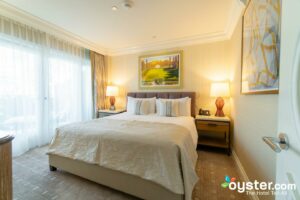 With 12-acres of lush grounds, this historic hotel is a serene, luxurious escape five minutes from Rodeo Drive. Its formal service and aura lend it a stuffier feel than the Four Seasons Beverly Wilshire, but it also has anachronistic charms, like an old-fashioned soda fountain, plus a great pool and restaurants (including one of the best in L.A.). The leafy patio dining of The Polo Lounge has been a favorite among Hollywood heavyweights for decades and the food is pretty amazing: The Continental menu is heavy on perfectly prepared standards like steak tartare, lobster salad, and rotisserie chicken.
8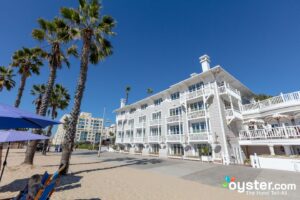 Shutters on the Beach has an atmosphere of formal opulence, with luxe features, rooms that belong in a billionaire's beach house, and expensive artwork in its lobby and restaurants. In fact, the lovely One Pico dining room was designed by Michael Smith, who Michelle Obama more recently tapped to redecorate the White House. The restaurant features fabulous entrees and an award-winning wine list.
9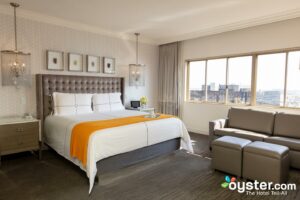 The Huntley Hotel is a design-conscious, thoroughly un-beachy 18-floor hotel that's good for those who prefer strolling and shopping to sunning and swimming. And eating, of course. One of the most beautiful spaces in the Los Angeles area -- and that's no small feat -- the hotel's Penthouse restaurant sits on the top floor, giving it sweeping views of the Pacific, Malibu, and the twinkling Hollywood Hills.
10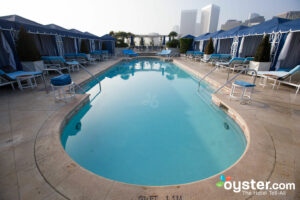 One of the best hotels -- if not the best hotel -- in the entire L.A. area, the Peninsula bills itself, accurately, as an "exclusive oasis." As iconic as the hotel it's in, the Belvedere restaurant is a Beverly Hills institution with a beautiful dining room and superb service. Its menu draws on French, American, and Italian cooking, resulting in excellent, creative versions of the classics.
11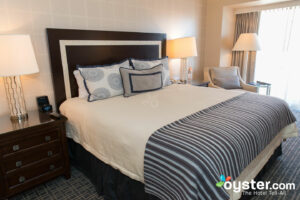 This 453-room luxury hotel caters largely to business travelers and other adults, but is spacious standard rooms, heated lap pool and tasty restaurant make it a fine choice for just about anyone -- particularly foodies looking for a pre-theater fix (the hotel's close to the Walt Disney Concert Hall and the Dorothy Chandler Pavilion). One of the best California cuisine restaurants Downtown, Noe's bar has its own short menu of bites such as gourmet French fries and tasty sliders.
12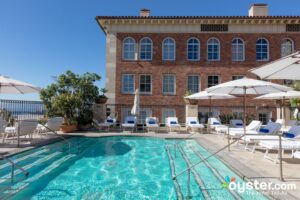 A true jewel, this historic grand hotel is world-class yet refreshingly unpretentious (unless you count the Hollywood crowd at the popular lobby bar). But there is nothing modest about its spacious elegant rooms, rooftop pool, and commanding location right on the beach -- a rarity in L.A. Even its restaurant takes advantage of the prime location, serving up locally-caught seafood.
13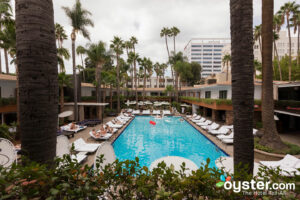 This 300-room Hollywood Roosevelt Hotel, literally an L.A. landmark, combines the shimmer of silver-screen history with a cutting-edge party scene centered around a massive pool and bar. A terrific casual restaurant is open 24 hours, and service is surprisingly good. Late-night revelers and foodies can dine on everything from salads to milkshakes, but it's perhaps best known for its build-a-burger option; diners can choose from an extensive list of toppings, sauces, and gourmet cheeses.