Best Kid-Friendly Hotels in Mazatlan, Sinaloa
Take a look at the best kid-friendly hotels in Mazatlan.
See All Mazatlan Hotels
1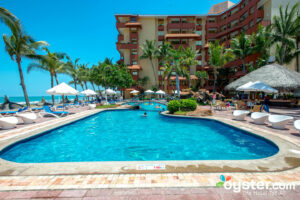 Situated on the northern tip of downtown Mazatlan, Luna Palace Hotel / Suites provides mid-range, beachfront lodging with a little more personality than its three-pearl competition. The 71 simple rooms all have modern touches like flat-screen TVs, free Wi-Fi, sea-view balconies, and kitchenettes. While it lacks a full spa or fitness center, the hotel offers the essential must-haves -- a quiet and lovely beach, a sparkling freeform pool, and an alfresco water-view restaurant. However, it's at least an eight-minute drive to the touristy Zona Dorada. Travelers seeking a more lively atmosphere plus additional dining opportunities can find them at Oceano Palace -- the neighboring sister property -- for less.
2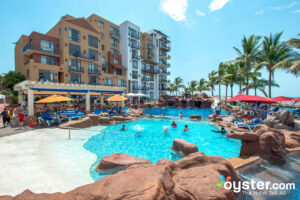 El Cid Marina Beach Hotel is a relaxed beachfront all-inclusive resort that's one of the better options in Mazatlan. The beach, two beautiful restaurants with alfresco dining, and sparkling pools with waterfalls and hot tubs draw plenty of families and couples. There are 200 spacious rooms done in a fresh, modern style, and all include kitchenettes, private balconies (with optional water views), and satellite TVs. However, the lack of free Wi-Fi, curious beach setup (access requires a water taxi), and limited dining options may leave some guests wanting more. As an alternative, The Inn at Mazatlan offers similar amenities, plus large, apartment-style rooms, convenient beach access, and a lovely spa for less money.
3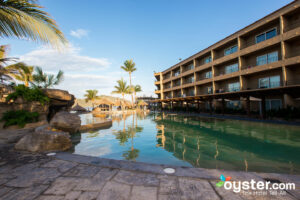 The massive Hotel Playa Mazatlan is a three-pearl all-inclusive resort with tons of amenities in the heart of Mazatlan's Golden Zone. With six pools, three full restaurants, a massive beach, a theater, and a beautiful, man-made lagoon, it's unlikely most visitors will want for more. The 404 rooms include a wide range of features -- flat-screen TVs, free Wi-Fi, and private balconies are standard, while upgraded categories have kitchenettes, minibars, and sea views. However, the poor Wi-Fi, a lackluster spa/fitness center, plain decor, and a too-lively vibe do detract from the atmosphere a bit. For a bit more money, El Cid Marina Beach Hotel has a more relaxed upmarket style with many of the same amenities.
4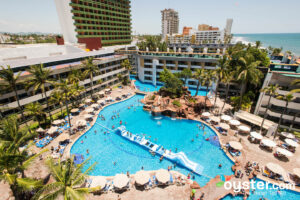 Coupled with its neighboring sister property (El Cid Castilla Beach Hotel), El Cid El Moro Beach Hotel is one of the largest, most full-featured beachfront resorts in Mazatlan. With a wide, soft-sand beach, a huge freeform pool, two alfresco restaurants, and an on-site grocery store, guests have access to almost everything they need without ever venturing off-property. The 390 rooms are simple, but sharper than many in the region, and they feature kitchenettes, flat-screen satellite TVs, and private balconies (with optional sea views) are all provided. The lack of free Wi-Fi, a spa, and a gym, plus an overcrowded beach and sometimes loud vibe, are likely to turn off some guests. For a bit more money, the four-pearl Pueblo Bonito Emerald Bay offers the same amenities and more sophisticated rooms.
5
El Cid Castilla Beach Hotel is one of the most full-featured and family-friendly three-and-a-half-pearl resorts in Mazatlan. Each of the 500 rooms offers modern amenities including flat-screen satellite TVs, air-conditioning, and private balconies, some of which have sea views. The property features an extensive list of common amenities, including a wide beach, three restaurants with alfresco dining and room service, and one of Mazatlan's largest pool complexes. However, the easily overcrowded beach and lack of free Wi-Fi, a spa, or a gym are surprising in a hotel of this class. El Cid Marina Beach Hotel offers a quieter, more elegant atmosphere with access to all of the same amenities for less money.
6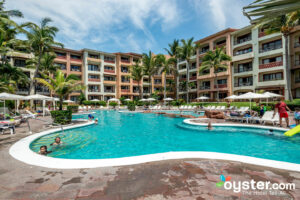 Pueblo Bonito Mazatlan is a pleasant all-inclusive resort with an expansive beachfront setting and a family-friendly slant. With three restaurants plus two large pools with hot tubs and a swim-up bar, the hotel ticks all of the boxes that most all-inclusive travelers are seeking. There's also a simple spa, water sports, and shops selling beach gear on-site. Each of the 247 rooms offers a spacious, suite-style layout,with features like kitchenettes, flat-screen TVs, and sea-view balconies, though decor is a bit dated and gaudy. For a bit more money, Pueblo Bonito Emerald Bay (the hotel's sister property) offers a sprawling, secluded location with more pools, additional dining options, and a stunning spa.
7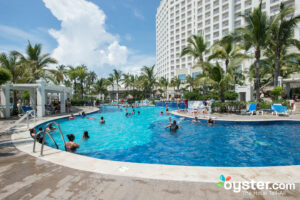 As Mazatlan's largest resort, the 716-room Hotel Riu Emerald Bay has just about every feature an all-inclusive traveler would expect in a typical, slightly dated package. There are three large pools, a massive, a semi-private stretch of beach, numerous restaurants and bars, and a large spa. Rooms are typical of the Riu brand, ranging from simple and dated to more upmarket, with amenities like all-you-can-drink liquor racks and minibars, flat-screen TVs, and private balconies (with optional water views). Make no mistake: This is a party hotel and is built for people who like a higher-volume beach getaway, and there's nothing really within walking distance. For a bit more money, Pueblo Bonito Mazatlan has a quieter, more relaxed vibe and similar features.
8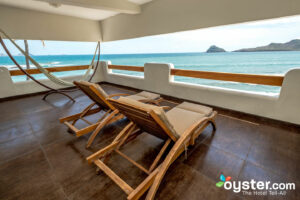 Emporio Mazatlan -- a mid-range beachfront property with a hint of sophistication -- is in the city's Zona Dorada tourist district. The hotel offer more than the expected amenities for a tropical resort in this category, including two heated pools with a mini-water park, hot tubs, and a waterfront restaurant that's open all day. The 133 air-conditioned rooms, which include suites with separate living areas, are bright and have private balconies with ocean views. We did spot a bit of wear as well. It's worth noting that the beach has suffered substantial erosion, and when Oyster visited in mid-2016, it was partially closed. Travelers might want to consider the Ramada Resort Mazatlan next door, which has more restaurants and a more polished vibe for rates that can be similar.
9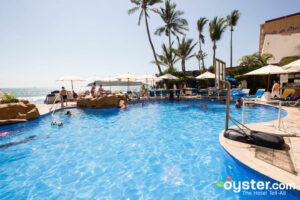 The 125-room Royal Villas Resort offers beachfront lodging in the heart of Mazatlan's Golden Zone. The list of amenities -- an a la carte Mexican restaurant, a freeform pool, and a lovely perch on Mazatlan's Playa Gaviotas Beach -- is just long enough to keep most of the hotel's guests satisfied. The style is modern-ish, and reminiscent of any three-pearl hotel found across the United States. The all-suite room categories offer a decent list of features including kitchenettes, free Wi-Fi, and balconies with spectacular ocean views. However, the hotel's relatively small beach and the fact that the gym and spa are closed indefinitely (as of mid-2016) may discourage some travelers. With similar nightly rates, Emporio Mazatlan offers more polished rooms and a large, beautiful pool terrace.
10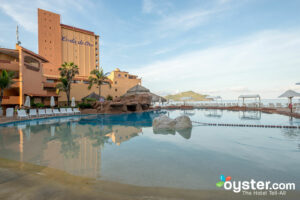 Costa de Oro Beach Hotel offers all the amenities of a typical beachfront resort in a wallet-friendly package. The tradeoff for decent rates, though, are the basic and dated interiors, plus issues like noise and wear. The 230 rooms are simple and straightforward, with air-conditioning, tube style TVs, and private balconies. The large, zero-entry pool and open-air, waterfront restaurant are notable pluses, but the tiny beach, aging nature of the property, and nagging upcharges for Wi-Fi, bottled water, and in-room coffee may dissuade some guests. For a little more money, the three-and-a-half-pearl The Inn at Mazatlan offers the same amenities in a more modern, polished package.