Best Kid-Friendly Hotels in Miami
Miami for families? While the city might not come to mind as a great family-friendly destination, we're here to bust that myth wide open. We've spent countless weeks personally visiting hotels up and down the coast of the Miami region — from South Beach to Downtown Miami — to find the best of the best Miami family hotels. We're talking great kids features, rooms large enough to sleep a family, affordable kids' dining alternatives, and a comfortable atmosphere for young children. Read on for our our picks of the best kid-friendly hotels in Miami!
1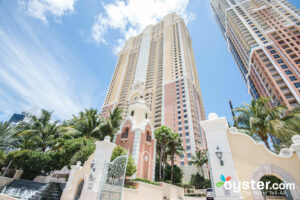 Since more than two-thirds of the Acqualina is dedicated to family residences -- rather than traditional hotel rooms -- there's a relaxed, kid-focused vibe about the place. All standard rooms come with elegant sofas that pull out to queen beds. The hotel's kids' program, AcquaMarine -- open Wednesday through Sunday for children ages 4 to 12 -- focuses on all things oceanic, from the Coast Guard to science projects about waves. Expect a kids game room and — of course — activities on the beach as well. Adults are in luck, too, as Acqualina has a beautiful pool. private cabanas for rent, and a great spa.
2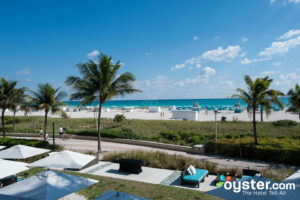 Though the Ritz-Carlton is located in a prime section of South Beach — near bars, restaurants, and nightclubs — families still flock here. Why is that? Well, for starters, the hotel is home to an enormous family-friendly pool (and a blissful lack of boozy pool parties). However, features for kids extend beyond that. "Ritz Kidz" -- the hotel's supervised club for children ages 5 to 12 -- is open from Thursday through Saturday and offers various activities, from kite decorating to video games to basic Spanish lessons. For adults, expect typical Ritz-Carlton luxury features, including excellent dining and drinking, plus a spa and fitness center.
3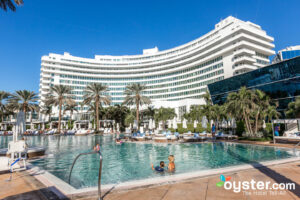 One of the most famous hotels in the United States, The Fontainebleau deserves its reputation. That's especially true for families with kids. Among the Fontainebleau's eight pools are several shallow pools for kids to splash around in, as well as a swing for the water-shy. The kids' club -- for 4- to 12-year-olds -- features instructors that lead various sports, art, and drama activities. There are fees for full- and half-day programs. Larger suites are available and are the better options for families.
4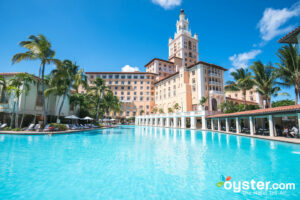 There's no kids' club, but the Biltmore offers great activities for children. Apart from tennis lessons, children can also learn how to play golf on the freshly restored Donald Ross 18-hole par 71 course. Kids receive training from the hotel's award-winning chefs at the unique culinary class. And let's not forget the massive, free-form pool, with synchronized swimmers doing vintage routines.
5
The Four Seasons is synonymous with top-notch service, and the 221-room Four Seasons Miami is no exception. This hotel is cooly elegant and immaculately maintained, with an elite fitness center, sophisticated steakhouse, and two large and lovely pool areas. Modern rooms are spacious with big, luxurious bathrooms; some have expansive water views. The Four Seasons Miami has a two-acre main pool, a children's pool, and a large shallow pool for toe-dipping and lounging.
6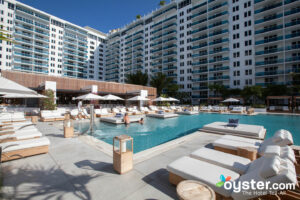 Although this luxurious South Beach property is geared toward couples, with an adult-only rooftop pool and lots of meeting space, families are equally well-looked after, too. Expect big rooms and suites, three additional family-friendly pools, a kids' club, and 24-hour room service. The 600-foot-long stretch of beach directly in front of the resort is reason alone for many people to stay here, and there's a special kids' play area right on the shore to keep little ones busy.
7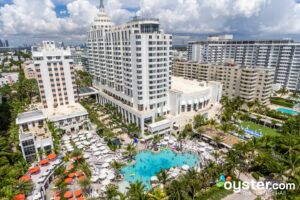 The Loews is one of South Beach's first family-friendly hotels, and its "Loews Loves Kids" motto still rings true. Enthusiastic counselors host beach tours and Nintendo Wii competitions at the Kids Camp, the Toy Library loans out beach shovels, and the hotel can even send DVDs and PlayStation games up to your room. Plus, there's the Loews' enormous -- and shallow -- free-form pool. Keep in mind that the vibe here changes depending on the time of year, though, and during spring break (as well as other South Beach events like Winter Music Festival) season there's definitely a more lively, young-adult vibe to the place. Read: Pool parties.
8
This 1950s-inspired beachfront Hilton attracts plenty of families with its quiet, North Beach location away slightly removed from the party scene and its suite-style rooms, some of which have views out over the water. The hotel offers direct access to a wide, sandy stretch of beach with lounge chairs and daybeds for rent, and there are two swimming pools for those who'd rather stay right on the property.
9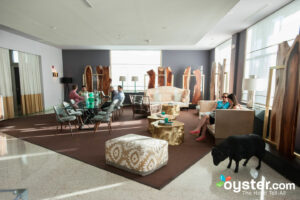 Located right on South Beach, the  Kimpton Surfcomber Hotel offers an affordable alternative to some of the area's pricier hotels, without compromising on location. Hotel features include a heated pool plus an artificial beach area, The Pasture (named because of sculptures of barnyard creatures that feature here) with a volleyball net and lounge chairs. Guests can access the boardwalk from just past the pool area and head to the beach, where there are rental lounge chairs, food and drink service, and free buckets, shovels, and other beach toys for the youngest of guests. Many of the rooms here are designed with families in mind; many have two double beds or even pullout couches (in suites) and some categories accommodate rollaways.
10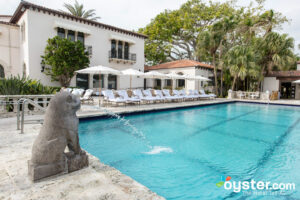 Situated on Fisher Island, a private and ultra-exclusive island in Biscayne Bay, this elegant hotel offers exceptional amenities for adults, from a spa with outdoor pools to a huge fitness center along with 18 tennis courts and a nine-hole golf course. That's not to say kids are left out of the fun, however. Along with children's programs, the resort offers a saltwater pool and a lovely beach featuring powdery white sand imported from the Bahamas. Rooms and suites here are great for families, too, and many have separate bedrooms and living rooms with sleeper sofas. Cottages even come with kitchenettes.
11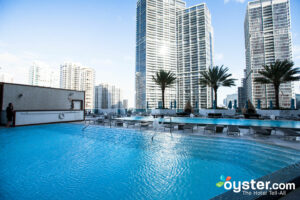 While families often opt to stay in South Beach, this downtown Miami Kimpton is a great alternative for families who prefer a more urban environment. This pet-friendly property offers plenty of unusual perks, such as loaner goldfish that guests can bring to their rooms for the duration of their stay. There are plenty of lodging options here for families, with two-double bed options in many of the rooms plus larger Junior Suites (with pull-out sofa beds) and One-Bedroom Suites for those needing a bit more space.