Best Boutique Hotels in Moorea, French Polynesia
If your Polynesian fantasy involves an airy beach bungalow or a room hidden by leafy greenery and hanging vines, consider these boutique hotels in Moorea, a mountainous island located 10 nautical miles off the coast of Tahiti.
See All Moorea Hotels
1
Six Polynesian-style bungalows make up the room options at this charming beachfront "pension" (guesthouse), opened by a French couple, Isabelle and Jean-Luc, in 2010. The beautifully decorated beach and garden bungalows have modern decor, but they still maintain Polynesian authenticity, with large front porches, wide plank wood floors, thatch-work walls and ceilings, and local artwork. Bathrooms feel spa-like and earthy, with textured stone showers, unpolished granite vessel sinks, and custom wood countertops. On-site amenities include a small pool and a beautiful beachfront, as well as exceptional meals prepared by Isabelle.
2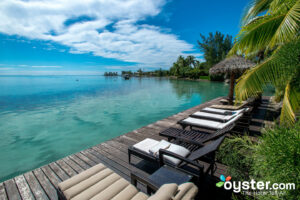 Fenua Mata'i'oa is a uniquely designed boutique hotel with stunning ocean views. Located on a calm, quiet lagoon, the lushly landscaped property feels like an island oasis. Stone pathways meander under the shade of low hanging palms, and secret gardens are nestled between tons of tropical foliage. Rooms are equally hidden and offer tons of privacy to guests. As utopian as Fenua Mata'i'oa sounds, some may find it strange rather than charmingly eclectic. Decor throughout the hotel is highly personal, and is either fascinatingly intricate or stuffy and overbearing, depending on your taste. Loads of cats, the stale smell of cigarette smoke, and expensive on-site dining and Wi-Fi are additional downsides.
3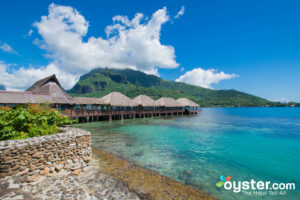 One of the oldest hotels on Moorea, Hotel Kaveka is 25-room, three-pearl property on beautiful Cook's Bay. Individual bungalows are decorated with authentic Polynesian decor, and some have multiple beds to accommodate families. There's a small beachfront, and an on-site restaurant that serves breakfast, lunch, and dinner, but otherwise there's not much to do. However, Kaveka's central location in Cook's Bay means it's easy to get out and explore the island.