Best Boutique Hotels in Gramercy and Murray Hill, New York City
Take a look at the best boutique hotels in Gramercy and Murray Hill.
See All Gramercy and Murray Hill Hotels
1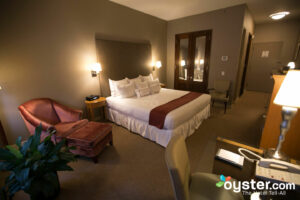 Named after owner Henry Kallan's favorite animal (and because of its tall, slender design), the 75-room Hotel Giraffe is an Art Moderne that will appeal to fans of NoMad architecture, the trendy neighborhood restaurants, and fans of "Sex and the City: The Movie" (in which the hotel was prominently featured). Rooms have understated contemporary decor, and the hotel offers homey extras such as a daily wine and cheese hour and free continental breakfast. There's no gym, but free passes are offered for one nearby. First-time visitors to New York who are determined to hit the sightseeing checklist will probably want to stay somewhere more uptown, however.
2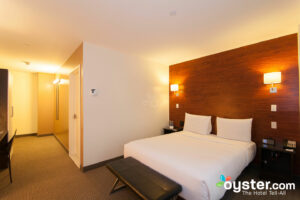 The mid-range Lex Hotel is a sleek, 48-room boutique hotel with affordable rates couched between New York's Gramercy Park and Murray Hill neighborhoods, near the subway and lots of dining options. The stylish rooms have queen-size beds, 40-inch flat-screen TVs, free Wi-Fi, and black-and-white tile bathrooms. Mini-fridges are available on request. Superior Queen Rooms and Junior Suites have balconies, but they face other buildings. A continental breakfast is included in the room rate, adding to the hotel's value. Travelers might want to compare rates with the nearby Marcel at Gramercy, which has funkier rooms and a 10th-floor lounge, but Wi-Fi and breakfast come with fees.
3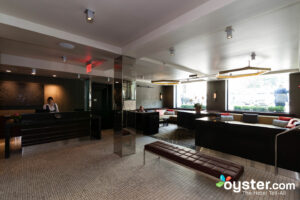 With a huge 2016 renovation under its belt, the 131-room Park South Hotel has become a solid upper-middle-range option with a chic, tony look. The location is excellent, with Midtown sights and the subway all within a quick walk. Features are also stellar; there's a popular seasonal rooftop bar, two full-service restaurants (including a Japanese sushi restaurant), and a chic library lounge. Rooms are smart and sophisticated with plush bedding and modern amenities like Smart TVs, charging stations, free Wi-Fi -- but mini-fridges, minibars, and coffeemakers aren't standard, and there's no room service. The Carlton Hotel offers more in-room amenities, but it's a larger hotel with decor that leans more toward stately than chic.
4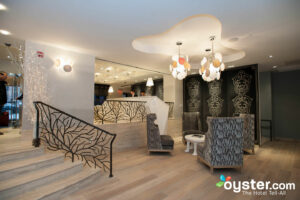 The 124-room Tuscany is an upscale hotel located in Murray Hill, a convenient base for exploring the city. Its large rooms come with wonderful beds, upscale amenities -- including flat-screen TVs, free Wi-Fi, and Molton Brown toiletries -- and elegant decor with pops of red (the hotel's signature color) . It bests its sister, The Court, with its excellent gym, quieter location, and stylish rooms.
5
Opened in 2013, the upscale Hyatt Union Square New York offers stylish accommodations and solid amenities a block from Union Square (and its seven subway lines). Rooms are bright and charming, with fun details and textiles; several feature terraces. The three on-site restaurants -- with a fourth on the rooftop terrace coming soontag:revisit 7/15/2013 -- serve three solid meals a day in comfortable but stylish settings. Overall, it is one of the best bets in the area.
6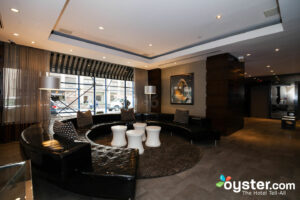 Located in a residential neighborhood more popular among locals than tourists, the Marcel has 136 guest rooms, snazzily outfitted in cool gray, earthy yellow, and playful zebra print. Nice extras in-room extras include blackout drapes, C.O. Bigelow bath products, and down comforters and pillows. Though it lacks a gym and charges extra for Wi-Fi, the trendy rooms, discounted New York Sports Club passes, and beautiful outdoor terrace tend to compensate. Those who require an on-site fitness center could try the nearby Carlton.
7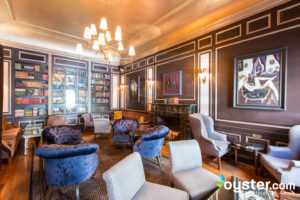 The William offers an upscale boutique stay in an excellent location near Grand Central Terminal and Bryant Park. Plush common spaces, like the hotel's lobby and Prohibition-style speakeasy (a Midtown outpost of the popular Raines Law Room), harken back to another era, while the equally atmospheric pub feels like stepping into a British drinking hole, complete with shepherd's pie and fish and chips on the menu. The 33 guest rooms, in contrast, are modern, awash in bright shades and decked out with mod cons like Apple TVs and Nespresso machines, plus most have contemporary kitchens. Bathrooms are stocked with L'Occitane toiletries and have rainfall showers, but some can be small and lack storage space. The Gramercy Park Hotel is a nearby alternative with a celeb scene and rooftop bar -- but rates are higher.
8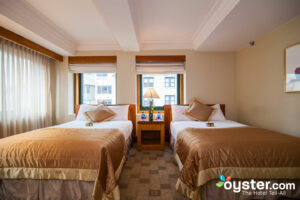 Located on an especially quiet, residential strip of snazzy Park Avenue in Murray Hill, the Japanese-owned, 149-room Kitano's appeal is in the details -- in-room towel warmers, soundproof windows, heated toilet seats, and impeccable service. It's a fine hotel, but for the price it's also worth considering the nearby IBEROSTAR 70 Park Avenue and The Court hotels.
9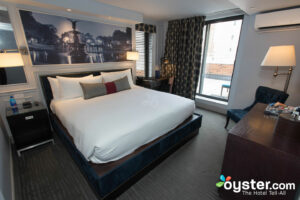 Offering stylish rooms on a quiet stretch of Madison Avenue in Murray Hill, The Roger is a sophisticated, four-pearl boutique hotel within a 10-minute walk of several subway lines and major landmarks like the Empire State Building and Herald Square. Renovations in 2012 introduced chic interiors by renowned designers Anna Busta and Annette Jaffe, starting at the posh two-story lobby lounge and extending through to the 194 modern guest rooms, which feature flat-screen TVs, city-centric art, and C.O. Bigelow toiletries. Some rooms offer terraces and stunning Empire State Building views. The Parlour Bistro and Lounge serves upscale comfort food incorporating items from iconic NYC eateries. A facilities fee covers Wi-Fi, lobby drinks, and fitness center use. There's no pool or spa. The nearby Redbury New York offers a livelier atmosphere, but no on-site gym.
10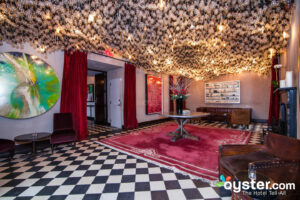 The Gramercy Park Hotel currently sets the bar for New York cool -- hence the celebrities in the lounge and the paparazzi on the sidewalk. It offers ultra-luxe but small rooms done up in high Boho-chic style, a gorgeous gym, an acclaimed Italian trattoria, and a great rooftop bar. True, even guests sometimes feel excluded from the glamour-fest in the bar. But the place is utterly unique.
11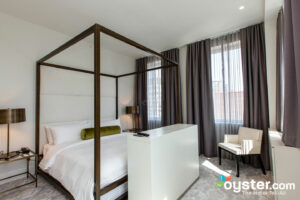 With an intimate, boutique feel and all the luxe amenities of a larger hotel, The Marmara Park Avenue offers a four-and-a-half-pearl stay in New York City's Midtown. The 128 rooms, with their sophisticated designs and modern amenities like iPad Airs and wet bars or kitchens cater to upscale couples and business travelers. Many units are outfitted with a balcony, an ever elusive feature among hotels in the Big Apple. While the hotel only has a bar lounge with a limited menu and no full restaurant, it still does well in other areas like a top-notch spa, indoor pool, modern gym, and meeting rooms. For those who want a livelier stay, check out The Sanctuary Hotel which has a free breakfast (unlike The Marmara), two restaurants including one on the roof, and a location near Times Square.
12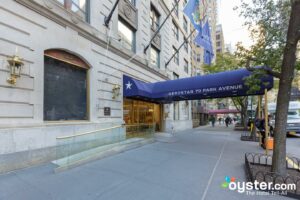 A relaxed, 205-room hotel, IBEROSTAR 70 Park is located in Murray Hill, four blocks south of Grand Central Station and Midtown' East's corporate towers. Rooms have sultry contemporary decor -- think deep purple fabrics and silver metallic accents -- and free coffee and evening wine receptions are offered in the glam lobby. The hotel offers a solid range of features, including in-room spa services and a fitness center, free bike rentals, and accessible accommodation options.
13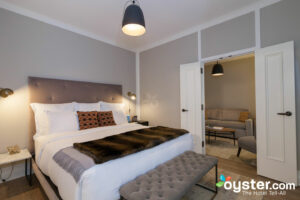 Housed in a beautiful turn-of-the-century Beaux-Arts building, the 42-room HGU New York is an upscale boutique with a trendy vibe and a focus on wellness and local culture. Rooms are plush, stylish, and outfitted with a wide array of great amenities, including CO Bigelow toiletries, pillow-top mattresses, Frette towels and linens, and free Wi-Fi. Most, however, are small even by NYC standards, and some may get traffic noise or have dark interior views. The restaurant and lounge are popular among locals for its hopping atmosphere and cultural events, while its seasonal rooftop bar offers great city views and free morning yoga classes. The hotel has partnered with a local gym, a meditation center, and a spa, but there are no fitness and wellness facilities on-site. It's worth comparing rates with the equally stylish Roger Hotel, which has larger rooms.
14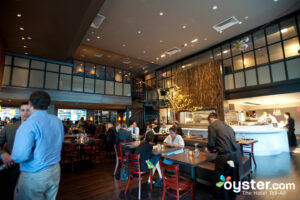 W Hotels' 270-room Union Square property greatly resembles other Ws in New York: comfortable beds, modern rooms, an excellent gym, and plenty of business travelers in the chic lobby. The difference: this one's downtown, near the bar-filled East Village and media-mecca Flatiron.
15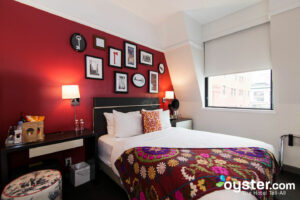 Set in Manhattan's fast-growing NoMad neighborhood, the Redbury Hotel (formerly the Martha Washington) is an upper-middle-range boutique property with a historic facade, a Danny Meyer restaurant and bar, and 265 sleek and stylish rooms. The hotel completed two separate multi-million-dollar renovations throughout 2015 and 2016, and offers a variety of room types, a cozy lounge, an outdoor terrace, and perks (covered by a nightly hotel fee) like free morning coffee service in the lobby and free passes to a local gym, but its greatest asset is its location -- close to the Empire State Building, Macy's, Grand Central Terminal, and Times Square. While it serves as an ideal hub for exploring the city, the hotel lacks such plush amenities as a spa, and the lobby can get noisy during the restaurant's prime hours. Those seeking a quieter vibe might try The Roger or the pricier Hotel Giraffe.