Best Hotel Restaurants in Midtown NYC
There are endless dining options in midtown Manhattan, and many of them are housed in some of New York's swankiest hotels. From elegant Michelin-starred restaurants to casual retro eateries, we've rounded up a list of our favorite hotel restaurants in midtown NYC for power lunches, celebratory dinners, and late-night snacks.
See All Midtown East Hotels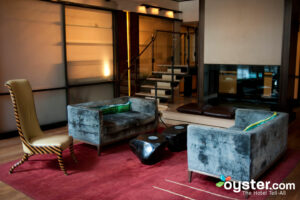 David Chang opened the minimalist-chic Má Pêche at Chambers hotel in 2010. The kitchen is now headed up by Matthew Rudofker, who was part of the team at Daniel that earned it three Michelin stars. The menu's focus has shifted over the past few years, but it includes small entrees of American classics with a southeast Asian spin. For breakfast, matcha pancakes with lavender maple syrup is highly recommended. Lunch and dinner menus are similar, with a mix of run-of-the-mill items such as hanger steak, spicy pork tacos, and soft shell crab po' boys. Save room for the popular banana bread pudding as well as for the treats at the Momofuku Milk Bar outpost upstairs. The eatery is a visual treat, too, with interiors from New York design firm Design Bureaux, who also worked on the lovely Bar Boulud and Boulud Sud.
This hotel was a welcome, hip addition to 57th Street when it opened in 2013, as was its restaurant, Kingside. The eatery is restaurateur Marc Murphy's first hotel restaurant and offers new American cuisine with French, Italian, and Spanish touches. Lunch prices are reasonable -- especially given its location -- with most entrees hovering around $20 or less. Burgers, pan roasted scallops, steaks, pork chops, and comfort food sides, including roasted squash and salt and pepper fries with sweet onion aioli, can be found on lunch and dinner menus. There are also prix fixe lunch and pre-theater menus. The space is done up like a classic Art Deco diner, designed by Roman and Williams, who also has 2016 James Beard Award-winning Le Coucou at SoHo hotel 11 Howard on its resume.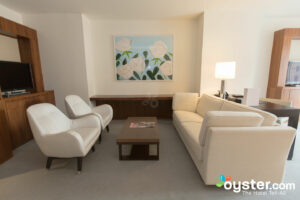 Michelin-starred Ai Fiori, which means "among the flowers" in Italian, is the brainchild of chef and owner Michael White. The restaurant turns out Mediterranean cuisine from the French and Italian Riviera. Starters include sea urchin panna cotta with crème fraîche and foie gras with apple chutney. Classics like tortellini and risotto, as well as other plates like branzino and an herb-crusted Australian rack of lamb, are on lunch and dinner menus. Interiors have an understated, contemporary look, with attractive hardwood floors, oversize planters set above a brown velvet banquette, and cornflower-blue accent walls.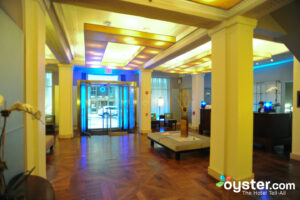 For a serious steak, Benjamin Steakhouse in Dylan Hotel is an excellent choice, as the perfectly prepared cuts consistently get high marks. The atmosphere is cozy, with a fireplace, dark wood throughout, and an elegant paneled ceiling. Expect high-end steakhouse prices on this classic menu. Starters include oysters on the half shell, French onion soup, and wedge salad with blue cheese. Plus, there are plenty of grilled fish entrees for vegetarians.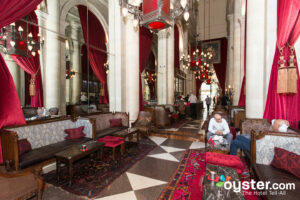 Anytime is a good time to eat at Burger Joint, but this wonderfully lowbrow eatery -- hidden behind a curtain in the Le Parker Meridien's lobby -- is at its prime late at night. The space is a tribute to a 1970s wood-paneled den: walls are plastered with rock legends and cult-classic films posters, and covered with bar bathroom graffiti. Menus are scrawled on torn pieces of cardboard, and there's an old, tube-style TV mounted in the corner. It accepts cash only at the counter -- which isn't a big deal because burgers are cheap, at under $10. You can also get a milkshake or a glass of beer for $8 or less. Order and pay, then slide into a booth and dig in.