Best Luxury Hotels in Midtown West
Midtown West comprises a large area around Times Square, Bryant Park, and just south of Central Park. It's a prime location for business and leisure travelers who want easy access to main tourist sites like Radio City Music Hall and the Museum of Modern Art. Real estate is expensive in this area, so it's no surprise that are some seriously luxe hotels with high rates fill Midtown West. A team of Oyster investigators visited and reviewed the top hotels to see which were the best of the best. Take a look at our picks for the best luxury hotels in Midtown West and start planning your New York City getaway.
See All Midtown West Hotels
1
This stylish urban boutique hotel in New York's Garment District is located in a historic building that was once a tea salon and hat factory. The property's past inspired its present industrial-chic design, and small details such as decorative milliner's tools pay homage to the building's former function. In the lobby, cool white stone and Gothic arches are contrasted against colorful contemporary art, while in the rooms, a minimalist black-and-white motif is warmed up by the oak hardwood floors. Features include a fitness center, a lobby bar (named for the historic tea salon's owner), Parker & Quinn bistro, and a cool rooftop bar. The location is within walking distance of popular sights such as the Empire State Building, Bryant Park, and Herald Square.
2
Formerly the St. Moritz Hotel, this Ritz -- which features 259 rooms (including 47 suites) in a 33-story limestone building on Central Park South (the southern border of the park) -- was bought by Ritz-Carlton in 2000 and reopened in 2002, the same year their other NYC hotel, in Battery Park, opened. The two are similar in many ways. Both boast rooms with panoramic views. Each features a popular bar, an excellent gym, and a name-brand spa. Given that prices are twice as high at the Central Park edition, you have to conclude that what you're paying for here is the location.
3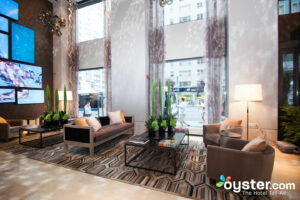 A modern boutique hotel with mid-century inflections, the 208-room Quin has all the amenities and attributes for a luxury Midtown Manhattan stay. Located on 57th Street at Sixth Avenue, two blocks from Central Park, the hotel puts you within walking distance or a quick subway ride from most of New York's major sights. It ticks all of the important boxes for a luxury hotel: Rooms are modern and luxurious, the downstairs restaurant and bar is a popular local spot, and the large fitness center can arrange for personal training sessions. Additionally, the hotel goes above and beyond to offer personalized concierge service with its Attaché program (concierges here are described as "lifestyle curators"), and each room's phone has a button that connects to a Bergdorf Goodman personal shopper
4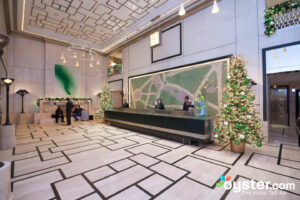 This stylish, all-suite hotel is one of the best luxury deals around -- incredibly large rooms, an on-site bar and restaurant, a central location near Central Park and Times Square, and a great fitness center. All that's missing is an on-site spa.
5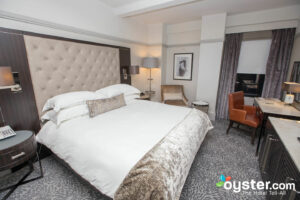 The WestHouse Hotel New York is one of the city's most special boutiques, and easily one of the most luxurious intimate options in this price range in Midtown West. It's on a prime square of real estate, with several train stations within a two block radius and close proximity to numerous sights, including Times Square, Rockefeller Center, and Central Park. The decor is sophisticated, from the marble columns, wall maps and quirky trinkets in the lobby to the 1920s-inspired furnishings in the hotel's 172 rooms and suites. The numerous daily food and drink offerings -- from the breakfast to the happy hour with charcuterie -- add a homey feel, and most guests feel that they are worth the daily fee.
6
One of New York's sexiest boutiques, conveniently sandwiched between Grand Central and Times Square, the Bryant Park Hotel caters to fashion and entertainment types and discerning Europeans. The combination of friendly, personalized service, a great bar and restaurant, and cool, comfortable rooms -- all within a 128-room art deco building -- makes it a distinctive pleasure.
7
The 94-room, upscale Pearl Hotel has a convenient location just off of Times Square and is surprisingly quiet for the area. Modern rooms have super comfy Sterns & Fosters mattresses and big fluffy pillows, Keurig machines with top-end coffees and teas, and large rainfall showerheads. And although there's an American grill restaurant and bar attached to the hotel, the property also offers a free continental breakfast buffet (although the space can get cramped), hosted wine and cheese hour, and 24-hour tea, coffee, and snacks. (Don't worry, you can work off the extra calories in the small, but impressive fitness room.) There aren't many rooms per floor, allowing for more privacy.
8
Archer Hotel New York is a 180-room upscale luxury boutique located within blocks of Manhattan's Bryant Park. Archer has taken great pride and care in selecting top-notch amenities and extras specifically made in New York, from the free in-room bottles of water and hand-selected welcome sweets to celebrated artists' work hanging from the walls and ceilings. If you are after in-your-face views of the Empire State Building, a rooftop bar and steakhouse, and a hip, bespoke experience, this is your spot. But beware, space is tight and slightly claustrophobic overall, especially in guest rooms.
9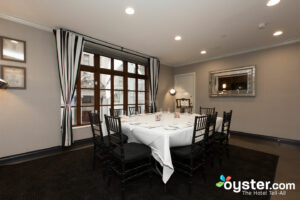 Five minutes from Grand Central and 10 minutes from bustling Times Square, the Iroquois is an uncommonly quiet, 114-room hotel with an ideal Midtown West location. High-end perks include a sauna and a vintage library, but the rooms feel older than most boutique hotel rooms, despite their flat-screen TVs, iPod docks, and free Wi-Fi.
10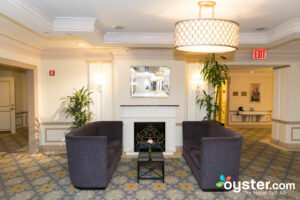 At the Midtown corner of 54th Street and 6th Avenue (and across the street from the Museum of Modern Art) is this historic landmark from media-magnate William Randolph Hearst, built in the 1920s. Hence the fitting name Randolph's for the hotel's bar and lounge, adjacent to the lobby, which is still popular among businessmen and women. The former guest list could fill an entire book with such names as Cary Grant (he lived here for 12 years), Audrey Hepburn, and Elvis Presley, to name a few. The 426 rooms are updated with modern amenities and elegant decor, and a small fitness center is a nice feature.