Best Hotel Service in New York City
In addition to sleeping at and photographing the best hotels throughout New York City, we also tested their service by probing their concierges, detailing our arrival process, timing our room service deliveries, making plenty of special requests, and interviewing other guests to find out their experiences. We did this in order to seek out the hotels with the best service — the few hotels that really go above and beyond to ensure every guest has a perfect, hassle-free stay.
See All New York City Hotels
1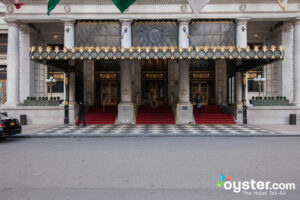 Service of any kind here runs 24 hours a day, whether it's guest laundry or room service or the concierge. A 24-hour butler, assigned to every hall, attends to your every need -- and won't hesitate to make you a cappuccino at 3 a.m. The house car, a Rolls Royce Phantom, will transport any guest for free around Manhattan (first-come, first-served). Turndown service includes bottles of Fiji water and glasses set up on each side of the nightstand.
2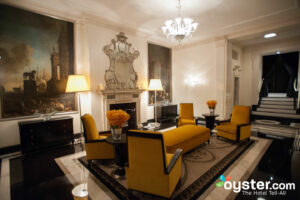 Formal's the word at the Carlyle: everyone from the porter to the elevator operator addresses guests with the utmost formality, calling back to a genteel age in Manhattan. Bell staff in suit jackets are posted outside the Carlyle's entrance 24/7, waiting to open doors and greet guests at all hours. They're quick to carry luggage to rooms and familiarize guests with the switches, closets, and technology. The staff is also famous for its discretion -- one of the reasons the Carlyle is a celebrity favorite. The concierge is available from 7 a.m. to 11 p.m., room service is available 24 hours, and housekeeping comes twice a day.
3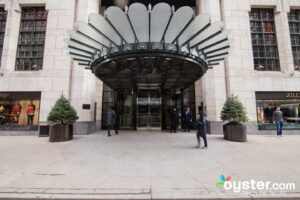 The Four Seasons' famous service begins prior to check-in, when the "special services representative" sends you an email to confirm your arrival time. On arrival, a doormen greets every guest before they exit their cabs, and porters eagerly assist with luggage. From 24-hour room and concierge service, to twice-daily housekeeping, free shoe shines, and a nightly turndown (sorry, it's service only -- no chocolates or nightcaps) the hotel offers the top-quality service that makes the Four Seasons brand famous.
4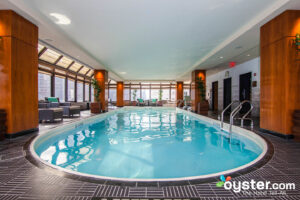 The Peninsula's formal, attentive service is characterized by prompt doormen, white linen on the room service carts (which can be rolled into your room 24 hours a day), and knowledgeable concierges. Want a dozen extra free bottles of water for the room? Just ask.
5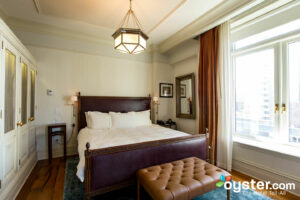 The Greenwich's professional friendly staff members all receive intensive butler training, from management to housekeeping, and treat guests like, well, guests -- not just another customer.
6
The Mercer's high-level service rivals that at the best luxury hotels, from the 24-hour room service to the nightly turndowns, but the staff is more laid-back and casual.
7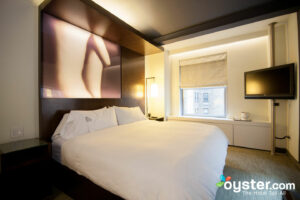 The W calls their concierges "Cool Hunters." Their mission: get guests into fashion week events, top restaurants, and other exclusive New York happenings. But on the day-to-day stuff, they're just as knowledgeable about where to find Dunkin' Donuts coffee or a salon. The concierge is available 7 a.m. to 10 p.m., but the hotel also prides itself on its 24-hour "Whatever/Whenever" service, which strives to fill any request, whether you want to watch a DVD from the extensive -- and free -- in-house collection, food from the in-house restaurant, or need a wedding dress pickup by helicopter.
8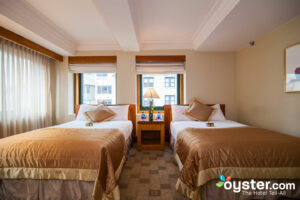 Service at the Kitano is impeccable. In keeping with their design and image, the staff mirrors the unique art of Japanese hospitality. This means that staff members strive to be invisible yet attentive, and staffers not only cater to every request quickly, they will always do so with reverence and care. The concierge, available from 7 a.m. to 11 p.m., can arrange everything from Broadway tickets to salon appointments and business requests, and room service is available from 6 a.m. to 11 p.m. Additional services, such as daily passes to the New York Sports Club, a choice of daily newspaper, and a shuttle to Wall Street in the morning are complimentary. A great choice for international travelers, there are members of the hotel staff who can speak English, French, German, Spanish, and Japanese.
9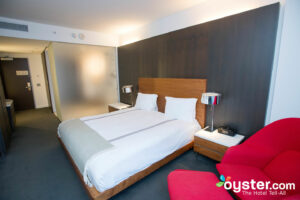 The Helmut Lang-uniformed staff at the Smyth Hotel is young, hip, and attractive, but they also provide excellent service without a whiff of irony. Most hours, porters wait around every corner of the lobby to help guests with luggage, arrange cabs, and open doors for guests. The bellhops get bags out of cab trunks before guests have even finished paying their fares, and will speed along the check-in process by alerting the front desk of their arrival by walkie-talkie. Smyth Hotel has both 24-hour concierge and room service.