Our Favorite Handicap-Accessible Hotels in New York
Oyster knows what travelers look for in their hotels. When we review properties around the world, we evaluate how every feature stacks up against the competition, from the rooms to the pools to the restaurants. So if you're planning a trip and need a place to start, you've come to the right place. Take a look at our top picks — for every budget — with handicap-acessible features in New York, and get inspired!
See All New York Hotels
1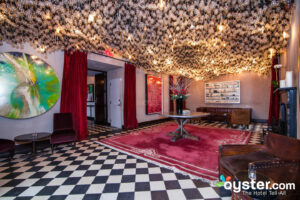 Handicap-Accessible Features: Certain rooms are designed for those with limited mobility, including roll-in showers and handicap-friendly rooms. With some notice when making reservations, TTY phones can be installed in rooms for guests who are hard of hearing.
About the Hotel: The Gramercy Park Hotel currently sets the bar for New York cool -- hence the celebrities in the lounge and the paparazzi on the sidewalk. It offers ultra-luxe but small rooms done up in high Boho-chic style, a gorgeous gym, and a young, attentive staff. True, even guests sometimes feel excluded from the glamour-fest in the bar. But the place is utterly unique.
2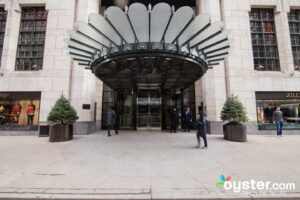 Handicap-Accessible Features: Certain Studio King Rooms and City View Executive Suites are designed for wheelchair use, including tub-free glass enclosed showers. The hotel itself has ramps in lobby and elevators that make the entire property accessible.
About the Hotel: Deliberately business-like, the 368-room Four Seasons in Midtown East has all the luxury essentials: stylish lobby, beck-and-call service, a fine spa and fitness center, and some of the city's largest rooms. Plus, guests can use spa facilities for free.
3
Handicap-Accessible Features: The common areas throughout the hotel are ADA-approved, and service dogs are admitted. Certain Deluxe king rooms are wheelchair-accessible, including bathrooms with roll-in showers, and TTY phones can be installed for guests.
About the Hotel: Hovering above the High Line on concrete pillars, this one-of-a-kind Meatpacking District hotel offers 337 light-flooded, ultra-mod rooms with panoramic views of the city; one restaurant, several popular bars; and excellent service. It might just be the hippest hotel in New York City.
4
Handicap-Accessible Features: Handicap-Accessible rooms have city views with roll-in showers and lower mirrors and counters. The hotel is equipped with multiple elevators and the pool is equipped with an ADA device to assist with entering and exiting the pool.
About the Hotel: It's not an icon like the Plaza or the Pierre -- but so what? The Mandarin Oriental, located across Columbus Circle from Central Park, offers a dizzying array of modern luxuries -- a 75-foot pool, one of the city's best spas, sweeping views from nearly every common area, and superb on-site fine-dining options, to name a few -- even as it upholds traditional values and outstanding service.
5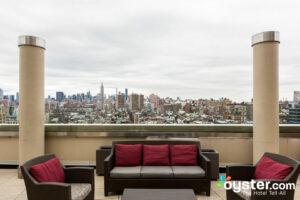 Handicap-Accessible Features: The common areas of hotel are all located at ground level, including the handicap-friendly front desk and check-in area: All other levels accessible by elevator. ADA-friendly rooms feature roll-in showers, lowered counters and flashing emergency lights.
About the Hotel: This 369-room downtown property is centrally located within walking distance of major subway lines, luxe boutiques, top restaurants, and popular nightlife spots. The lobby is often bustling, due to its spacious lounge, small cafe, and free use of computer workstations and Wi-Fi. Though cookie-cutter in design, rooms are clean, and some offer great Manhattan views.
6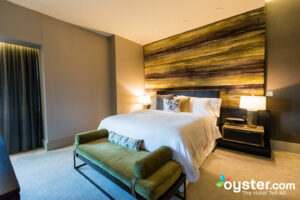 Handicap-Accessible Features: The hotel's ADA-approved rooms have descriptions in braille, wheelchair-accessibility, flashing emergency lights, and handicap-accessible bathrooms with grab bars and roll-in showers.
About the Hotel: This bustling, convention-focused, 863-room Westin comes with a prime Times Square location, a high-quality gym, a business center, a spa, a steakhouse, 24-hour room service, and enormous rooms with famously comfortable beds.
7
Handicap-Accessible Features: The hotel's main areas and restaurants are ADA-friendly and accessible by wheelchair. Certain rooms have shower seats, lowered outlets, toilets at wheelchair height, lowered lighting controls and are equipped with roll-in showers and grab bars, as well as closed-captioned TVs and TTY phones for deaf guests on request.
About the Hotel: Located in the Financial District immediately next to the construction going on at Ground Zero, this Marriott is mostly a place for business travelers to rest their heads. But the downtown location has more going for it than many visitors realize, including proximity to the underrated Hudson River Greenway. The new, clean, and spacious rooms, many with views of New York Harbor, make this hotel a decent alternative to the nearby Millenium Hilton (if only because there's less construction noise). This Marriott is also a good alternative to its Midtown sister, especially for visitors looking for easy access to (and views of) New York's revitalized waterfront.
8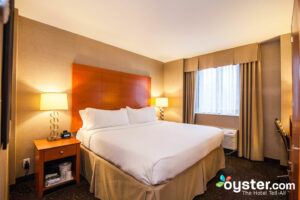 Handicap-Accessible Features: The hotel has a ramp at the entrance for wheelchairs as well as handicap-accessible rooms with roll-in showers, lowered counters, Braille and raised signage, and accessibility equipment for the deaf.
About the Hotel: Opened in 2008, this modern 226-room Holiday Inn is a great value. Rooms are particularly small, but they're clean and all have flat-screen TVs, free Wi-Fi, and comfy beds. The on-site gym and business center are big pluses for the price. Just note that its location in artsy Chelsea is 20 blocks from the tourist hubs.
9
Handicap-Accessible Features: The no-frills hotel is still ADA-friendly, offering accessible rooms with roll-in showers. Service animals are also allowed on the property.
About the Hotel: The Tryp, formerly the Best Western, has some of the lowest rates in Times Square. For a clean room with modern decor, free Wi-Fi, and little else, it's a pretty good deal. Just be prepared for the kitschy design, plus street noise in lower-level rooms.