There's been so much in the news these days that we've taken to googling a mishmash of soothing words to calm our frayed nerves: "marshmallows + kittens," "wind chimes + zucchini bread," or "Snuggie + underground bunker." But our favorite combo has to be "Paris + spas." There's something so lavish about pairing up the world's most romantic city with the best, most opulent treatments. And thankfully, Oyster is an expert on the subject, having visited 1,406 hotels—many of which have top-tier spas. These Parisian spas take it to the next level: Four-handed massages? Plush robes? Post-treatment Champagne? Mais oui! So light those scented candles and read on for our top picks.
See All France Hotels
1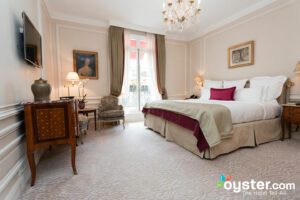 One part Art Deco mansion, one part luxury brand name, plus a splash of French je ne sais quoi— offers a cocktail of elegance that international fashionistas find intoxicating, and nothing makes them swoon more than its spa. A homage to the house of Dior, the spa has treatment rooms that resemble an enormous quilted purse and shelves stocked with Christian Dior products. The spa menu emphasizes lots of customized treatments based on one-on-one consultations, but with services like the anti-jet lag massage, it's clear that this is where the globetrotting set go to get pampered.
2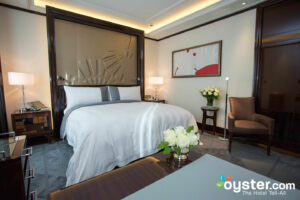 Awash in cream and coffee hues, The Peninsula Spa has the rich opulence of a clubby library in a private estate. Soothing, somber treatment rooms with rich materials like granite and marble, plus a few Asian-influenced details like lantern-shaped lights set the tone. The one exception is the pool—its dramatic illuminated backdrop of cascading water offers a "reflecting pond" for guests post-treatment. Two whirlpools give more spots to take a dip, but it's the treatments that are the true highlight here. The Peninsula is fond of stringing them together in "spa journeys" that can kick off with a salt scrub and take a twirl around a Balinese massage, before finally landing on hand and foot reflexology.
3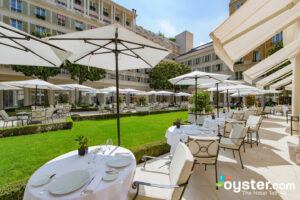 's spa lays down the usual luxury services—hydrating facial, aromatherapy massage—before shooting the moon with caviar massages and pure-gold facials exhibiting a level of luxury so opulent it's almost comic. But the pampering here is entirely serious, as is evident by streamlined, refined, café-au-lait-colored treatment rooms that open up to private terraces. One of the rooms is a Russian Baniya with Vichy showers offering circulatory treatments using oak or birch branches, and another is a couple's suite. But whatever you book, you're slathered in pricey La Prairie products.
4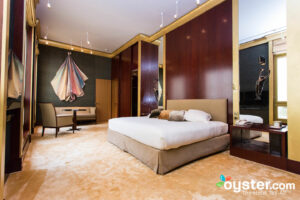 Spas are often seen as a frilly, feminine escape, but the mahogany- and onyx-clad Le Spa Paris at the leans toward the masculine. And their treatment rooms, with oak-colored herringbone floors and marigold-colored massage tables, have the color palette and mood of a clubby cigar lounge. Saunas, steam rooms, and rectangular whirlpools covered in iridescent tiles give even more spaces to unwind. A variety of services are on offer, but a highlight is the signature facial that involves heaps of La Mer lotions and potions.
5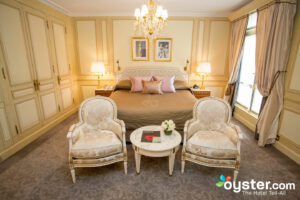 A palette of whites and sky blues breezes through the Spa Valmont, with sheets of gray-and-white marble used throughout the locker rooms. The airy look suits the spa, which lists a menu of rather poetic treatments like "Reflections on a Frozen Lake" (which incidentally is a lymphatic massage to remove dark under-eye circles). But services like hot stone massages are also on hand for the more traditional spa-goer. Loungers are gathered every couple of feet, including on a grassy terrace, offering plenty of spots to collapse post-massage once the "wet noodle" feeling sets in.
6
With its dreamy white-on-white decor, this spa is sending a clear message: welcome to heaven. Here, the pearly gates open to a 75-foot pool softly glowing under a skylight. A Turkish bath, ice fountain, sauna, and laconium add other hot and cold elements of relaxation. Seven treatment rooms, which includes a couple's room, dole out tailored treatments like "Melting Honey Deep Touch Massage" or "Tonic Sweet and Salty Scrub." The spa menu also includes a full lineup of hair care and waxing. Clarins products take center stage, especially in the facials bien sur.
7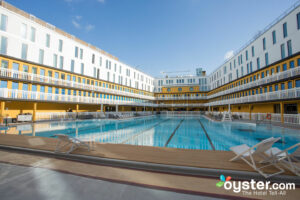 A merry departure from the straight-laced spas in other luxury hotels, the Mgallery Molitor keeps things playful and bright. The building was originally opened as a swimming pool in the 1930s, and the treatment rooms sport Jazz Age murals of bathing beauties. Steam rooms and saunas offer other spots to loll about on seriously plush, padded loungers. The adjoining hair salon is arguably even more chic with a frenzied clash of patterned walls and floor tiles. Shu Uemura products are used here, while Clarins is the go-to for facials and body treatments.
8
The goal of many spa treatments is to return to a womb-like level of comfort and bliss. 's spa takes this to the next level with treatment rooms that resemble enveloping cocoons, with tactile strips of wood on the outside and a warm pearlescent glow inside. Treatments here are a good bet for Mother's Day, with massages like "Mum to Be" and "After Baby" focusing on all those maternal aches and pains. But all guests can appreciate the "Cocoon Detox," a triple dose of pampering that includes a scrub, wrap, and massage. All that's missing is the lullaby to rock you to sleep.