Best Kid-Friendly Hotels in 1st and 2nd Arrondissements (Louvre and Palais Royal), Paris
Take a look at the best kid-friendly hotels in 1st and 2nd Arrondissements (Louvre and Palais Royal).
See All 1st and 2nd Arrondissements (Louvre and Palais Royal) Hotels
1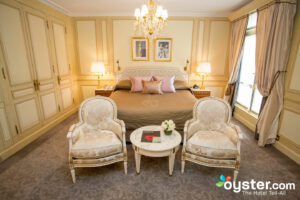 From its luxurious Louis XVI decor to its Michelin-starred restaurant, Le Meurice feels fit for royalty. The regal five-pearl hotel is situated directly across from the Tuileries Garden and is a short walk to several attractions including the Louvre. Rooms are spacious and feature lavish decor with period furniture, modern amenities, and palatial en-suite marble bathrooms with a separate tub and shower. The hotel also features an elegantly eccentric Dali Restaurant (he was a frequent guest of the hotel), a cosy bar, a spa, a small fitness center, and a large banquet venue. Rates are exorbitant, however, and fees for Wi-Fi use in common areas as well as a pricey breakfast only add to the expense. Travelers might also want to consider the W Paris - Opera hotel, another five-pearl property in the heart of Paris with eclectic modern decor.
2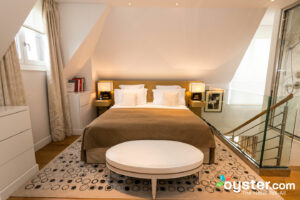 Located directly behind the Louvre, the luxury Grand Hotel du Palais Royal has an excellent location. The property evokes elegant Parisian charm throughout, from its 18th-century facade to its 68 rooms and suites. All accommodations feature modern amenities and tasteful -- if buttoned-up -- decor. The on-site restaurant serves all meals, and the adjacent bar pours drinks throughout the day. The property also has a small spa, fitness center, and a tiny playroom for kids, but the real standout amenity is the gorgeous mosaic-tiled hamman (access is free). All in all, the Grand Hotel is an excellent option for travelers who anticipate spending a good deal of time at the Louvre or other central Paris attractions. Another luxury option in the area to consider could be Le Meurice, which offers aMichelin-starred restaurant.
3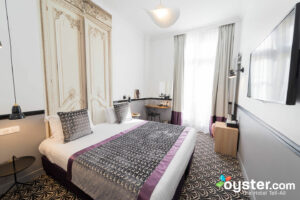 Living up to the crisp standards of the Astotel chain and renovated in 2016, the mid-range Malte Opera displays personal charm, too. Situated in the classy Opera district near the Louvre Museum, the 64-room hotel is well-priced for the area, and its location is an excellent springboard for exploring Paris hotspots. Rooms are small, but immaculate and comfortable, with crisp, modern decor, and free minibar soft drinks. There is free Wi-Fi, and free snacks and non-alcoholic drinks are offered every afternoon. Duplex rooms are ideal for traveling families, though there is a narrow spiral staircase that may be dangerous for little ones. Travelers might also like the spacious, apartment-style rooms at nearby Citadine Prestige Les Halles, which have kitchenettes, but no free minibars.
4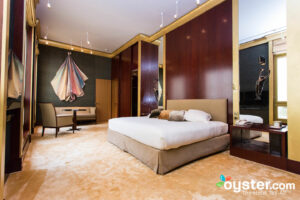 The luxury Park Hyatt Paris - Vendome is a property so regal some could argue it's a bit chilly. But there's no debating its excellent location on Paris's Right Bank, a short walk from the Place Vendome, the Louvre, and the Paris Opera. Its 153 guest rooms are modern and elegant and some have balconies. Features include eight meeting rooms, a 24-hour business center, and free Wi-Fi along with four restaurants, a bar, a fitness center, and a full-service spa. Travelers could also compare rates and amenities with the nearby Mandarin Oriental Paris, a luxury property with a pool and a cake shop.
5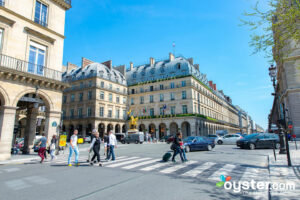 An historic grande dame of a hotel on the Place des Pyramides, the Regina was renovated in 2014 but maintains a classic, elegant ambiance. It opened for the 1900 World's Fair, and more recently has served as the filming location for "The Bourne Identity." Facing the Louvre, Tuileries Gardens, and Eiffel Tower on the opposite side of the Seine, Hotel Regina features 119 rooms and 15 suites that mix period furniture with modern amenities such as flat-screen TVs and free Wi-Fi. Guests might want to also check out the Regina's sister hotel, the Raphael, which is near the Arc de Triomphe, as prices here can be quite high.
6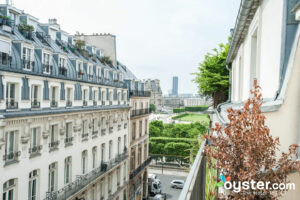 This 28-room, upscale boutique hotel is in a prime 1st Arrondissement spot in central Paris, a block from the Tuileries Gardens and a six-minute walk from the Louvre. This hotel does urban chic with an artful, vintage twist, and each room comes with modern comforts such as minibar free Wi-Fi, and air-conditioning. Suites offer more room to spread out, though Authentic Rooms are unsurprisingly compact. The hotel offers two types of breakfast -- a continental option and a buffet with hot and cold options in the unique cellar -- though neither are included with bookings, and there is an honor bar and cozy library lounge above the lobby. Guests looking for an equally stylish hotel with an on-site bar may want to consider Hotel Lumen Paris Louvre.
7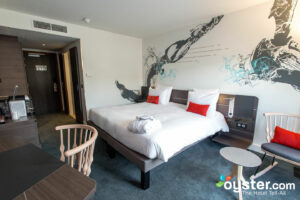 Novotel Paris Les Halles is an upscale chain hotel with an excellent central location in the 1st Arrondissement. It's an ideal spot for travelers who want to be within walking distance of great shopping, dining, and entertainment, as well as popular tourist attractions like the Louvre, Pompidou Centre, and Hotel de Ville. The hotel features sleek decor throughout, including in its guest rooms, where red hues and funky wall art make a bold impression, but not all of the 285 units have been refurbished. There's an on-site bar and restaurant and a beautifully manicured courtyard for outdoor dining, plus perks including a small but chic fitness center and free Wi-Fi throughout. Travelers looking for a step up and more amenities might prefer The Westin Paris - Vendome.
8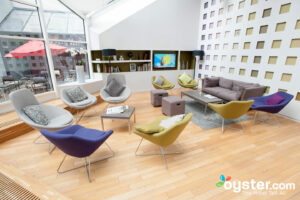 The 189-room Citadines Prestige Les Halles is an upscale, apartment-style hotel; each room has a kitchenette including mini-fridge and tea kettle, plus living space. The property is located a few steps away from the Forum des Halles, the teeming Parisian shopping hub situated in the 1st arrondissement that is a draw to city dwellers and tourists alike (area construction can be a source of noise during the day). A small business center with an Internet terminal and a printer is free for guest use in the lobby, as is an espresso machine. The highlights here are the central location and the spacious, contemporary apartments.
9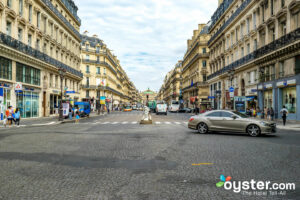 The mid-range Louvre Piemont Hotel has a convenient location in the mix of Paris' most popular attractions like the Louvre and Palais Royal. This hotel has few on-site amenities other than morning breakfast for a fee and free Wi-Fi. Twenty guests rooms vary in terms of contemporary and dated decor but are clean and include flat-screen TVs, free stocked mini-fridges, and air-conditioning. Volney Opera Hotel is a good nearby alternative property with a modern design and a more extensive breakfast selection that includes hot items.
10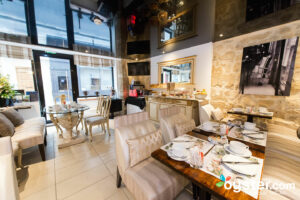 This 26-room basic but contemporary hotel is a stand-out choice for two reasons: reasonable room rates, and the location! The property is situated in the prime 1st arrondissement of Paris, within steps of Le Louvre and Tuileries Gardens; guests will be hard-pressed to find a more affordable option in this area. Though hotel itself certainly falls into the budget category, it's more modern than some may expect. Rooms are small and lack big hotel amenities, and some show wear and tear (we spotted a small hole in one wall), but they have fresh bedding, flat-screen TVs, small desks, and up-to-date bathrooms. Free Wi-Fi is available, sometimes, and a small business area can assist when it's down (which is often). For more living space, the hotel does offer apartments (studio, large flat and duplex size) that come with lounge/dining areas and full kitchens. This section of the hotel does not have an elevator so be prepared to climb.
11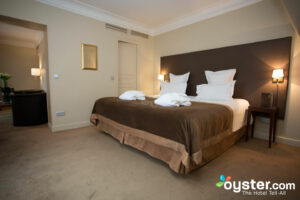 The Saint James & Albany Hotel-Spa is an upscale property with the kind of amenities you wouldn't expect to find in the heart of Paris. There's a charming outdoor garden and wonderful spa complete with a 17th century relaxation room, lovely indoor pool, and a fitness center. Location is key here, and the Saint-Roch Church, Place Vendôme, and the Louvre are all just a five-minute walk away. The 200 modern rooms include minibars, flat-screen TVs, and comfortable beds, though noise can be an issue and they aren't the most stylish. Room service and the business center are available 24 hours a day, and on-site 202 Rivoli Restaurant and Bar serves French cuisine and drinks into the evening. Expect to pay extra for breakfast, use of the hot tub, and to bring pets. For rooms with a bit more style, try Le Maison Favart, a 15-minute walk from the Louvre.