Best Kid-Friendly Hotels in 8th Arrondissement (Champs-Elysees), Paris
Take a look at the best kid-friendly hotels in 8th Arrondissement (Champs-Elysees).
See All 8th Arrondissement (Champs-Elysees) Hotels
1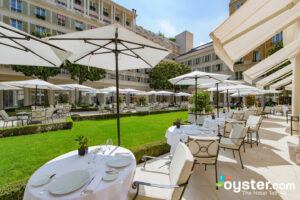 The 88-room Hotel Le Bristol opened its doors in 1925 during the Roaring Twenties, and today is still one of Paris' best-known luxury hotels. It offers impressive amenities for its small size, including a sunlit indoor pool (a rare find in Paris); a three-Michelin-star restaurant, Epicure; and a lovely spa with three floors featuring a Turkish bath and playroom for kids. Families are welcome in this posh environment: There's a dedicated Children's Programme, and little ones may appreciate the fact that there's a resident cat roaming the hotel. Rooms are elegant, aside from the dated comforters, and vary in size and price. The hotel -- located on one of the most high-end shopping streets in Paris -- is steps to the Hermes flagship store, as well as avenue Montaigne and Champs Elysees.
2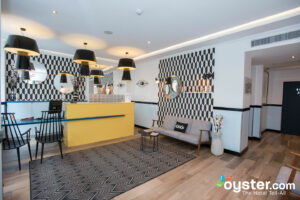 The mid-range Hotel Augustin - Astotel offers heaps of style and a nice location in the 8th Arrondissement, surrounded by postcard-perfect Haussmann buildings, shops, and restaurants. While the area does lack nightlife, it's relatively quiet and close to loads of public transportation. Its 57 colorful rooms have punchy decor, and a few open onto balconies. Others have faux balconies -- tall windows with wrought-iron railings that feel balcony-esque when flung open. Guests rave about rooms' free minibar drinks, restocked daily. Other edibles on hand include a breakfast spread (usually included in rates) and free snacks set out in the dining room. That said, there's no full restaurant or bar on the premises. But most guests find the Augustin's charm and value more than compensate for any missing features. Travelers could also consider other properties in the Astotel group, like the .
3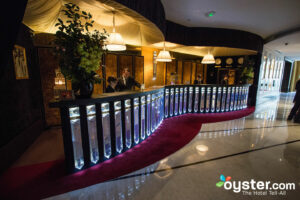 Located on the Champs Élysées, the Fouquet's Barrière is one of the most famous and exclusive luxury hotels in Paris. It has a slightly modernized Haussmann-style exterior, while interior design combines baroque, surrealist, and classic style elements with contemporary flair. Sophisticated rooms start at 400 square feet, and black marble bathrooms have separate showers and tubs as well as TVs in the mirrors. The extensive features include three restaurants (one Michelin-starred), an upscale spa, and a gorgeous indoor swimming pool. The hotel deserves its five-star status, but this level of luxury comes at a very high price.
4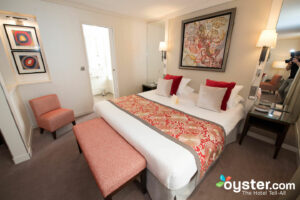 This 36-room Best Western Hotel Sydney Opera is a stylish, contemporary, three-pearl property in the city's eighth arrondissement, a neighborhood with iconic Parisian sites like the Arc de Triomphe and Champs Elysées. In a Napoleon III-era building with a limestone facade, the hotel has a lobby warmed by good lighting and outfitted with an honor bar. And the rooms, with contemporary decor, bold textiles, and minibars, feel a notch above mid-range. But the hotel's lack of a full-restaurant, fitness or business centers could have travelers checking-in elsewhere. For a chain property with a business center, travelers could try the Holiday Inn Paris - Gare De Lyon Bastille, which also includes Nespresso machines and iPod docks in rooms.
5
From Hans Christian Anderson to Emile Zola, Hotel Le Pavillon Des Lettres' 26 rooms bear the names of famous European writers (with Virginia Woolf as the only woman in the club). The four-pearl boutique property in Paris's 8th Arrondissement puts an energetic spin on contemporary decor and receives accolades for its design and attentive staff. Rooms are small but handsomely outfitted, with flat-screen TVs, iPod docking stations, free Wi-Fi, and Molton Brown products; minibars, however, are limited to beverages, so if the munchies strike, you won't find snacks. Springing for a top-floor suite buys Eiffel Tower views and soaks in a whirlpool tub. There's 24-hour room service and direct booking scores free continental breakfasts. If a full-service restaurant and bar is a must, the similarly priced New Hotel Roblin La Madeleine has both.
6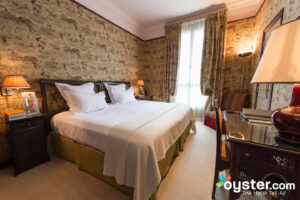 Hotel Daniel is an elegant boutique located between the Champs Elysees and Rue du Fauburg Saint-Honore, two of the most famous streets in Paris. With an abundance of silks, rich fabrics, furniture from around the globe, and hand-painted wallpaper, this small property has charm to spare. The 26 rooms are decent-sized for Paris, and come with great amenities including luxurious bathrooms with big soaking tubs and striking antiques. The restaurant is outstanding (but expensive), and service is top-notch, but there's little in the way of amenities. Extras -- such as valet parking and breakfast -- are quite pricey.
7
The Hotel New Orient, set in a Haussmann-style building near the Parc Monceau, is a 30-room family-owned boutique hotel in the quiet part of the 8th arrondissement, north of the Champs-Elysees. It's about a 20-minute walk north of the Opera National de Paris and the Madeleine. The New Orient Hotel has a homey vibe, from the quiet breakfast room to the bright, light-filled rooms. There's free Wi-Fi throughout, and some rooms have balconies overlooking the street. Rates are reasonable for a mid-range hotel in Paris.
8
Hotel Champs-Elysees Friedland by HappyCulture is an upper-middle-range property on the famed Rue du Faubourg Saint-Honore near luxury shops, chic bistros, and the Arc de Triomphe. Housed in a visually arresting, 19th century Haussmann building, the boutique property has 40 rooms with posh furnishings and modern amenities. Some rooms have balconies with pretty street views. Breakfast is served in a charming room topped with a chandelier, but the hotel lacks a bar and restaurant making it more sedate than social. Travelers seeking a hotel in the same neighborhood but with a bar should try the Hotel Rochester Champs Elysees.
9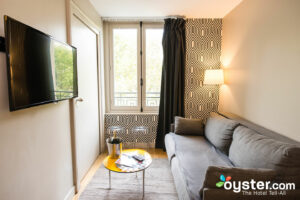 The Helzear Champs Elysees is a three-and-a-half-pearl property that features 24 apartments ranging from studios to multi-bedroom accommodations that can sleep up to 10 people. Well located in the golden triangle of luxury shopping, the hotel is a five-minute walk from the Champs Elysées, the Arc De Triomphe, and the George V metro stop. Apartments are tasteful and modern. Some have wood floors, fully equipped kitchenettes, minibars, free Wi-Fi, and spacious bathrooms, though the Studios can be small. There's no restaurant, but the hotel serves a simple in-room breakfast for a small fee. Travelers may want to compare prices at the Residence Nell, which offers generously-sized studios and apartments with simple decor.
10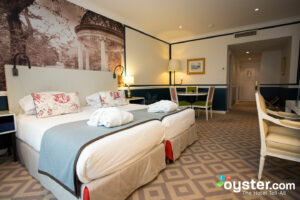 The upscale Frasier Suites Le Claridge Champs-Elysees offers 110 apartments that are huge by Paris standards and include full kitchens, to say nothing of the prime location right on Paris' iconic Champs-Elysees. Shops, cafes, the metro, and Laduree macarons are all essentially right outside the hotel's front door. Though this is an apartment-style property, many hotel comforts are offered, with bonuses like free Wi-Fi, a 24-hour fitness center, and free laundry room. A breakfast buffet is also served, but there is not restaurant or bar on site. Guests looking for a hotel near the Champs-Elysee with a restaurant and bar may want to consider the InterContinental Paris Avenue Marceau, though rates will be higher and rooms are smaller.
11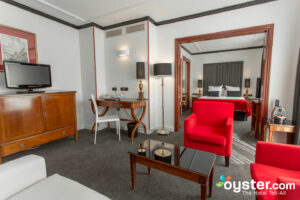 The 64-room Melia Royal Alma is an upper-middle-range hotel on a quiet side street on the Right Bank, within walking distance of the Champs-Elysees and Eiffel Tower. Rooms are small but stylishly decorated, outfitted with flat-screen TVs, free Wi-Fi, minibars, coffeemakers, and some with balconies. Amenities include a buffet breakfast (for a fee) served in an atrium and there's a cute indoor bar, plus room service is available. However, there's no gym or spa services. For more amenities, try the nearby Hotel California Paris Champs Elysees instead.
12
The 174-room Hotel California is an upper-mid-range property near the Champs-Elysees, and a former haunt of American journalists and celebrities. This hotel has many appealing amenities, including 24-hour room service, elegant dining, fireside cocktail service, a courtyard with a fountain, and a gym; it is well-suited to business travelers thanks to its seven meeting rooms and a business center. Classic rooms and suites offer flat-screen TVs, safes and, in some, balconies with Paris views. Guests complain, however, about dull furnishings in some rooms and slow free Wi-Fi. Another option may be the Hotel Ares Paris, with stylish rooms and free high-speed Wi-Fi.