Best Boutique Hotels in Phuket
Thailand's largest island, Phuket is known for
stunning beaches, reefs great for snorkeling, and Buddhist temples. We visited the top hotels throughout the island to compare their guest rooms, amenities, and level of service, and find out which were the best of the best. So if you're looking for a charming, unique boutique experience while in Thailand, you've come to the right place. Check out the best boutique hotels in Phuket, Thailand and start planning your getaway!
See All Phuket Hotels
1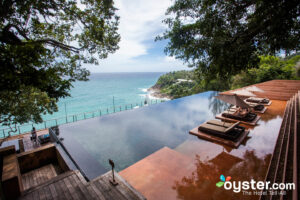 Paresa means "heaven" in Thai, and with a staff that refers to themselves as angels, panoramic views of the Andaman Sea over Millionaires Mile, and private luxury villas -- to some guests, Paresa is truly a five-pearl piece of (expensive) heaven on earth. At night, the infinity-edge pool is lit up with hundreds of twinkling LED lights. Two on-site restaurants and a cooking school offer gourmet fare. The location on a cliff means privacy (and those uninterrupted views), but the tradeoff is a remote neighborhood and no direct beach access; the resort works around that problem with a free hourly shuttle to town and Kamala Beach. Kiddos are welcome but there isn't much for them to do.
2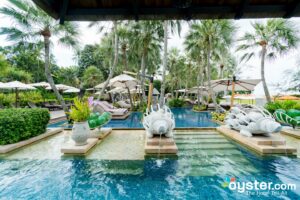 Anantara Phuket Villas is a five-pearl property with gorgeous villas; all come with lovely private pools. It was designed by renowned architect Bill Bensley, and his high attention to stylish detail shows throughout the Sino Portuguese property: intricately carved wood, open-air buildings, reflection pools, and pagoda-style structures can be found here. Though Anantara has everything its competitors have -- a luxe spa, free breakfast buffet, cooking school, and free bikes -- the one major flaw here is the tiny, red flag beach. For those who care more about swimming pools than sand, the Anantara is a great choice; it has one of the most spectacular pools in Phuket.
3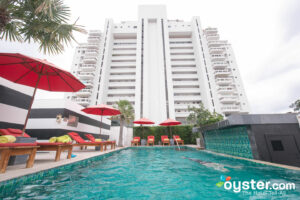 BYD Lofts Boutique Hotel & Serviced Apartments is an upscale boutique property with apartment-style rooms, sleekly sophisticated decor, and an on-site modern art gallery that set it apart from other hotels and resorts in Patong. Set inside a boxy, contemporary building flooded with natural light, the property caters to a design-conscious crowd, and is within a 10-minute walk of the beach and nightlife venues. Airy suites are decorated with modern abstract paintings and shaggy rugs and have surround-sound entertainment systems, all-marble bathrooms, and full kitchens with sleek appliances. While the property lacks the appealingly rustic, beach-inspired flavor of many nearby hotels, its modern elegance is unmatched.
4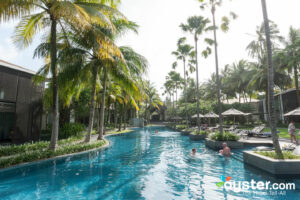 Twinpalms Phuket is one of the most stylish and party-focused five-pearl options in Phuket. This boutique property is centered around a gorgeous swimming pool with a poolside bar. Surin Beach is reached by crossing a footpath through an empty field, which is slightly inconvenient, but it does mean that the party and drinking scene found at the property's two beach clubs doesn't filter over to the luxurious rooms. Most rooms have plunge pools or direct access to a semi-private lagoon pool, along with free Wi-Fi and furnished outdoor spaces. An on-site spa, modern fitness center, and chic restaurant round out the upscale touches at this intimate, 97-room hotel. Twinpalms offers a nice combination of peace and party that mostly attracts European couples.
5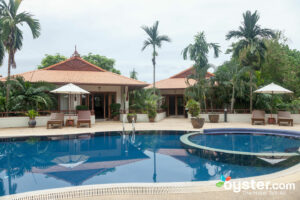 The Rising Sun Residence is an enclave of 12 upscale villas sitting on a lovely hillside with views over Chalong Bay and the Chalong Temple below. Exclusive and quiet, the property offers a host of special amenities for guests who book villas directly, including a dedicated personal chauffeur each day during their stay and a free welcome Thai massage. Rates are surprisingly reasonable and breakfast is included -- and delivered to the rooms. Villas are spacious and elegant, some with private pools. However, while the villas have air-conditioned bedrooms, they have only fans in the living areas.
6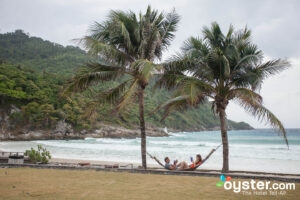 The Racha is a five-pearl eco-chic resort on the small island of Racha Yai in the Andaman Sea. It's a 35-minute boat ride from Phuket to get there, and there's a charge for the transfer. Once guests arrive at the island they're greeted with the sight of white-washed villas built with clean lines, in harmony with the natural surroundings of the tropical landscape and water. The villas are clean and comfortable; some have private pools and spacious outdoor bathrooms. Recreation facilities are top-notch: ATVs, water toys, tennis courts, a spa, and more are all on offer. Be warned, though: The stunning sandy beach is a hot spot for tourist boats from Phuket and is overrun with day trippers often, making it not exactly ideal for those who want a romantic and quiet tropical vacation.
7
The 48-room luxury Ayara Hilltops Resort and Spa is an adult-only resort built on the steep slope of Surin Hill, in northwest Phuket. Thanks to its hillside location and lush, jungle-like landscaping, there are unobstructed and spectacular views throughout -- especially the sunsets over the Andaman Sea on the horizon. Each room is a spacious, private villa with luxe features including outdoor showers and deep soaking tubs. However, rooms lack Wi-Fi (though they do have wired Internet) and the resort's removed location away from the action in Phuket may deter some from staying here. There are cheaper 4.5-pearl hotels nearby with direct beach access, such as the Angsana Laguna Phuket, but none of them have rooms as luxurious as the Ayara's.
8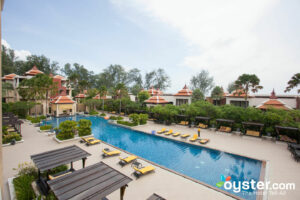 The 40-room Moevenpick Resort Bangtao Beach Phuket is an upscale boutique resort a two-minute walk from Bangtao Bay beach. The Moevenpick offers a large infinity pool with a sunken hot tub, a fitness center, and a full-service spa, as well as a kids' club so parents can take a break. The rooms and suites at the resort are enormous, most with with full kitchens, balconies with garden or lagoon views, and luxurious bathrooms; some suites have private pools and outdoor hot tubs. However, the resort can feel isolated -- especially for guests without cars -- as there's not much to do in the immediate area beyond going to the beach.
9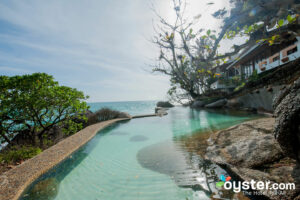 Mom Tri's Villa Royale is an upscale boutique hotel and spa set on a headland overlooking Kata Noi beach on the southwestern side of Phuket. The hotel's 35 rooms are housed in Thai-style buildings, including the former home of Thai artist and architect Mom Tri. Rooms are decorated with Thai antiques and have private balconies with sea views; some have direct shoreline access, or access to a private pool. There is a main pool overlooking the sea, saltwater pool tucked into the hillside, and separate pool for Kata Suites. The spa offers an outdoor steam bath and full range of treatments. Mom Tri's Kitchen serves excellent Thai cuisine, the wine cellar is consistently awarded for excellence, and there are a cozy piano bar and lounge.
10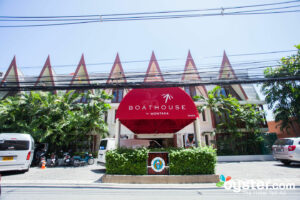 The 38-room Boathouse is a cozy and upscale romantic hotel directly on Kata Beach, offering postcard-worthy views from two small pools, stylish restaurants and bars, a spa, and a beach club lounge. Beach views are also available from balconies or terraces in rooms -- which are small but modern -- with flat-screen TVs, coffeemakers, and minibars. The crowded poolside scene and the night-time DJ and fireworks noise, however, might spoil the serene setting.
11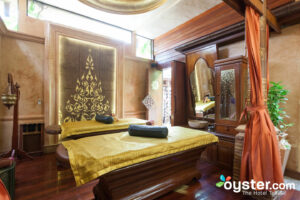 The upscale Baray Villa is an enchanting oasis in Kata Beach's bustling center, providing a fairytale setting with romantic Thai decorations and Moroccan latticework. The peaceful atmosphere is enhanced by bamboo and tropical landscaping, a pool encircled by greenery, a swim-up grotto bar, a lavishly designed spa, and a romantic restaurant. A total of 14 two-story intricately decorated villas have flat-screen TVs, hot tubs, and private pools (but sunlight is limited in villas and private pools). Most guests simply opt to sunbathe at the main pool or the beach.