Best Kid-Friendly Hotels in Playa del Carmen
A safe, laid-back city in Riviera Maya, Playa del Carmen has pretty beaches, ample shopping, and well-reviewed restaurants. It's a good pick for travelers that want to enjoy the gorgeous ocean without the crowds found in nearby Cancun. Since it's home to both huge all-inclusive resorts and condo-style properties, it's a wonderful choice for families with kids and teenagers. After visiting the top hotels in the area, we compared each to see which were geared toward guests with kids in tow. Take a look at our expert picks for the best kid-friendly hotels in Playa del Carmen!
See All Mexico Hotels
1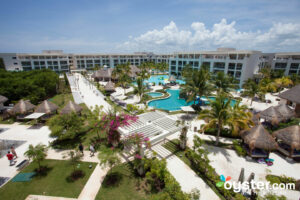 Paradisus Playa Del Carmen La Esmeralda is one of the best family-friendly, all-inclusive resorts on the Yucatan Peninsula. This luxury property is located directly on the Caribbean and includes access to a white sand beach. The swimming pool, with a pirate ship playground and a swim-up bar, makes it a popular spot among families and partiers. Even the most affordable rooms here include marble floors and sensory soaking tubs. Upgrading often means swim-up pools and/or kitchenettes. include everything from a show cooking buffet, to Argentinian-style steaks, to burritos, to sushi. Vacationers that go all-out for the Family Concierge level rooms get access to private pools, a tricked out club lounge, and expedited service -- but those who don't book it have reported feeling like second-class citizens.
2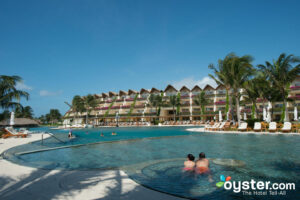 The Grand Velas -- set on over 80 acres of mangroves that meet a postcard-perfect beach of white sand and turquoise waters-- is one of Riviera Maya's most sophisticated properties. It features 491 top-notch suites spread out in three different buildings (two family-friendly, one adults-only), all with their own stunning pool complexes, gyms, and restaurants. The property is so huge guests will need to take a three-minute shuttle ride from the farthest building to the beach, but the hotel's spotless service, outstanding food, luxurious spa, and wonderful amenities make it a great pick for discerning (and well-heeled) travelers.
3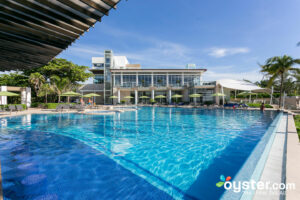 Azul Fives by Karisma is a 360-room hotel located about 15 minutes from downtown Playa del Carmen. It seems well suited for all occasions (weddings, reunions, honeymoons), but caters especially to families with children -- there's even a loan program for baby toys and equipment, as well as a great kids' club. Outside, the property is well kept with lovely grounds, and inside the hotel's furnishings are modern and luxurious. All chicly decorated guest rooms come with a balcony or terrace, dining table, iPod dock, and Jacuzzi tub, but the suites are particularly spacious and include features such as living rooms with sleeper sofas, powder rooms, and kitchens. The private beach is lovely and great for relaxing, but some find the water too rocky for swimming. The hotel has five restaurants, three beautiful pools, and outdoor seating that offers a little slice of paradise.
4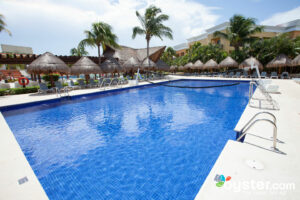 The 446-room Iberostar Paraiso Lindo is an all-inclusive, family-friendly resort located between Cancun and Playa del Carmen on the Riviera Maya. The indoor common areas channel a real sense of the region's history and culture through their artwork, wood carvings, and furniture. Outdoors, guests can enjoy lounging in the lazy river or wave pool, playing water polo in the activity pool, romping with kids in the pirate ship water park, or floating peacefully with a cocktail past the swim-up bar. The private white-sand beach has plenty of sun loungers and offers a wide range of water sports. Rooms are simple and charming, if somewhat basic and dated in style, with modern bathrooms and touches of Mexico in the decor. The resort is part of the five-hotel Iberostar complex and guests are welcome to use the amenities at the other properties, which can be reached via free shuttle.
5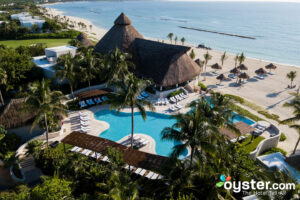 Few properties in Riviera Maya offer the level of privacy the Fairmont Mayakoba does. The 401 contemporary rooms are set amid tropical forests and lagoons, and feature modern amenities, upscale bathrooms with glass-enclosed showers and separate jetted tubs, and nice views, either of the lagoons, the forests, or the ocean. Granted, sprawling grounds mean guests will need a golf cart or one of the BMW bikes the hotels provides to move around. Property highlights include a high-end spa, a number of dining options, five attractive pools -- including a 10,000 square-foot main pool, a kiddy pool, and an adults-only pool -- and a great location on a white-sand beach a few minutes north of Playa del Carmen. However, it's not an all-inclusive resort and there are a few pesky fees.
6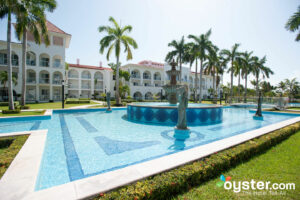 Hotel Riu Palace Mexico is an all-inclusive, upscale, 434-room resort set along the beach in Playa del Carmen's upmarket Playacar area. A 2012 renovation brought most of the interiors up to date with plenty of glitzy touches while the hotel's ground are some of the most pristine you'll see. Facilities are excellent, including ample eating and drinking options, plenty of pools and sports, and daily entertainment, while kids are also well-catered for. Rooms aren't perfect -- some are prone to damp and others have poor views -- though jetted tubs and liquor dispensers as standard are high points. All in all, it's a strong contender in a crowded market, drawing families and couples who prefer relaxing over partying.
7
This upper-middle-range, all-inclusive resort has 287 rooms, over half of which have ocean views and all of which come with hand-carved furniture and modern art on the walls. The protected, white-sand beach is near many of them, but the surf itself is not the best in the area -- there are rocks, and the water can be murky. There are world-famous beaches nearby, however, and the enormous, free-form pool provides an alternative venue for sunning and swimming. What sets the Gran Porto apart from other area resorts is the location in the center of popular Playa del Carmen, one block from the Fifth Avenue shopping district, surrounded by bars, restaurants, and nightlife.
8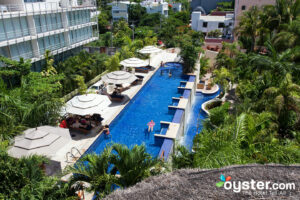 For families, couples, and groups who want self-catering condos, a rooftop swimming pool, and super fast access to both the beach and 5th Avenue, it's hard to beat upscale Porto Playa Condo Hotel & Beachclub. All units include modern furniture and full kitchens, and each is air-conditioned and kept spotlessly clean. There isn't an on-site restaurant, though there are plenty of dining options within one block of the hotel. Guests have access to a private beach club, which does have a restaurant, along with sun loungers. Parking and Wi-Fi are convenient freebies. Those seeking an all-inclusive resort directly on the sand with nightly entertainment, however, should look elsewhere.
9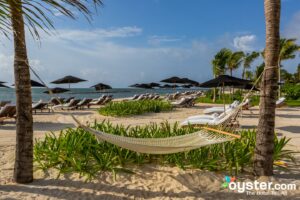 Rosewood Mayakoba is a gorgeous, peaceful retreat within the resort community of Playa Del Carmen, set on a mile-long stretch of beach. Though it features an extensive children's program, the resort largely attracts couples with its serene atmosphere, upscale restaurants, and spa. The 128 suites feature attractive contemporary decor -- picture clean lines, white walls, and rich woods -- as well as high-tech amenities and private outdoor plunge pools. They have an open-air vibe, with many floor-to-ceiling windows, and the overwater lagoon suites have swim-up access. Plus, suites include freebies such as Wi-Fi, fresh fruit, and bottled water. Seaweed debris along the beach keeps the Rosewood from being flawless (although they diligently attempt to keep it clean by sending staffers to rake it away), but otherwise this hotel is top-notch -- for guests willing to pay top dollar.
10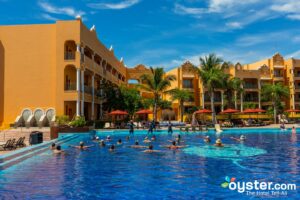 Royal Haciendas Playa del Carmen gets high marks from guests on general cleanliness, maintenance at the adjacent beach area, room size, and comfort level. But many have noted that the property was initially set up as a timeshare and -- now that it has incorporated all-inclusive packages to fill gaps in owner occupancy -- the relatively small number of restaurants on the property have become overtaxed, and staff at times seems overwhelmed. There are several quirks in the price structure of the all-inclusive packages stemming from the up-charging for certain items, the add-on for tipping, and the requirement that guests sign a receipt for each purchase made on the property.
11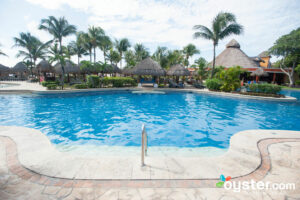 The 350-room, upper-middle-range Iberostar Tucan Hotel is an all-inclusive resort located in Playacar, an upscale beach area on the Mayan Riviera. Rooms are bright, clean, and spacious, with plenty of Mexican touches (that border on being kitschy) and furnished balconies. The resort is unique in that it is built in a rainforest, and the jungle is integrated into the hotel, with native wildlife and plants surrounding the rooms and in interior courtyards. On-site residents include a boisterous gang of howler monkeys, who enjoy stopping by guest room patios to beg for breakfast -- a novelty or nuisance, depending on your view. Sun and water lovers will enjoy the lovely white sand beach and the trio of spectacular pools.