Best Beach Hotels in Portugal
Take a look at the best beach hotels in Portugal.
See All Portugal Hotels
1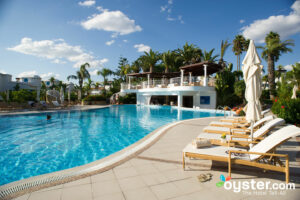 Situated on a cliff facing the ocean, the luxury Vila Vita Parc Resort & Spa has the feel of an elegant estate and village spanning 54 acres of garden grounds. The property has 180 rooms, the most basic of which have contemporary decor by local artists, sunken living rooms, and outdoor areas. Many features are off-site or seasonal, but the resort presents a slew of dining and recreation options, along with access to a small beach with Portugal's largest reef offshore. The nine restaurants include a two-star Michelin spot, and there are seven bars and an elegant wine cellar. Other bonuses are the European-style holistic spa, eight swimming pools, kids' clubs, and golf facilities. Across the road, the resort's main competitor, Blue & Green Vilalara Thalassa Resort, offers a well-respected Thalassotherapy spa and more tranquility, but less of a luxury-estate feel.
2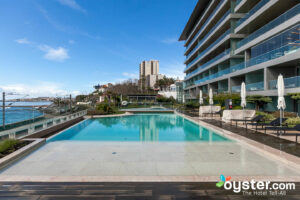 Located on the oceanfront (though with no direct beach access) and right next to the train station, InterContinental Estoril is a couple-friendly, four-pearl hotel with lovely interiors. The 59 suites and guest rooms are quite spacious and come with flat-screen TVs, balconies with ocean views, and free minibars. Unfortunately, some guests note thin walls and bothersome noise. There's an array of amenities like an outdoor pool, spa with beauty treatments and massages, fitness center, restaurant, hot and cold breakfast, and a hip bar. As an alternative, Palacio Estoril Hotel, Golf and Spa has a bit more of a family-friendly vibe and is a good alternative for those who want to play a round of golf.
3
This four-pearl, 45-room upscale hotel has a quiet clifftop location in Santana, a small village on Madeira's northeast coast. It's great for walkers, as it's close to levadas and trails like Pico Ruivo, and it has a relaxed, away-from-it-all atmosphere. Attractive rooms and suites are set within five acres of organic gardens, and the hotel is traditionally decorated with rustic furnishings. There's an indoor/outdoor pool and full-service spa for relaxing, plus a fitness center and games room. The hotel's acclaimed restaurant has a unique cliffside setting with dramatic views of the coastline, and serves gourmet cuisine with garden-sourced ingredients. Breakfast and Wi-Fi are both free. For an alternative that's closer to civilization, Quinta da Casa Branca has a more central location within walking distance to Funchal's bars and restaurant.
4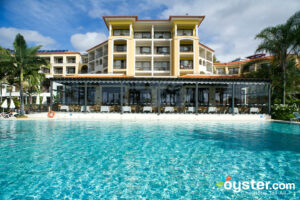 The upper-middle-range, 198-room Porto Mare features a plethora of on-site facilities and dining options, as it sits in the center of the Vila Porto Mare resort complex. The hotel is close to Lido Promenade and free shuttles run into Funchal's old town multiple times a day, but the closest beach is roughly a 30-minute walk away. Though there are ample restaurants and shops nearby, guests may be content to stay at the hotel, as there are an array of pools -- both indoors and outdoors -- a kids' club, and sports facilities. Earth-tone rooms have flat-screen TVs, docking stations, and mini-fridges, while suites add kitchenettes. Some areas are looking a bit dated, but overall, it provides a solid stay for couples and families. Couples may prefer the more modern and stylish Pestana Promenade Ocean Resort Hotel.
5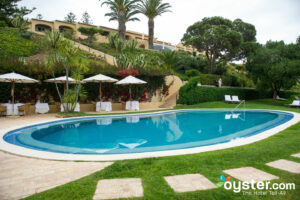 The 20-room Vila Joya is a luxury boutique hotel that begs for superlatives. The palatial hilltop villa overlooks a sandy Atlantic Ocean beach, creating a peaceful, refined setting west of Albufeira, with a few restaurants within walking distance. Elegant rooms and suites blend classic and modern details, and all but one feature sea views. The big bathrooms (some with soaking tubs) and large furnished terraces or balconies are impressive as well. Even though there are two outdoor pools, a premium spa, tennis courts, and on-site shops, it's the Michelin-star dining that really steals the show. For those seeking high-end style at slightly less eye-watering prices, EPIC SANA Algarve Hotel is a contemporary pick on the other side of Albufeira, though it's far less intimate and lacks the excellent dining.
6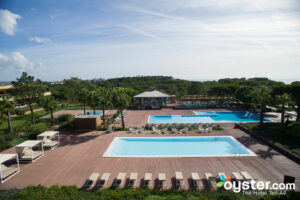 EPIC SANA Algarve Hotel is a 229-room luxury resort characterized by ultra-modern interiors and upscale facilities. Its lush, immaculate grounds offer direct access to a beautiful stretch of sandy beach on the Algarve coast. The 229 chic rooms feature high-end amenities such as Nespresso machines, and many have views of the Atlantic from their terraces. Sleek bathrooms have both showers and standalone soaking tubs. With great dining, decent family-friendly facilities, and a super-luxe spa, the hotel stands out as one of the best in the region. In the area, only the intimate and significantly pricier Vila Joya is more luxurious; Salgados Dunas Suites and Vidamar Resort Algarve are slightly less expensive and less luxurious.
7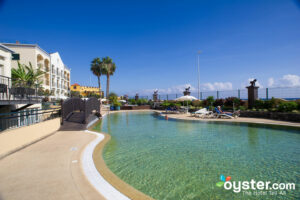 The adult-only Porto Santa Maria Hotel is a three-and-a-half-pearl property popular for its amazing beachside location in the heart of Funchal's old town. There's plenty to do nearby: Some of the island's best restaurants are within walking distance, along with cultural and tourist attractions such as the marina and the famous Mercado dos Lavradores. On-site, there are an outdoor pool, rooftop terrance with a whirlpool, spa with indoor pool and treatment rooms, and a generally well-reviewed restaurant. The 146 rooms are comfortable, albeit with some dated furnishings, and equipped with kitchenettes, flat-screen TVs, and outdoor spaces -- some with sea views. It's worth comparing rates with Pestana Palms Ocean Aparthotel, which has a few more features, including an on-site diving school.
8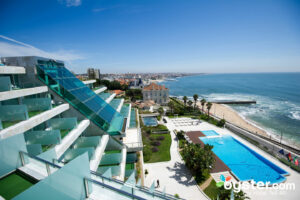 Guests love the ocean vistas and big bathrooms at the Hotel Cascais Miragem. It's a 192-room, luxury hotel located between Cascais and Estoril. With a prime location near the beach, the hotel offers gorgeous views of the Atlantic Ocean from some guest rooms and all suites, which also feature large terraces. The ocean can also be seen from the big outdoor pool, which is a particular highlight with its large sundeck and outdoor bar. Guests should keep in mind that standard rooms don't face the ocean, and those looking for a more affordable option may want to consider the Vivamarinha Hotel & Suites, which is a luxury hotel surrounded by a golf course.
9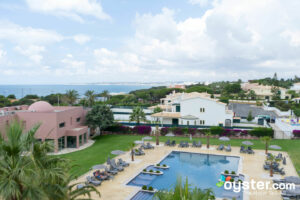 The upper-middle-range Hotel Vila Gale Praia is a 40-room boutique right across from the golden sands of Gale Beach. This contemporary hotel has a quiet and relaxed vibe that makes it popular with couples. All rooms have fresh decor, air-conditioning, balconies, and water-stocked mini-fridges; Superior Rooms add bathrobes, slippers, and free minibars. There are a pretty outdoor pool where guests won't have to fight for loungers; wellness area with a sauna, whirlpool, Turkish bath, and small gym; large multimedia room with a snooker table; and all-day restaurant with room service. Freebies include hotel-wide Wi-Fi and breakfast, but the tennis courts and laundry service cost extra. Guests at this hotel must be at least 16 years old, so families with younger children should try the brand's nearby Vila Gale Atlantico, though it's not on the beach.
10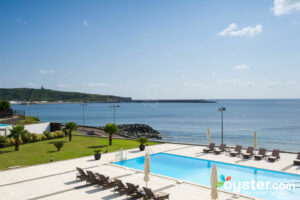 The 28-room Atlantida Mar is a contemporary, upper-middle-range property set in a quiet area across the road from the coastline, a five-minute drive from the center of Praia da Vitoria. Rooms have a bright and modern, if simple design, as well as flat-screen TVs, kettles, minibars, and shower/tub combos. Junior Suites add kitchenettes and living spaces. On-site features include a sleek ocean-view outdoor pool with adjacent above-ground hot tub, a sauna, playground, and gym. There's no full restaurant, but a bar serves snacks and all rates include buffet breakfasts with bread and pastries, eggs, pancakes, cold meats and cheeses, and yogurt, plus well-regarded coffee. Although not as modern, it's worth comparing rates with Terceira Mar Hotel in nearby Angra do Heroísmo, which has a restaurant serving regional and international fare, and a spa offering massage treatments.
11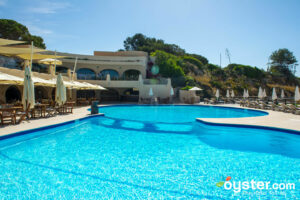 Thanks to its slightly secluded location, large and serene garden grounds, and cliffside ocean views, the Blue & Green Vilalara Thalassa Resort is ideal for couples or families looking for a relaxing vacation. This 131-room luxury resort is outfitted in a modern Mediterranean style and features one of Europe's top thalassotherapy spas, as well as six pools, a kids' club, private beach access, and two restaurants and bars. Spacious rooms come with minibars, Nespresso machines, and sleek bathrooms, plus breakfast is included. Travelers might also want to check out the nearby Vila Vita Parc Resort & Spa, which offers even more on-site dining options with nine restaurants and a wine cellar.
12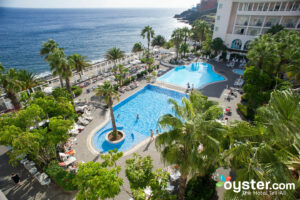 This huge three-pearl, 327-room resort hotel is located in Canico de Baixo, a traditional Madeiran village on the southeast coast. It's only 10- to 15-minute drive from the airport and Funchal, and has a gorgeous beachfront location with stunning ocean views. Most popular with families and holidaymakers, the property offers all-inclusive and half-board rates. Rooms are dated, though they include modern amenities and furnished balconies; some with sea views. Facilities include three pools, two restaurants, several bars, a full-service spa, beauty salon, fitness center, tennis court, and game room. There's a kids' club with daily activities, plus nightly entertainment. Wi-Fi is free throughout the property. Travelers looking for a more romantic atmosphere might like Quinta Splendida, which adds a Thai restaurant and free spa access.
13
Relais & Chateaux's Bela Vista Hotel & Spa is a five-pearl boutique housed in a gorgeous 1918 mansion, with luxe decor that dips its toes into both the past and modern day. The hotel's hilltop location off a pedestrian-only street in the Praia de Rocha area gives guests easy and walkable access to restaurants, bars, golfing, and shops plus direct beach access via hundreds of stairs. The 38 stylish and bright air-conditioned rooms are well-outfitted and many have ocean views. Guests rave over food at VISTA Restaurant, the top-notch L'Occitane spa, and lovely pool area, but street noise and the disappointing immediate surroundings pop up in the complaints. Free breakfast, free Wi-Fi, and private parking are also offered. Kids under 12 aren't allowed, so families should check out the nearby Hotel Algarve Casino, though it's not as striking.
14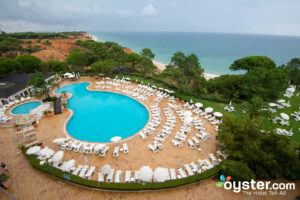 The 310-room Porto Bay Falesia is an upper-middle-range hotel located in the small Algarve town of Olhos de Agua. Its scenic clifftop position is certainly a highlight, offering plenty of superb vantage points over the stunning five-mile stretch of Praia da Falesia beach. Pleasant rooms have modern comforts that include flat-screen TVs, minibars, and tea/coffee facilities, plus some feature sea-view balconies -- though others overlook the car park. Solid facilities consist of two restaurants, two bars, two pools, and wellness amenities that include a spa and fitness center, plus play areas for children. All in all, it's certainly one of the better options in the area, though those looking for a kid-free stay should check out the nearby Falesia Hotel.
15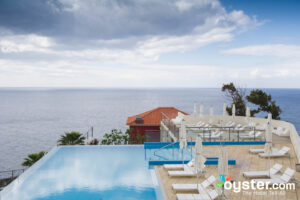 Estalagem Ponta do Sol is a four-pearl property dramatically perched on top of a cliff overlooking the southern coast of Madeira Island and across from the beach. The 54 rooms are minimally decorated with black and white and come with air-conditioning, mini-fridges, outdoor space, and picture windows with fantastic views. The outdoor infinity pool, stylish restaurant, lobby and pool bars, and panoramic whirlpools are all designed to give guests spectacular views. Other features include a library lounge and game room, bike rental, free shuttle bus, yoga and Qi Gong classes, diving instruction, and wellness spa with hydrotherapy, sauna, and steam room -- all great distractions from the non-activity in the village. Free breakfast and free Wi-Fi are added perks. If this spot is booked, it's worth checking out the comparable Saccharum Hotel Resort & Spa up the coast.