Most Romantic Hotels in Portugal
Take a look at the most romantic hotels in Portugal.
See All Portugal Hotels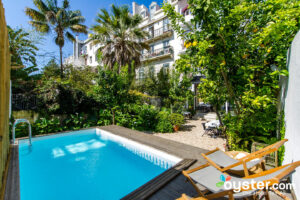 Casa do Barao is a charming upper-middle-range bed-and-breakfast in Lisbon's trendy Chiado neighborhood. Artistically and eclectically furnished with modern and quirky pieces, this B&B is great for couples and independent travelers (children under 16 are not allowed) looking for a homey, relaxing place to rest while visiting the city. Its 12 guest rooms are modern and clean, equipped with flat-screen TVs and air-conditioning, plus some have terraces with views of the garden that features a small pool. With free breakfast, a great location, cozy library, and an honor bar, it's a good find in the city center. For an alternative, check out ZUZABED & Breakfast B&B, Apartments & Villas, which offers similar trendy rooms as well as full-service apartments, plus breakfast is included in rates.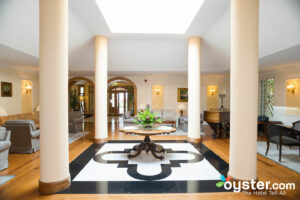 The 40-room Quinta Jardins do Lago is a refined luxury hotel set in a historic 18th-century mansion in a quiet neighborhood on the outskirts of Funchal. While the hilltop setting is peaceful and affords distant sea views, it's a bit removed from most of the city's attractions. The hotel's botanical gardens, however, are truly impressive, with balconied guest rooms and terraced eateries taking full advantage of the wealth of flora. Facilities are excellent, with a heated pool and choice of casual or formal dining, as well as a fitness room, sauna, and hot tub. Rates, though, are pricey, and the Old World style won't be everyone's cup of tea. The Quinta Das Vistas Palace Gardens is a cheaper alternative and also offers stunning views, though it lacks this hotel's gardens.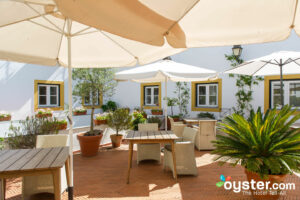 Set in a repurposed 17th-century olive oil mill with a sunny whitewashed courtyard, the three-pearl Albergaria do Cavalrio is an intimate, 22-room hotel a 10-minute walk from the center of Evora. While the hotel may be light on amenities -- it lacks a full restaurant and swimming pool -- it's big on historic charm and friendly service. Contemporary rooms are attractively decorated with dramatic antique armoires and woven headboards, but they can be small and dark. Guests rave about the free buffet breakfast, and the hotel serves light tapas lunches in the courtyard. Guests dead-set on a pool should check out the M'AR De AR Muralhas, which also has larger rooms.
The Casa Amora Guesthouse is a simple, charming inn, run and personally decorated by a designer. There are 10 individually decorated rooms (some of them duplexes), divided between two buildings. The three-and-a-half pearl property is set on a small, winding street in the pedestrian-friendly neighborhood of Rato, within walking distance of a plethora of quaint shops and restaurants, and less than a block from the lovely park Jardim das Amoreiras. An early 20th century construction renovated in 2012, the property complex features beautiful facade tile work and is tastefully outfitted with contemporary art prints and decorative mirrors.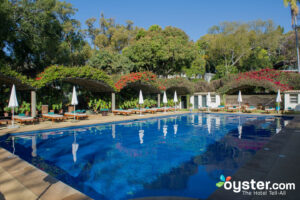 The four-pearl, 49-room Quinta da Casa Branca is a stand-out property in Funchal, located in a quiet residential area about a 15-minute walk from the promenade. The boutique hotel's grounds are filled with lush gardens, an outdoor pool, and places to lounge, plus there are a spa, gym, and two dining spots. While the architecture is modern and sleek, room interiors are more traditionally styled with floral patterns and wood paneling. They do all come with flat-screen TVs, tea- and coffee-making facilities, and minibars, plus suites have living areas and jetted tubs. While the seclusion and relaxing atmosphere are a large drawcard, those preferring a more stylish property might prefer The Vine, located a five-minute walk from Funchal's old town.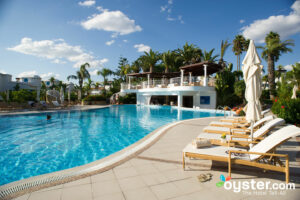 Situated on a cliff facing the ocean, the luxury Vila Vita Parc Resort & Spa has the feel of an elegant estate and village spanning 54 acres of garden grounds. The property has 180 rooms, the most basic of which have contemporary decor by local artists, sunken living rooms, and outdoor areas. Many features are off-site or seasonal, but the resort presents a slew of dining and recreation options, along with access to a small beach with Portugal's largest reef offshore. The nine restaurants include a two-star Michelin spot, and there are seven bars and an elegant wine cellar. Other bonuses are the European-style holistic spa, eight swimming pools, kids' clubs, and golf facilities. Across the road, the resort's main competitor, Blue & Green Vilalara Thalassa Resort, offers a well-respected Thalassotherapy spa and more tranquility, but less of a luxury-estate feel.
The Cliff Bay (Porto Bay) is a luxury hotel with a striking cliff-side setting overlooking the Atlantic, a bit more than a mile from Funchal's city center. It's home to Madeira's only Michelin-star restaurant, two swimming pools (one freshwater, one saltwater, and a kiddy pool), and a luxe spa. The 200 rooms are pleasant, bright, and spacious, and most have balconies with superb ocean views. The resort as whole is well-oiled with plenty of polish, if not a huge amount of character. For that, travelers might want to check out the 18th-century Quinta Jardins do Lago -- far from the sea but set within lush botanical gardens.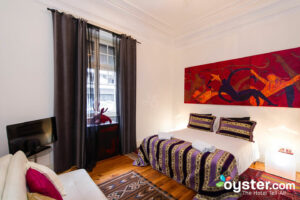 The Whatever Art Bed & Breakfast is a small and charming budget property that stands apart with its creative decor and warm hospitality, both courtesy of the artist owner. The five individually decorated guest rooms range significantly in size, and have flat-screen TVs and free Wi-Fi. However, there are only two bathrooms that are shared amongst the five rooms. A free homemade breakfast is served daily, and there's a small outdoor terrace frequented by peacocks. It's not exactly centrally located, but public transport options are readily available and the beautiful, 19th-century Campo Pequeno Bullring (now used for events and shops) is one minute away. For a bigger hotel featuring guest rooms with en-suite bathrooms, travelers may want to consider the nearby Alif Hotel Campo Pequeno, though it doesn't have the individual charm of this bed-and-breakfast.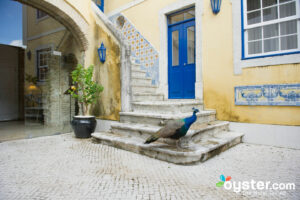 The historic Solar Do Castelo is different than any other hotel in Lisbon. The rooms are quaint (if not luxurious), and the breakfast buffet offers a ton of options for hungry guests. But the real reason tourists stay at this hotel is the location; not only is it convenient to numerous sights and neighborhoods in the city, but it is the only hotel within the walls of the medieval village surrounding St. George's Castle. It's quiet, and rich in history -- the hotel has preserved a large part of the architecture, as well as adding a small museum of artifacts off of the lobby. And a real highlight is the outdoor terrace, where peacocks congregate. None of the 14 rooms are decorated the same, and some feel more upscale than others. But all offer free Wi-Fi and plenty of charm.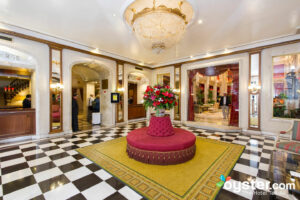 The 82-room Hotel Avenida Palace is a landmark upscale property with sumptuous, palatial interiors. Located in the bustling center of historic Lisbon, the hotel is close to Rossio train station and within walking distance of many tourist attractions. While rooms might feel a little old-fashioned and fussy, most of the hotel's common areas are genuinely breathtaking, and there are plenty of spots in which to relax and soak up the surrounds -- the live music in the lounge is a particularly nice touch. An excellent breakfast service is included with room rates, and Wi-Fi is free throughout the hotel. If it all feels a little over the top, there's always the sleeker, 1940s-style Altis Avenida Hotel across the road.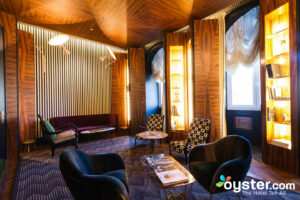 This luxury boutique hotel opened its doors on Lisbon's high-end shopping street, Avenida da Liberdade, in 2014. The Valverde has chic designer interiors and 25 elegant guest rooms and suites with luxurious black-marble bathrooms. Most rooms have balconies, and come with flat-screen TVs, free Wi-Fi, and minibars, and Suites, which have separate living rooms and extras like espresso machines. Breakfast is included in the room rate, and other notable features include a pleasant leafy courtyard with a bar and a small, heated swimming pool, a restaurant, and a library lounge. But Mini Rooms can be small and dark, and typical luxury amenities, such as a fitness center and spa, are missing. Travelers might want to check out the nearby Porto Bay Liberdade, another luxury boutique hotel, which has both fitness facilities and a spa.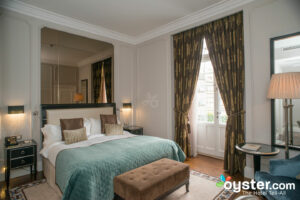 InterContinental Porto Palacio das Cardosas is a luxury hotel housed in an 18th-century palace, and interiors are elegant and refined. Located right in Porto's historic district, the iconic narrow lanes of the old town are just down the hill, and Riberia Square only takes 15 minutes to reach on foot. The style in the 105 rooms is a blend of modern and classic aesthetics -- with just a touch of shimmer -- and all come with marble bathrooms, free Wi-Fi, and flat-screen TVs. Some have balconies overlooking Liberdade Square below. The hotel has an elegant cocktail bar and Portuguese restaurant, but the spa is underwhelming and the fitness center is small. Travelers hoping for a swimming pool should consider the equally sophisticated Palacio do Freixo, though it's not as centrally located.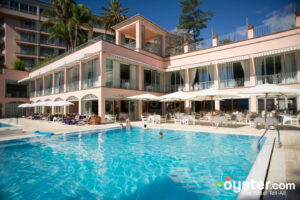 The 163-room Belmond Reid's Palace is a historic luxury hotel perched dramatically on a clifftop a short drive from the center of Funchal. Awash with antiques and period touches, this traditionally elegant property has lost little of its original 19th-century elegance -- though some might find the overall vibe a little stuffy. The classic vibe extends to the bright rooms, complete with furnished balconies or patios; some suites have kitchenettes. Stunning sea views are found from numerous vantage points, the property offers extensive dining options, and leisure facilities include several outdoor pools, lovely gardens with lounge chairs, outdoor tennis courts, and a spa. For top-notch amenities and sea views without the old-fashioned formality, check out The Cliff Bay nearby.
Algar Seco Parque is an attractive three-and-a-half-pearl hotel offering stellar ocean views and classic Portuguese style. The scenic property, set on a hillside, is about 10 minutes by foot from the heart of the village. Artisanal landscaping and bountiful flowers lend it incredible character, while the hotel includes a nice mix of 47 total traditional suites, bungalows, and villas offering either pool or sea views. All include amenities like flat-screen TVs and spacious, Mediterranean-style bathrooms and kitchens. There are three pools (including one for kids), as well as a breezy bistro that overlooks the ocean and the pools. Guests seeking more diverse amenities may prefer the nearby Tivoli Carvoeiro Hotel.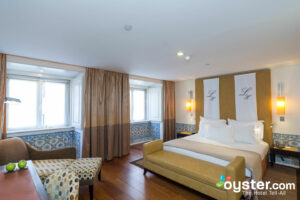 This 40-room hotel housed in an 18th-century building on bustling Avenida da Liberdade mixes modern decor with restored historic touches. (Most of the ironwork is original, as is the wooden front door.) The predominant look is sleek and contemporary. While the room decor isn't quite luxurious, it's certainly attractive, with warm chocolate and beige tones, pops of pattern, wood floors, and sepia-toned photographs. The reading lights attached to the headboards are a convenient detail. Many rooms have Juliette balconies looking out onto the tree-lined street, reminding guests of the hotel's fabulous location; numerous major sights -- as well as popular neighborhoods -- are within walking distance.