Best Luxury Hotels in Prague
A medieval city defined by its bridges, churches, and cobblestone streets, Prague offers a variety of accommodations. Most luxury options, however, can be found in the heart of the city center, which retains much of its historic charm thanks to being largely (and miraculously) undamaged throughout WWII. Here we bring you the eight best luxury hotels in Prague.
See All Prague Hotels
1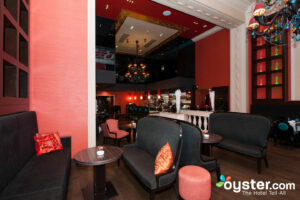 A five-pearl property, the Buddha-Bar Hotel tops our list for numerous reasons. A luxurious Asian theme pervades the entirety of the hotel, where spacious rooms include deep soaking tubs and high-end toiletries, a spa offers various treatments, as well as a steam room and sauna, and a sexy restaurant serves French Colonial cuisine. The Buddha-Bar also boasts a central Old Town location. But though it's overall luxury bests that of the Hotel Kings Court, next on our list, it lacks the fitness center and pool that the Kings Court has.
2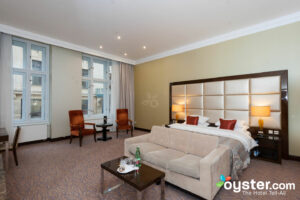 With a prime location in Old Town, full-service spa, and top Prague restaurant, Hotel Kings Court is a great luxury pick. While it has a modern vibe, it maintains a regal feel (which some of the other more modern properties on this list don't quite accomplish) and many rooms come with beautiful city views, TVs over jetted tubs, and terraces. Plus, it has an on-site pool -- a feature that only the Corinthia Hotel Prague (which comes in fifth on our list since rooms there are nice but a bit bland) can also boast.
3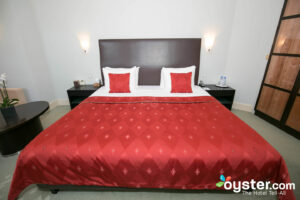 Located on the Left Bank, the Aria Hotel is a luxurious, music-themed property with gorgeous views from its rooftop restaurant and pretty public spaces. The lobby, as well as on-site bar and restaurant, feature elegant decor (as well as a grand piano), there's a spa and small fitness center, and rooms are packed with high-end amenities, including computers with free Wi-Fi and Apple TVs. Minibars are well-stocked, and suites are available with kitchenettes and dining tables. Like those at the Buddha-Bar, they also come with fresh orchids -- but decor is on the bland side, and some have low ceilings.
4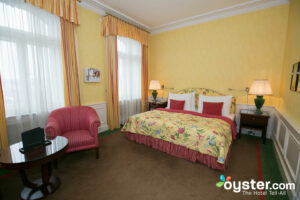 It's modern-meets-historic at Le Palais Prague. Like the Aria, it will please art lovers, as it houses an extensive collection. On-site features are also plentiful; there's a large fitness center, spa (although it's not as luxe as those at Buddha-Bar, Aria, and Kings Court), small Italian restaurant, and lobby bar. Room are spacious and pleasant, but they lack all the high-tech amenities of those at the Aria, and decor can feel classic, or dated, depending on your style.
5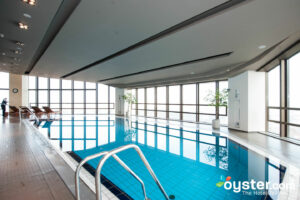 It can be difficult for a massive property to still feel luxe and refined, but the Corinthia Hotel Prague certainly does. Rooms may be a bit bland but it's long list of features are what makes it stand out. Not only does it have an indoor pool with sweeping city views, but many rooms have lovely fews, and there are three restaurants, two bars, a spa, and modern fitness center. Its location next to a major highway makes for some traffic noise, though.
6
Grandior Hotel Prague opened in 2014, and therefore is one of the newest properties not only on our list, but in Prague. Its modernity shows throughout; the restaurant, where an extensive free breakfast is served, features sleek decor, the on-site bar is a popular spot, the spa even offers oxygen therapy, and rooms are spacious and streamlined. Some, particularly business travelers, may prefer it to Le Palais Prague (our fourth pick), but it ranks sixth on our list since the decor, though chic, feels a bit chain-like -- and many beds are actually two mattresses pushed together.
7
The Golden Well, a gorgeous, historic former residence, sits in a quiet area right next to Prague Castle. With just 19 rooms, it offers top-of-the-line service -- but lacks amenities like a fitness center and spa. Most rooms feature lavish decor, and all come with Apple TVs and iPads; however, lower-category rooms can be small, with furnishings that don't feel quite as luxe as those in suites. The restaurant, with beautiful rooftop views, may be the highlight.
8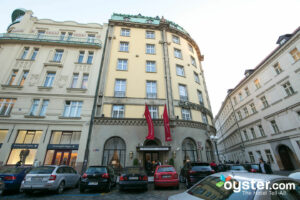 In the heart of Old Town Prague, Grand Hotel Bohemia certainly has some grand features, the most notable being the lavish ballroom. And plenty of period touches can be found throughout the 1920s Art Noveau building. The lobby can be a bit disappointing, though. It feels quite dated, and the hotel also lacks a spa and fitness center. Rooms, at least, feel modern, with sleek bathrooms and large flat-screen TVs.