Best Value Hotels in Providence
Oyster knows what travelers look for in their hotels. When we review properties around the world, we evaluate how every feature stacks up against the competition, from the rooms to the pools to the restaurants. So if you're planning a trip in a budget and need a place to start, you've come to the right place. Take a look at our top picks for value in Providence, and get inspired!
See All Providence Hotels
1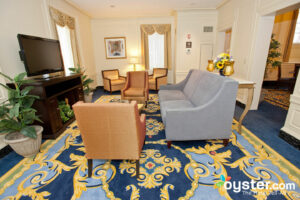 It may be a chain hotel, but Hampton Inn & Suites Providence is one of the best deals downtown, and has personality and character thanks in part to its historic building. With a free daily breakfast, modern features (including flat-screen TVs, free Wi-Fi, and a fully equipped fitness center), and a central location, you'll get a lot of bang for your buck here. Plus, suites come with microwaves, mini-fridges, and pull-out couches. There's plenty for both business travelers and families to like, but there's no pool -- unlike at the nearby (and pricier) Courtyard by Marriott.
2
Sheraton Providence Airport, located only a quarter mile from T.F. Green, is a convenient option for travelers who need to be by the airport. The guest rooms are comfortable and clean -- important for any business traveler -- and there's free Wi-Fi throughout the hotel. Bluefire Restaurant and Lounge, and the Link@Sheraton lobby featuring computer stations with free Internet, are nice additions. The on-site fitness center has modern equipment, and the hotel provides free shuttle to nearby spots (including the airport).
3
For rates that are only marginally higher than those of the budget chain hotels in Seekonk, Johnson & Wales gives more for your money. The on-site restaurant serves delicious local steak and seafood, and the large rooms are a step up from those at the nearby Comfort Inn and Hampton Inn, with flat-screen TVs, higher quality decor and bedding, and enormous bathrooms (though the extra space isn't always used well). Sure, the decor is dated in typical New England fashion (mustard-colored carpeting, antique-style furnishings) and there is no pool, but free Wi-Fi, free continental breakfast, and free parking make this hotel a great value.
4
For its budget-friendly price, Best Western Seekonk has clean rooms, a heated indoor pool (great during New England winters), a fitness center, and a free daily breakfast. Decor is what you'd expect (standard drab-chain getup), and for the most part amenities are no-frills -- though the in-room microwave and mini-fridge are a bonus. Although there is no restaurant on the property, the location on busy commercial Route 6 is near chain restaurants galore.