Best All-Inclusive Resorts in Puerto Vallarta
A stunning destination in Mexico, Puerto Vallarta is known for beautiful beaches, a plethora of water activities, and a fun nightlife scene. Oyster visited the popular destination to visit the area's top all-inclusive resorts; we slept in the beds, dined at the restaurants, and swam in the pools, to evaluate each and see how they stacked up against the competition. So if you're planning a trip and need a place to start, you've come to the right place. Take a look at our expert picks for the best all-inclusive hotels in Puerto Vallarta, and start packing your bathing suit!
See All Puerto Vallarta Hotels
1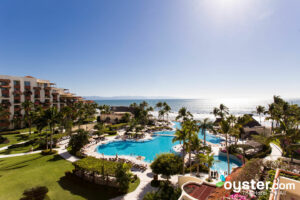 This luxurious, 267-room all-inclusive resort in Nuevo Vallarta is a sophisticated and serene option in the greater Puerto Vallarta area. Every room here is a suite, offering extra living space, a balcony, ocean views, and luxurious touches such as Nespresso machines. The impressive features include an infinity pool with three levels overlooks the beach, a decadent spa with 20 treatment rooms, and four upscale (and pricey) restaurants. There's little wrong with it, except for the fee for Wi-Fi.
2
A half-hour drive from downtown Puerto Vallarta and a half-mile from the beach, the Marival Residences & World Spa is the place to go for laid-back luxury, residential-style suites, modern amenities, and an impressive array of all-inclusive features. Comprised of 169 suites, penthouses, or private villas, ranging from one to four bedrooms (and all featuring spacious terraces with garden, pool, or ocean views), Marival Residences is an excellent option for families and couples alike seeking a little sun-soaked spoiling.
3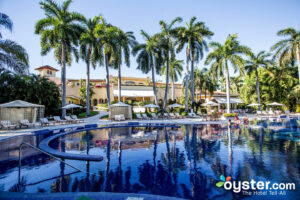 There are neighborhoods in Puerto Vallarta that feel like Palm Springs or Beverly Hills, and the all-inclusive Casa Velas inhabits one of them. Lush, manicured gardens and streets, high-priced, terra cotta tile-roofed houses and condos, and the green grass of a well-tended golf course define the locale. The 80-room adults-only hotel is perfectly situated amidst this quiet luxury. With a gated entry, a friendly, (mostly) bilingual staff, and gorgeous public spaces and rooms that more than meet the challenge posed by the posh ambience, Casa Velas is a great pick for those who like it luxe but informal.
4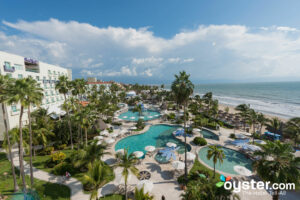 Booking a room at an all-inclusive in Nuevo Vallarta -- the high-end "suburb" north of Puerto Vallarta -- can be hit or miss, given the dozens of properties to choose from here. The beachfront Vallarta Palace is a hit for most. Some might find the minimalist architecture of this 348-guestroom hotel a little too stripped down, particularly in the vast atrium lobby. But beyond that empty, soaring space are lush gardens, inviting pools, and elegant restaurants offering a range of cuisines. Rooms are on the small side, but feature luxe details like double Jacuzzis.
5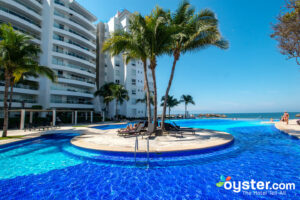 The Dreams is a solid all-inclusive resort, with a sleek, ultra-modern design, several restaurants --including an outstanding rooftop sushi and cocktail bar--, a spa, multiple pools, and a stretch of beach. The rooms here are attractive -- cool, with hip furniture, freestanding deep bathtubs, and Jacuzzis on private decks. But you have to specify you want an ocean view, or you may be looking at the mountains (which isn't necessarily a bad thing).
6
Secrets Vallarta Bay is a luxurious, adult-only, all-inclusive resort right on the beach in tourist-friendly Puerto Vallarta. With 271 suites, it's not the biggest resort around -- the smaller size means less of a wait and better service. This property does a lot of things right: luxe rooms with butler service, unlimited premium alcohol, and gorgeous pools -- however, the vibe can get rowdy (blame the combination of all-inclusive booze and a swim-up bar). Guests should also note that some of the restaurants and daily entertainment are next door at the family-friendly Now Amber Puerto Vallarta. Still, Secrets is a quick drive to the airport and downtown, making it a convenient spot for an upscale couples getaway on the beach.
7
The 327-room Now Amber Puerto Vallarta is a family-friendly, four-and-half-pearl oceanfront property. The location is right on the beach and 15 minutes from the airport and downtown Puerto Vallarta. Seven restaurants and bars are all-inclusive, including premium alcohol. All of the spacious, sleek rooms are suites with private balconies. There's a huge spa, gorgeous pools, and separate clubs for kids and teens. The hotel doesn't nickel-and-dime guests with extra charges: everything from parking to Wi-Fi to towels and minibars are included. Note that some of the hotel's facilities (a few restaurants and the spa) are actually located next door at the sister property, Secrets.
8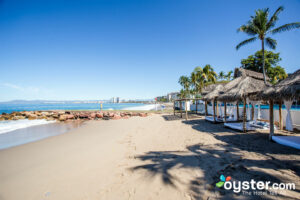 Open only to guests ages 16 and older, Villa Premiere offers the best of two Puerto Vallarta worlds: it's both beachfront all-inclusive and urban boutique. One of the few beaches near town -- Playa Camarones -- is directly in front of the hotel, and downtown Puerto Vallarta is just seven blocks away. Even with its small size, the 89-room Villa has an attractive all-inclusive package -- a compact but still luxurious version of what you get at many of the mega-sized resorts several miles north, out of town. An added bonus: it's a pretty little place with whimsical artworkthroughout.
9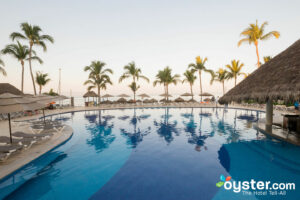 The 495-room Marival mega-resort takes the "all" in all-inclusive seriously. Just about every imaginable recreational activity is available here -- along with the usual pools, kayaks and endless beverages, this hotel has bicycles, a climbing tower, mini-golf, a basketball court, catamarans, beach volleyball, cooking and Spanish lessons, and more. There are multiple dining options, rooms ranging from standard guest rooms up to three-bedroom suites, and more than 900 feet of Nuevo Vallarta beachfront that stretches for miles in both directions. Some rooms in the older buildings of the property, though, are in definite need of an update. And the property itself feels less luxurious (though is more affordable) than its sister property, Marival Residences, just a half mile away.
10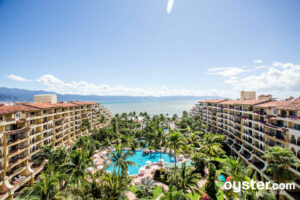 Velas Vallarta Suite Resort was likely one of the finest in Vallarta a couple of years ago, and no doubt, if management continues to put time and money into the ongoing upgrade, this all-inclusive resort will be top-notch again soon. The gardens and grounds are still charming, the pools (with a lazy river) and recreational options are excellent, and the restaurants are hitting on all cylinders. However, the suites are not quite up to modern-day snuff (drab furnishings and old tube TVs are standard). Upgraded rooms, though, feature flat-screen TVs and nicer furnishings -- while most rooms (renovated or not) feature stunning ocean views. The price is a bit high considering the needed upgrades -- for nicer rooms and similar amenities in the Marina area, consider lower-priced Melia Puerto Vallarta.
11
For family fun, this resort is solid -- featuring a children's pool and slides, colorful kids' club with covered sand pit, and Family Rooms designed to sleep two parents and up to three children younger than 12. Beyond the kid stuff, the hotel has clay tennis courts with nighttime lighting, a great beach, and plentiful dining options, along with a small fitness center and tiny spa. With four restaurants, there are a variety of cuisines to choose from, including Italian, Asian, and French dishes. Settings range from casual to sophisticated, with reservations, dress codes, and age restrictions enforced at some dining areas. Room service is available 24 hours. Five bar options include poolside spots and a small nightclub features live shows.