Best Luxury Hotels in Puerto Morelos
Located between Cancun and Playa del Carmen, Puerto Morelos is the quieter beach destination in Riviera Maya. The beaches here aren't the best Mexico has to offer, but there's great snorkeling in the area's reefs and they're much less crowded. We visited the top hotels in Puerto Morelos to sleep in the beds, dine at the restaurants, and lay by the pool (in the name of good reporting!), to see which were the best of the best. Check out our expert picks for the best luxury Hotels in Puerto Morelos, and start planning your beach getaway!
See All Puerto Morelos Hotels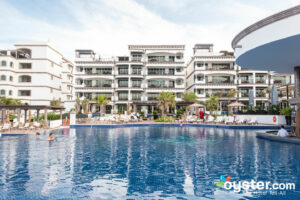 This stunning, all-suite luxury property in Puerto Morelos has 103 incredibly spacious rooms with huge balconies or patios. Though many have full kitchens, there is only one on-site restaurant, El Faro, which serves international and Mexican cuisine for breakfast, lunch, and dinner -- but the menu can get repetitive, especially for those on the all-inclusive plan. There are three beautiful pools, including one for children and one for adults that has a swim-up bar. The beach is superior to many in the area, with soft white sand, calm waters, and a lack of seaweed. The hotel offers free parking and Wi-Fi, and has an excellent on-site gym, but the tiny spa is a bit of a letdown.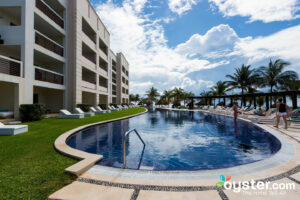 This luxurious, 433-room all-inclusive resort is an adult-only escape with a fairly remote location a half-hour drive south of Cancun's bustling Hotel Zone. There's a classy, jet set vibe, and spring break shenanigans are prohibited, as are children under 18. Extensive features include a (that's smaller than those at competing properties), eight pools, nine restaurants, and abundant bars -- plus nightly entertainment to keep things lively. There is a full-service spa as well as a nicely outfitted fitness center, not to mention regular yoga and water aerobics classes. Rooms are spacious, spotless, and modern, all with amazing whirlpool tubs and balconies or patios. Really fantastic free Wi-Fi is offered throughout (reception can even be found on the beach).
This adults-only resort lives up to the Excellence name, offering the standard amenities of the luxury chain: multiple attractive pools, numerous dining options, dozens of activities, and a solid spa with beachside treatment huts. The abundance of marble and columns throughout the property might be a bit too ostentatious for some, but it's definitely impressive -- as are the rooms. The rooms feature Jacuzzis and open bathrooms, which shouldn't be a problem for most visitors choosing an adults-only resort. All have terraces or balconies, and a gorgeous stretch of beach is right outside the door.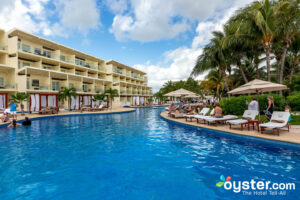 The ultimate family getaway, the all-inclusive 438-room Azul Sensatori mega-resort offers a fabulous kids' club, with fairly modern amenities, lots of fun colors and spaces, and even a life-size Dora the Explorer running around. For the adults, the spa is airy and luxurious with soothing decor. On the hotel's website, the beach looks stunning, but in reality it is full of seaweed and rocks, making it not the greatest place to swim. It is, however, still a great place to rent some kayaks, play beach sports, and get a golden Mexico tan. Fortunately for those looking to swim, the winding lazy river pool weaves around the property, which many swim-up rooms border. Rooms are large, bright, and luxurious, some with private balconies or large Jacuzzis.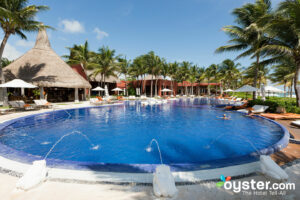 With only 90 suites, the Zoetry Paraiso offers a romantic, wellness-centric boutique experience in the Mayan Riviera. The unique layouts of the suites offers different experiences to guests, including Terrace Suites with small bath-side indoor gardens, and Plunge Pool Suites with small personal outdoor pools. Even though warm, Mediterranean style is a bit different in each room type, all are spacious with comfortable furnishings and Bulgari toiletries. Some tube TVs are begging for an update, however. The pool area and beach are relaxed with double-wide lounge chairs (perfect for couples), and the on-site dining keeps the resort's wellness theme alive with delicious, healthy meals. Included amenities not standard at most all-inclusive resorts, such as a "welcome" bottle of tequila, daily bottle of champagne, a one-hour Catamaran sunset sail, three-times-daily maid service, and private chauffeured airport transfers, make this resort a standout among Puerto Morelos' finest properties (though expect the price to reflect that).