Best Value Hotels in Rome
Between the dozens of museum fees, dinners with pasta and wine, and transportation fare, a trip in Rome can be pricey. So while we love luxurious stays some of the time, we're also keen on scoping out the best-bang-for-your-buck hotels. After visiting over 300 hotels in Rome, Italy, we evaluated each to see how they stacked up against the competition — from the guest rooms, to the restaurants, to the location. So if you're looking for a budget-friendly stay that still delivers on value, you've come to the right place. Take a look at our top picks for value in Rome, and get inspired!
See All Rome Hotels
1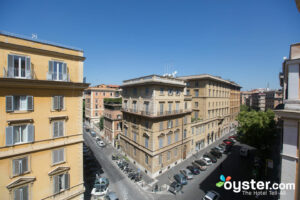 The four-room, lower-middle-range Capricci Romani B&B is a charming bed-and-breakfast for couples looking to be within easy walking distance of Vatican City. The friendly, knowledgeable owner and nice details like free continental breakfast plus games and guidebooks for guests' use give this place a homey vibe. Rooms, though small, have air-conditioning, flat-screen TVs, and safes, and unlike some bed-and-breakfasts, have their own private bathrooms. This property costs less than other hotels in its class that are closer to central Rome, which makes it a good value for guests who want to spend most of their time exploring the Vatican.
2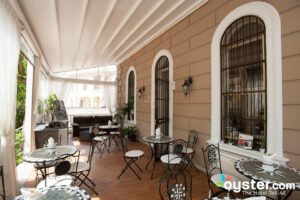 Rich in character and detail, the budget-friendly,14-room Villa Pirandello is a small, intimate hotel located outside the city center in an upscale residential neighborhood that's convenient to public transportation. A converted convent, it's ideal for tourists seeking to escape the urban chaos at the end of the day but still wanting to be within easy reach of the city center. With a meeting and presentation room, Villa Pirandello can also host small business functions. The hands-on owner cultivates art and culture with regular events like book presentations and cocktail socials.
3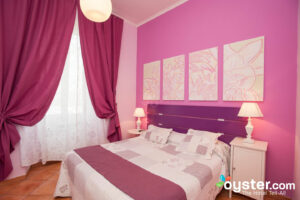 The Four Seasons it is not, but this small and charming bed and breakfast right by the Vatican adheres to a theme, with its four rooms named for the changing seasons. Open since 2011, it's a reasonable option in a prime location for travelers who prefer the comforts of home and are OK with the cozy B&B atmosphere.
4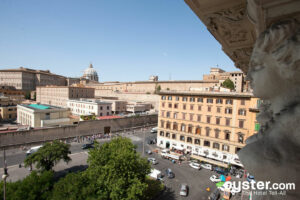 Travelers looking for basic, rooms in the city center at a great value will likely enjoy a stay at A View of Rome. With just three rooms -- two standard and one family-sized -- the vibe here is an intimate one, so those who don't want much interaction with fellow guests or hotel staff may want to look into a larger property. The B&B has free Wi-Fi and a breakfast including hot items. It also stays true to it's name with views of some of the city's most notable sites from all of its guest rooms. However, rooms have dated decor and tiny showers, and the hotel has few features.
5
Hearth Hotel is a mid-range hotel located across from the Vatican Museum, but far from most other tourist sights. The hotel offers free Wi-Fi and a free breakfast with gluten-free options served on an outdoor terrace. The 20 rooms are spacious with modern furnishings and mini-fridges, and some have views of Vatican City. There's no full restaurant on-site, but there is a small, modern lobby bar. Standard rooms are a fair rate for the location, and for guests willing to pay more, a top-floor suite with its own large terrace is available.
6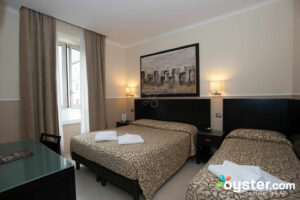 For guests looking for someplace just above simple, the 30-room boutique-style Yes Hotel might be the answer. Right in central Rome, the mid-range hotel is within walking distance of restaurants, cafes, museums, and shopping. Single, Double, and Triple Rooms have fresh bedding and small bathrooms. The Termini metro station and rail station is also within walking distance, and can connect guests to the main sights in a few stops. There's a computer for guests' use, a breakfast room, and bar, and a free, daily continental breakfast. Expect to pay for Wi-Fi in the rooms.
7
Designed for travelers who prefer a quiet, peaceful oasis to the busy city or for those who want an escape after a day of touring, the budget-friendly but luxury Villa Duse is a small, posh, and romantic gem in a high-end residential area outside of Rome. Although the center's historic attractions are a 20-minute bus or 15-minute cab ride away, there are a few good restaurants, parks, and shops within walking distance. Individually decorated rooms filled with antiques are truly special.
8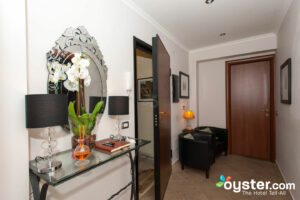 Among the best value bed-and-breakfastproperties in Rome, the Althea Inn is not exactly an easy walk from Rome's main attractions, but it is situated in the Testaccio district, an area saturated with some of city's most revered restaurants and clubs. Conveniently, the Metro is a five-minute walk from the inn, and the Colosseum is just a couple of stops away. Although there are only three guest rooms, each is clean and spacious, with a private bathroom and breezy balcony. A simple daily breakfast is included, and served in guest rooms. Don't expect any communal areas or an on-site restaurant.
9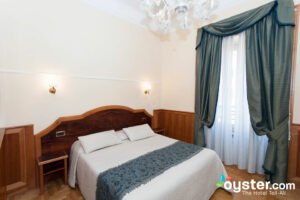 This mid-range bed-and-breakfast has five rooms housed in a 19th century apartment building just four blocks from Rome's Termini Station. Located in the central and lively Esquilino district, several historic attractions -- including the Colosseum and the Trevi Fountain -- are within a 20-minute walk (less than 10 minutes by taxi). Rooms have attractive, elegant features like parquet floors and wood paneling, plus vintage accents and handsome tiled bathrooms. Breakfast, while simple, is included with most bookings.
10
The two-pearl Hotel Columbia offers a great location to public transportation and has a few romantic features. The 45 air-conditioned rooms include flat-screen TVs, minibars, and electric kettles, though they're dated and not very spacious. Suites and Family rooms are also available. A free breakfast is served on a terrace or in a breakfast room that doubles as a bar and lounge.
11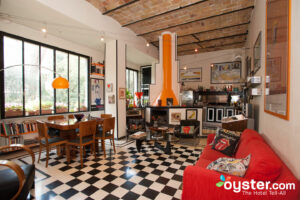 The three-room, mid-range Il Boom Bed-and-Breakfast is for travelers seeking a true taste of Roman life. Situated in a quiet area near the lively Trastevere area of Old Rome -- with its many cafes, restaurants, and historic landmarks -- the bed-and-breakfast is chic and homey all at once. Spacious, beautifully decorated rooms have vaulted ceilings, vintage decor, and lovely views of the city. Be aware that rooms are atop a flight of stairs, only one has an en-suite bathroom, and there are a few resident cats on the property, although they never enter the guest rooms. Guests looking to stay closer to St. Peter's Square and within walking distance of Campo de Fiori market should try Hotel La Rovere, which has contemporary rooms at a slightly lower price point.
12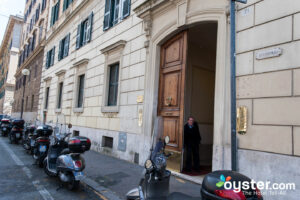 The Fabio Massimo Design Hotel is a nine-room mid-range boutique property, centrally located in Rome's busy Prati district. St. Peter's Square is less than 15 minutes away on foot, and the neighborhood is filled with high-end shops, as well as restaurants and cafes. As the name implies, the hotel has taken great pains to employ intriguing design elements, including a stylish bar/lounge that features two chairs crafted from oversized masks, plus eye-catching art throughout. Rooms are chic, with oversized earth-tone floral motifs plus air-conditioning, free Wi-Fi, and flat-screen TVs. Breakfast is also included.
13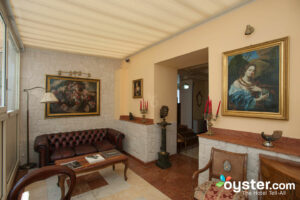 A small hotel outside the city center, the 26-room Aurelius offers value when compared with equally equipped boutique hotels in central Rome. Renovated in 2011 and classically designed, the hotel is a five-minute walk to the Cornelia metro station on the Red Line, putting the major tourist spots -- from the Vatican to the Colosseum -- within two to 11 metro stops, or up to a 30-minute ride. Rooms are comfortable and clean with nice touches like mini-bars and flat-screen TVs. Free Wi-Fi and breakfast helps keep prices low.
14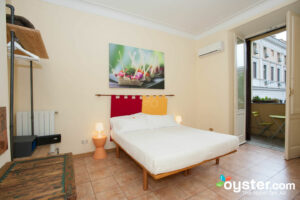 Conveniently located within a five-minute walk of Termini train station and the metro, buses, and taxis nearby, The Beehive is a great value for tourists who enjoy the young, energetic vibe of a hostel. Clean and artsy with a choice of shared rooms, privates room with shared baths, or shared apartments, the Beehive is a fun spot best suited to young tourists wanting to meet like-minded travelers, and who don't need a TV in their rooms.