Best Boutique Hotels in SoMa, San Francisco
Take a look at the best boutique hotels in SoMa.
See All SoMa Hotels
1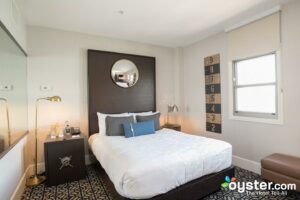 The stylish Harbor Court occupies a historic YMCA building; as a result, its 131 guest rooms are about half the size of most standard rooms. However, freebies like morning coffee, Wi-Fi, and an evening wine reception, and a great location on the Financial District's revitalized waterfront make it a reasonable choice for couples and solo travelers.
2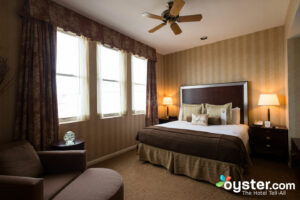 Hotel Griffon is an elegant, upscale hotel with a prime location on the Embarcadero waterfront on the edge of San Francisco Bay. Some of the 57 guest rooms and five suites have views of the Bay and the Bay Bridge, but many do not have a view at all, and most are very cramped and have small bathrooms. Throughout, decor is elegant and tasteful, and rooms have 32-inch flat-screen TVs and iPod docks, but no mini-fridges or minibars. Travelers may also want to consider the InterContinental - San Francisco, which offers bigger rooms and large bathrooms, an on-site spa, a fitness center, and a lap pool.
3
The 116-room upscale Hotel Zetta San Francisco offers a uniquely crafted hip refuge that's close to Union Square, with a decor of cool repurposed furnishings, a funky recreational room with games, a TV lounge, an on-site restaurant and lobby bar, a state-of-the-art fitness center, stylish conference rooms, and a Mac computer corner. Sleek, industrial rooms offer flat-screen TVs, and illy espresso makers. Rooms can get noisy from street traffic and neighboring guests; some parts of the area look seedy. Guests might also want to check out The Scarlet Huntington hotel.
4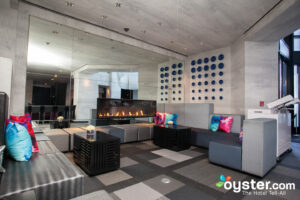 An outpost of the generally solid "lifestyle"-focused chain, the 404-room W San Francisco in the SoMa art district offers a fun vibe in a whimsical, stylish setting. But despite efforts to seem boutique-y, the W is still a big, national chain at the end of the day, and the approach is less about personal touches than overall atmosphere. Scenesters could also try Hotel Zetta San Francisco, a trendy boutique with free property-wide Wi-Fi (the W only offers free Wi-Fi in the lobby).
5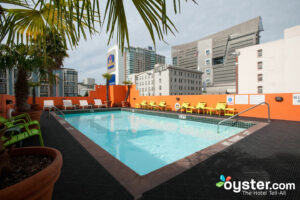 Situated on a somewhat desolate stretch of the artsy SoMa neighborhood, the Good Hotel earns its moniker, "hotel with a conscience." With features like a water-conserving toilet-top sink, the Good is environmentally friendly, charmingly quirky, and -- for those who don't mind venturing a bit off the beaten path -- one of the best budget hotels in the city.