Best Hotel Restaurants in San Francisco
A team of Oyster reporters spent weeks exploring 59 top hotels in San Francisco. We slept in the beds, ate in the restaurants, tested the service, and scoped out the neighborhoods, all with an eye toward selecting the most distinguished properties. Here's a list of our favorite hotel restaurants around the city.
See All San Francisco Hotels
1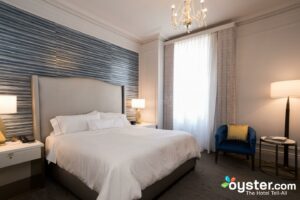 This upscale steakhouse — Michael Mina's fifth Bourbon Steak restaurant — features some of Mina's greatest hits, including lobster corn dogs, black truffle popcorn, and lobster pot pie. As far as the steak, notable options are a 28-ounce Porterhouse, an 18-ounce bone-in rib-eye, and a 6-ounce Australian Wagyu strip. Executive Chef Omri Aflalo, who did an externship with Mina while at the Culinary Institute of America, is at the restaurant's helm.
2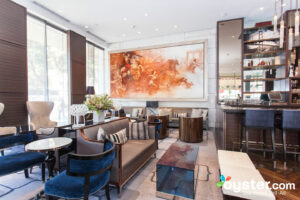 Ame's innovative mixture of Californian ingredients with Japanese and New American cooking techniques has earned the restaurant Michelin stars in both 2008 and 2009 as well as critical acclaim in publications like the San Francisco Chronicle. Entrees such as grilled dry-aged New York strip steak with crispy sweetbreads or spaghettini with a one pound of Maine lobster range in price. A five course tasting menu is also available.
3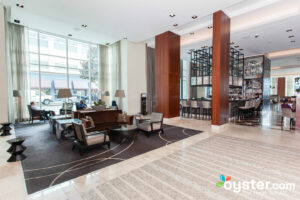 Luce has been awarded a Michelin star three years consecutively for Chef Dominique Crenn's New American cuisine. House specialties include braised short ribs with haricot verts, roasted cipollini, and horseradish and roasted local organic chicken with slow-cooked egg, corn, and bacon bread salad. In 2009, the Versailles-born chef was invited to participate in the Food Network series The Next Iron Chef. Luce serves dinner nightly plus breakfast and lunch during the week; and, on certain days, it offers a superb eight-course seasonal tasting menu.
4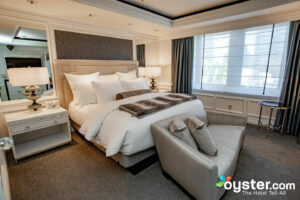 Once known for its upscale Dining Room, the hotel opened Parallel 37 in 2011 to offer a more laidback atmosphere. The restaurant is named after the latitude coordinate it runs along, and is headed by Iron Chef Ron Siegel. With mostly wooden accents and casual, modern decor, the restaurant offers French-inspired American cuisine, which is surprisingly well-priced, with dinner entrees like Sonoma Duck Breast and Pacific Halibut.
5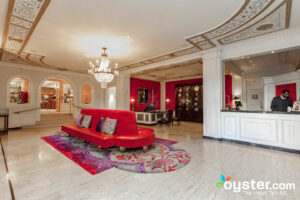 Named for the four tycoons who built the Central Pacific Railroad (C.P. Huntington, Leland Stanford, Mark Hopkins, and Charles Crocker), the Big 4 Restaurant is a high-class affair, replete with vested servers who quietly appear when a wine glass needs to be refilled. Green leather booths, dim lighting, dark wood, and railroad memorabilia on the walls give the impression of a tavern, but this is a fine-dining institution helmed by chef Gloria Ciccarone-Nehls, known for her specialty in exotic wild game (during Wild Game Week at the restaurant, she makes wild paella of crispy frog legs and rabbit-rattlesnake sausage). Contemporary American entrees such as Dungeness crab cakes and prawns with angel-hair pasta range in price.
6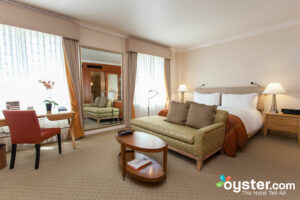 At Campton Place you'll find fine dining with all its trappings: white tablecloths and leather booths, poised servers in suits, and stylish details like this beautiful blown glass bouquet light fixture. More importantly, you'll find a superb Californian-Mediterranean menu and one of the best wine cellars in the city, stocked with 1,500 labels carefully selected by Master Sommelier Richard Dean, one of only 150 people in the world to actively hold that title. The meal begins with an amuse-bouche, like green apple and arugula foam, and continues with inventive fare like slow-roasted pork belly topped with cuttlefish and deep-fried okra.
7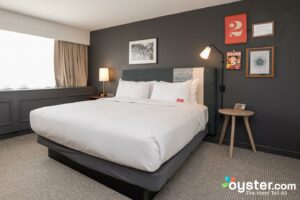 O Izakaya's Japanese-influenced small plates, such as Berkshire pork belly braised with house-made kimchee and maitake mushrooms, win raves from the San Francisco Chronicle and area locals, who come in for fancy cocktails like the Hibiscus Margarita and Oolong Iced Tea and extensive sake list. It might be styled like a Japanese sports bar -- sleek booths, red lanterns, TVs on the walls, and pop art of faces of baseball players -- but the atmosphere is quietly casual, not rowdy.