Best Kid-Friendly Hotels in Union Square, San Francisco
Take a look at the best kid-friendly hotels in Union Square.
See All Union Square Hotels
1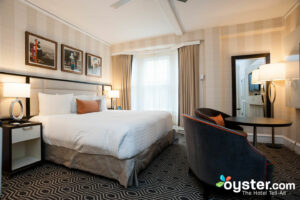 A superb Union Square location is the main draw of this upper-middle-range, European-style boutique hotel. Renovated top to bottom in 2017, this hotel has a polished look and lively contemporary artwork. Amenities such as a wine and cheese hour, cookies in the evening, and gathering areas on each floor (some with fireplaces) create a warm and welcoming atmosphere. Its 30 rooms are bright and modern, if on the small side, but they're well equipped with tablets, robes, and pillow-top mattresses. Freebies like breakfast and overnight shoeshines add to the hotel's value, and a water bottle-filling station is a nice touch. All in all, The Inn is an appealing choice, but it is more buttoned up compared to other boutique hotels in the area. For something flashier in the same neighborhood, consider the Hotel Triton.
2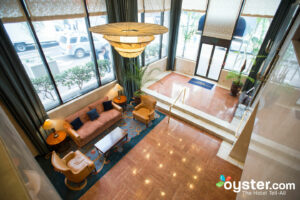 The 94-room Donatello Hotel is an upper-middle-range, all-suite property conveniently located a block away from San Francisco's Union Square. Spacious suites offer wet bars with microwaves, coffeemakers, mini-fridges, and sinks, plus sleeper sofas means that families with kids are frequent visitors. There's also an on-site Italian restaurant. The club lounge is open to all guests and offers a lovely outdoor terrace as well as free hot beverages like coffee and tea. Other amenities include a large fitness center, whirlpool, sauna, and massage services. Guests should note, however, that noise in street-facing rooms can be a problem and that parking is expensive. The Handlery Union Square Hotel nearby has a pool but rooms lack the microwaves and sleeper sofas found here.
3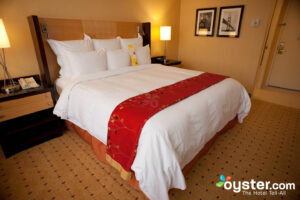 Near the designer shops and theaters in Union Square, the 400-room San Francisco Marriott reopened after renovations in 2009 to show off new guest rooms and a new fitness center. It can be a great deal, especially when it's compared to the two other Marriotts in Union Square, but unlike many mid-range hotels, there is a pesky fee for Wi-Fi.
4
The Handlery is an upper-middle-range hotel with well-appointed rooms, a heated outdoor pool, and on-site restaurant. The hotel is divided into two distinct sections, and it's worth shelling out extra for the larger, amenity-laden Premier Section rooms. Its free Wi-Fi, sauna, and fitness center make it a solid choice among Union Square's cheaper offerings.
5
The 131-room Hotel Union Square is a modern, streamlined hotel in a historic building in the heart of San Francisco's Union Square. Popular with guests seeking a central location, this property has cozy, sometimes small rooms with coffeemakers and flat-screen TVs. There is a cable car line directly in front of the hotel and perks include an afternoon happy hour with free wine and free morning coffee. Wi-Fi is free, but some guests have complained about weak soundproofing and dark, interior-facing rooms.