Best Luxury Hotels in Union Square, San Francisco
Take a look at the best luxury hotels in Union Square.
See All Union Square Hotels
1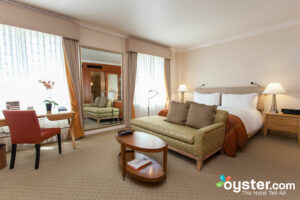 This is one of the San Francisco's most special hotels. One block from busy Union Square, the 110-room boutique hotel is an enclave of quiet luxury and pampering service. The posh rooms come with Nespresso machines, flat-screen LED TVs, limestone bathrooms, and knitted cotton Ploh robes. The Taj Campton Place restaurant is not just a hotel restaurant -- it is its own institution with a distinguished reputation and two Michelin stars. Travelers may also consider San Francisco's grande old dames -- like the nearby or the on Nob Hill.
2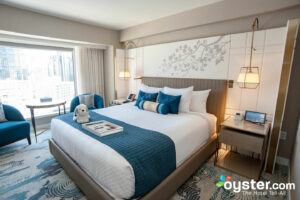 The upscale Hotel Nikko looks and feels more like a boutique hotel than the mid-size chain it actually is. Though the hotel's multiple conference rooms, stylish suites, and on-site UPS store make it an obvious draw for business travelers, the Union Square location, indoor lap pool, and sushi bar appeal to tourists as well, though small children might be happier elsewhere. Watch out for added charges tacked on to use premium Wi-Fi, the international breakfast buffet, and more -- though these are covered for guests who book an Imperial Club Room or Imperial Suite. The hotel re-opened in March 2017 following a three-month, $60 million renovation that brought upgrades to the majority of the guest rooms, common areas, and meeting space.
3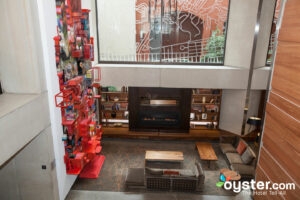 After completing renovations in 2013, this 660-room Grand Hyatt is now stylish as well as comfortable -- and there's free Wi-Fi with on-site eating options. A popular Union Square location and plenty of space for both meetings and events makes this four-pearl property an ideal choice for tourists and corporate travelers alike. Rooms at the nearby Parc 55 are often cheaper, but the venue doesn't have the Hyatt's array of business amenities.
4
The JW Marriott -- the chain's high-end brand -- tries to keep pace with the town's luxury standard-bearers with touches like 24-hour butler service and 42-inch flat-screen TVs in the spacious rooms. But with unremarkable room decor, no destination restaurant or spa, and so-so service, the hotel is just a better-than-average chain hotel.
5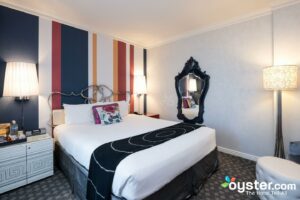 This stylish boutique hotel is one of the best upscale options near Union Square. It's not the cheapest option in this pearl category (the nearby Clift and Hotel Nikko often have lower rates), but many guests will prefer it for its fun, eclectic decor and thoughtful freebies. The rooms are on the small side but have comfortable beds, quirky-yet-elegant style, and modern technology. The lobby and "living room" are great places to hang out, especially for the free wine receptions and morning coffee.
6
Four-pearl Hotel Zeppelin stands out from the chain masses with funky yet carefully curated '60s-themed decor and a boutique vibe. An upscale, casual-cool atmosphere is on display everywhere, from the cozy lobby bar with exposed-brick accents to the popular restaurant Rambles to the downstairs game room and lounge. There's also a small gym, free bike rentals, and room service. The 196 rooms and suites are chic, though they run small, with funky bathrooms wallpapered in psychedelic lettering plus amenities like Nespresso machines, mini-fridges, and free bottled water. The location is ideal, near Union Square's high-end shops and public transit. The area is pricey, though, and Hotel Zeppelin is no exception, charging a nightly resort fee, plus extra for breakfast and parking. For a more classic upscale vibe, consider Sir Francis Drake.
7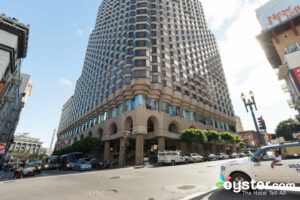 The bustling, 1,010-room Parc 55 hotel has some great, modern touches, such as big flat-screen TVs in the (generic) guest rooms and top-notch equipment in the fitness center. With over 32 floors and 30,000 square feet of meeting space, it feels like the big, corporate hotel that it is. The lack of room service and pricey fee for Wi-Fi are downsides, but all in all it's a solid choice a couple of blocks from Union Square. Still, it may be worth comparing rates with the similar Marriott and Hilton hotels nearby.
8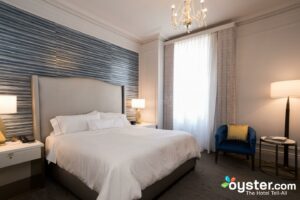 The St. Francis combines the history, decor, and traditions of a turn-of-the-20th-century grand old dame with the amenities, modernity, and corporate-dominated clientele of a large chain property. If you find a better deal at the similarly priced Palace or Meridien -- also business-oriented Starwoods -- go with one of those. If not, the Westin is a perfectly pleasant option.
9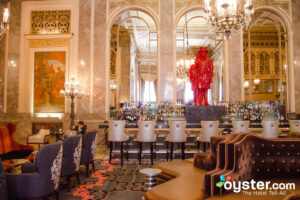 The Sir Francis Drake attracts both business and leisure travelers with its great location close to Union Square and public transportation (including the cable car that runs right outside the hotel). But the business traveler might be slightly disappointed with the amenities: The business center and fitness center are both minimally equipped and Wi-Fi comes at a cost to everyone except Kimpton loyalty program members. There are, however, ample meeting rooms for groups. Staying at a Kimpton hotel does have several perks, including free coffee and tea in the lobby each morning and a free wine happy hour in the evenings. The hotel is also pet-friendly, with no extra costs and no size or weight restrictions. The hotel is one of the oldest in the area and takes pride in its history, but the property nonetheless feels modern with its clean, quiet, and comfortable guest rooms (each features a work space).