Best Luxury Hotels in San Francisco
You tend to get less hotel for your money in San Francisco than in most other American cities. This is one of the most expensive cities in the country, and hotel rates reflect this. Also, many hotels occupy century-old buildings where no matter how many flat-screen TVs and pillow-top beds you add, there's no getting around the fact that the room was constructed more than 100 years ago. Still, as with any major destination for tourists and business travelers alike, San Francisco boasts plenty of hotel variety. Its most luxurious properties include astounding skyscraper hotels, discreet residence-style lodging built into a historic factory, and stately old buildings with classic pedigree.
See All San Francisco Hotels
1
From the top 11 floors of San Francisco's third tallest building, Loews Regency San Francisco soars over the city. Though other hotels have great views -- the Four Seasons is also on the top of a skyscraper -- none of them can compare to Loews. The views from the 155 rooms, which begin on the 38th floor, are so captivating that it may take guests a moment to start noticing the details inside. Once guests do notice the interiors, they'll find rooms that are among San Francisco's best. Not only are they big by San Francisco standards, but they have luxurious amenities such as pillow-top beds (mostly kings), large marble bathrooms, minibars, and Bushnell binoculars for peering down below. The hotel's lovely spa and modern fitness center -- covering a combined 8,000 square feet -- are standouts.
2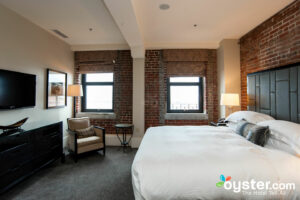 Huge, top-of-the-line accommodations; polished and extensive service; and a modern design housed in a unique, historic setting makes this pricey, residential-style spot one of the best in town. This gem occupies one of the city's oldest landmarks -- Ghirardelli Square, a former chocolate factory built in 1893 and placed on the National Historic Register in 1982. Its 22 one-, two-, and three-bedroom units all feature large living rooms with fireplaces and kitchens with Wolf gas ranges. Personal grocery shopping, Maserati car service, 24-hour butlers, and free breakfasts are among the service highlights. An Italian-influenced restaurant helmed by James Beard winner Jonathan Waxman opened within the building in 2016.
3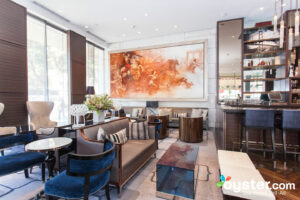 In contrast to San Francisco's grand old dames, the St. Regis offers luxury, 21st-century style. The hotel was built from the ground up in 2005, and its modern glass exterior and contemporary art collection make the hotel seem like an extension of its artsy neighbors, the San Francisco Museum of Modern Art and the Museum of the African Diaspora. But the St. Regis doesn't just rely on a pretty face to keep guests happy. Inside you'll find what's arguably San Francisco's finest in luxury. Highly attentive, personalized service includes a 24-hour butler staff (suites) and 24-hour room service. And the sleek and modern rooms and suites match the city's best for space, superior technology, and amenities. In every luxury category, the St. Regis hits the mark.
4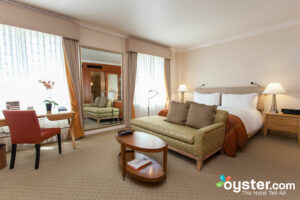 Housed in two adjoining century-old buildings, this 110-room luxury boutique is a revelation in bustling Union Square. Much of the hotel's present reputation was built in 2007, when it was acquired by Taj, which also owns the Pierre in New York. Soft renovations brought the hotel up to the India-based luxury brand's high standards, and Campton Place Taj has since earned numerous accolades as one of the world's greatest places to stay. Service is taken to new heights here. From the dedicated concierge available throughout the day to the extremely knowledgeable and attentive restaurant servers, Taj Campton Place provides service par excellence. Despite its stature, the hotel feels surprisingly casual, with friendly, chatty service and a small lobby full of fresh-cut orchids and paintings by local artists. The lobby's lack of opulence belies the hotel's level of luxury, which includes an impressive array of services and premium in-room amenities. The restaurant, Campton Place, is an institution in its own right, complete with a master sommelier (one of 150 people in the world to hold that title) and a wine cellar with 1,500-plus labels.
5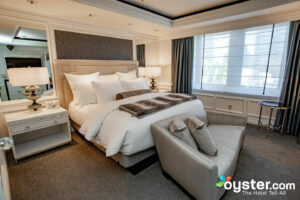 Set in a stately century-old building whose colonnaded facade resembles the U.S. Supreme Court building, this Ritz maintains the conservative classiness that defines the chain: traditional oil paintings on the walls, fresh orchids, marble everywhere, and more chandeliers than you can count. The hotel is also just two blocks from the peak of Nob Hill. In the afternoon, a harpist performs in the lounge. A rose accompanies your room-service spread. Classy all the way. Finally, there's the luxury spa, a destination unto itself; an inviting indoor pool and whirlpool (rarities in San Francisco); and an acclaimed restaurant, Dining Room. Even so, the Ritz doesn't quite match up to its competitors. No separate soaking tub and shower, just a standard shower/tub combo in the rooms, unlike at the St. Regis and no free rides in the house Maserati like at Fairmont Heritage Square.
6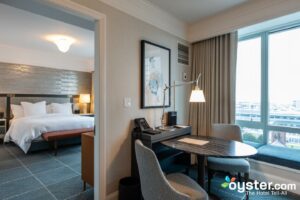 At the Four Seasons, located on the 5th to 17th floors of a SoMa skyscraper, the elevators act as discreet portals leading from busy downtown Market Street to an urban oasis. The hotel's comfortable, well-furnished rooms, complete with marble bathrooms and 42-inch flat-screen TVs, are among the city's best (and largest, starting at 460 square feet); however, Loews Regency packs a bigger punch when it comes to views, with excellent rooms on the top floors of the city's third tallest building. Four Seasons's service meets gold standards with a 24-hour concierge, 24-hour room service, and twice-daily housekeeping. But in features, the Four Seasons is, frankly, at the bottom of its class: Guests have access to Equinox Sports Club and its pool and spa in the same building, but it's owned and operated separately from the hotel, so it lacks the Four Seasons' level of service and decor.
7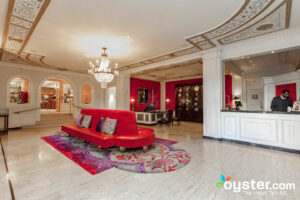 Atop Nob Hill, the upscale 134-room Scarlet Huntington is a posh boutique hotel with a lush lobby and traditional restaurant attracting a mature clientele. Though this is one of San Francisco's old-school favorites, a 2014 update gave the Scarlet a sexy, ritzy aesthetic heavy on lush red velvet, silk, and leather. Some of the spacious guest rooms have this new modern look, while many maintain their Old World charm. The hotel's Nob Hill Spa is one of the most popular in the city, and the clubby Big 4 restaurant retains its classic atmosphere. Nob Hill has great city views, and the hotel is walking distance to Union Square, Chinatown, and Fisherman's Wharf. Be aware, though, that any walk includes very steep hills.
8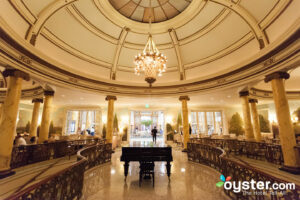 Built at the turn of the last century and opened in 1907, the Fairmont is one of the oldest hotels in the city. (The similarly grand Palace and Westin St. Francis are the only older hotel properties in San Francisco.) A lot has happened since 1907, of course, and the Fairmont now caters largely to business travelers. For leisure travelers, that adds up to some trade-offs. On the one hand, you get the quality and consistency of a luxury chain property; on the other, it's a less-than-leisurely atmosphere in a large (606 rooms) impersonal setting. One thing that never changes, however, is location, and the Fairmont's still reigns supreme. The massive original building, neoclassical columns and all, holds court over ritzy Nob Hill -- and thus the rest of San Francisco -- like a castle atop a mountain. Stepping outside the stately entrance onto Mason Street, you can almost feel those poor saps at the Ritz gaze up in envy from two blocks down the hill. The perch provides more than a feeling of superiority. If you book a room in the tower, you don't even have to leave your room -- views from these rooms are stunning.
9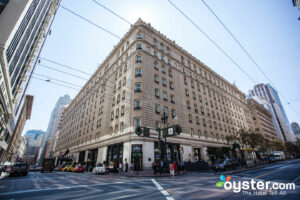 Originally built in 1875, the Palace Hotel is an eight-floor building that wraps around the corner of Market Street. The original building was destroyed in the 1906 earthquake, and when the hotel was rebuilt in 1909, it maintained its former grandeur. Today, arched doorways on Montgomery Street lead into the stunning lobby that features vintage gold chandeliers dangling from vaulted ceilings. Ornate designs make for a unique business setting with a business center, 24-hour gym, a restaurant with a gold atrium ceiling, and glass-roofed indoor pool. Elegant rooms feature antique touches, stylish mid-century furnishings, and tall ceilings; some suites have parlors with fireplaces. This San Francisco landmark has over the years welcomed countless celebrities and eight U.S. presidents.