Best Luxury Hotels in Santorini
Oyster knows what travelers look for in their hotels. When we visit properties around the world, we evaluate how every feature stacks up against the competition, from the rooms to the pools to the restaurants. So if you're planning a posh trip and need a place to start, you've come to the right place. Take a look at our top luxury hotel picks in Santorini and get inspired!
See All Santorini Hotels
1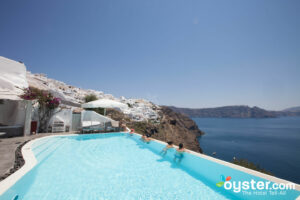 Andronis Luxury Suites is a luxury boutique overlooking the Aegean Sea. Though Santorini and over-the-top hotels go hand-in-hand, this property has the added benefit of a location overlooking the Caldera side of the Mediterranean and it is within walking distance of the shops and restaurants of Oia. Each of the 22 suites includes a private hot tub; some suites are done in the traditional cave style of the island. A dramatic infinity pool overlooks the cliffs and sea below. The on-site restaurant gets good reviews for Greek food and free breakfast with local ingredients. Like most hotels in this part of the world, expect steep steps and spotty Wi-Fi access.
2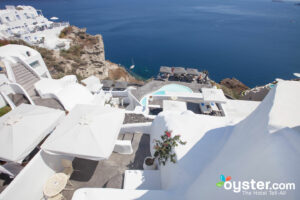 This part of Santorini is renowned for its specular vistas, and the 14-room Andronis Boutique Hotel takes full advantage of its privileged position -- there are few places in the hotel without gorgeous sea views. Cave-like rooms are luxurious and really quite special, as are bathrooms and private balconies. The pool isn't huge, but is lined with sunbeds overlooking the all-important panorama.
3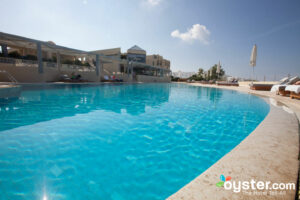 The Majestic Hotel is a bit of an anomaly among the numerous, cozy boutiques so abundant in Santorini. It's big, modern, and lacking a certain charm, but does provide a seriously extensive list of facilities -- three pools, two restaurants, and a spa. The spa offers a range of treatments as well as a steam rooms and sauna, and a gym is also on-site. It's definitely more family-friendly than most too, and rooms are luxurious with impressive amenities.
4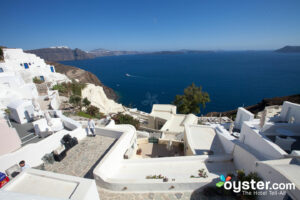 The Canaves Oia Hotel is one of the most upscale and exclusive properties on Santorini Island -- with a price tag to match. The finish is immaculate and luxurious throughout, and the layout takes full advantage of the breathtaking sea-view panoramas. The suites are spacious with impeccable interiors and amenities, and the pool is also large by island standards. Private yachting will appeal to those who really want to push the boat out, though staying here you already will be.
5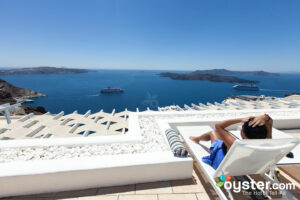 Lilium Villas Santorini is a medium-sized luxury boutique property facing the caldera side of the Aegean Sea on the island of Santorini. Prices can be high but breakfast, Wi-Fi, parking, and a shuttle service to the town of Fira are included. There's a gorgeous swimming pool with a nearby kid's pool that doesn't get much use and an on-site spa, but no fitness center. The rooms are spacious and airy but not as stunning as the well-designed restaurant and lounge area. Sunset views of the caldera are a major selling point, though you'll need a car or shuttle service to explore the rest of the island as the hotel is off the beaten path. Overall, it's a great option for a luxe romantic getaway for couples who don't require a ton of amenities.
6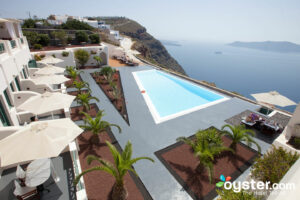 Luckily the presence of many hotel neighbors doesn't seem to disturb the relaxing vibe at Anastasis Apartments. The 11 large, apartment-style units have individualized contemporary decor and offer private balconies and kitchenettes. A welcome plus for many travelers: Anastasis Apartments is free of Santorini's typical (and tiring) cliff steps, making it great for anyone concerned with mobility issues. While there are bars and restaurants within easy walking distance of the Anastasis, keep in mind that most other mid- to upper-mid-range venues are set up for self-catering.
7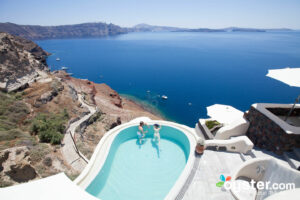 A lovely boutique property, Pezoules is set into Oia's lower caldera cliffs, giving guests sweeping views of the Aegean. With only six rooms -- many designed in a cave-like style -- it is a small, quiet, and personal property ideal for couples. Rooms mimic the hotel's chic blend of traditional architecture and minimalism and feature ergonomic Dimstel mattresses. Slim on the features but with more than the nearby Aris Caves, this property has a small infinity pool with an even smaller deck and a tiny pool bar serving snacks and drinks. The experience is best suited for travelers who want to explore the surrounding area but come back to a quiet room, and overall this is a gorgeous property with upscale rooms and an authentic Greek island vibe.
8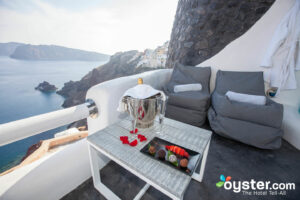 Built along the Oia cliffs, the boutique Art Maisons Luxury Santorini Hotels Aspaki & Oia Castle is a dual property with whitewashed Cycladic architecture, modern upscale decor, and gorgeous sunset views of the caldera, volcano, and Aegean Sea. All hotel features are shared but located on Aspaki grounds, with Oia Castle suites having heavier cave-like architecture and extravagant amenities. With only eight Aspaki suites and 11 Oia Castle suites, the two sections feel private and romantic, and are ideal spots for honeymooners not concerned with budget. Everything is designed to impress, from the topnotch espresso machines to en-suite pools and exposed volcanic rock.