Best Boutique Hotels in Downtown, Seattle
Take a look at the best boutique hotels in Downtown.
See All Downtown Hotels
1
The elegant, upscale 76-room Inn at the Market is one of Seattle's most popular hotels, in large part due to its unbeatable location: It's the only hotel in the Pike Place Market, right in the heart of downtown Seattle and overlooking the bay. Rooms are sophisticated and contemporary, with high-end amenities such as Hypnos beds, Sferra linens, Antica Farmacista toiletries, Keurig coffeemakers, and free Wi-Fi. Many have stunning market and water views. Its four restaurants are known among locals for their excellent cuisine (which ranges from sushi to French and Korean), and its rooftop deck has some of the most stunning views around. Guests are offered discounted rates at a nearby local gym, but the hotel lacks a fitness center. The cheaper Warwick Seattle Hotel has an on-site fitness center and pool, but its location -- though nearby -- can't compete with Inn at the Market's.
2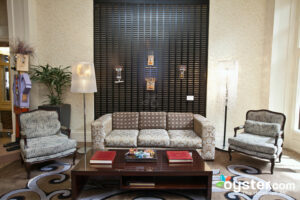 This upscale boutique hotel, featuring 121 eclectic guestrooms that cater to every possible personality, is about as perfectly located as a downtown hotel can be. Many of Seattle's most desirable sightseeing destinations are within easy walking distance, as are a vast selection of top-notch restaurants. It also sits right on First Avenue, directly above Puget Sound; a few rooms do have partial water views but many face neighboring buildings. Better harbor views can be found at hotels a few blocks north.
3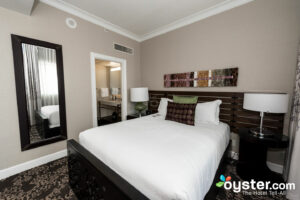 Located in the heart of Downtown Seattle, the 125-room Kimpton Hotel Vintage Seattle is an upscale property offering easy walking access to major attractions, including Pike Place Market and the Seattle Art Museum. Rooms are stylish and comfortable, with quality pillow-top beds, a wine-inspired palette, well-stocked minibars, and spotless bathrooms with shower/tub combos. Boutique-like perks -- including free nightly wine hours with snacks, free loaner bikes, and in-room spa services on request -- make this property an appealing pick in the city center, but the mandatory "amenity fee" (which includes access to a nearby gym, Wi-Fi, unlimited phone calls, and car-share credit) is a downside. The Warwick Seattle Hotel is a solid, cheaper alternative walking distance to the Space Needle.
4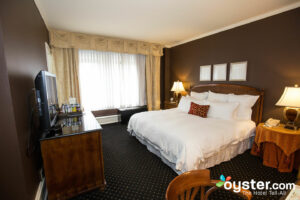 Built at the turn of the 20th century, the upscale Hotel Sorrento is an iconic Seattle boutique with 75 elegant, yet understated guest rooms and modern comforts with a dash of hipster charm. The hotel's sumptuous, mahogany-lined interiors recall an earlier era and the popular Fireside Room is a busy local gathering spot for drinks and live music. From its perch atop First Hill, downtown shopping and Capitol Hill dining and nightlife are less than 15 minutes away on foot. Guests looking to stay closer to sights like Pike Place Market may want to try Inn at the Market, an equally trendy choice that's only slightly more expensive.
5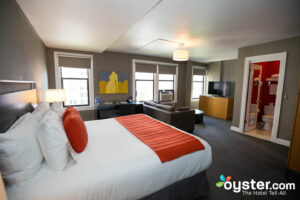 From the turntables and Tivoli radios in the rooms to the free craft beer during happy hour in the lobby, the upscale Hotel Max is distinct and stylish. Its 163 rooms are colorful and decorated with works by local artists -- and some have Space Needle views -- but space is tight, and guests report shower stalls are small. However, there is a lot of verve in the contemporary furnishings and bohemian vibe. And there's a gym, a business center, meeting rooms, and event spaces as well. The restaurant next door -- Miller's Guild -- is an industrial-chic spot with a James-Beard-award-winning chef, and it provides 24 hour room service. And the downtown location means several other dining options are in walking distance, including Pike Place Market. An alternative high-style option in the area that travelers could consider is the Alexis Hotel.
6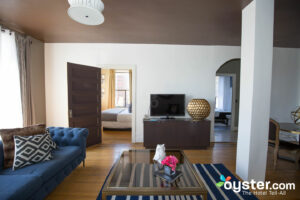 Located on a quieter block of downtown Seattle, this stylish two-pearl boutique hotel dates back more than 100 years and offers a variety of rooms ranging from small European-style spaces with shared bathrooms to a large suite with a separate living room and a kitchenette. All rooms are all nicely decorated with unmistakable charm, and many are considerably more affordable than what's on offer at many downtown hotels. Wi-Fi is free throughout the hotel but can be weak in places. Keep in mind that parking is not available on-site and breakfast is not included. The nearby Belltown Inn is another value option nearby, and it has a rooftop deck and free bikes to borrow.