Best Boutique Hotels in Seminyak, Bali
Seminyak in Southern Bali is packed with charming shops, cafes, bars, and beaches (the town boasts Discovery Shopping Mall, Potato Head Beach Club, and the lively Legian Street, to name a few sites). We visited 100 hotels in Seminyak to find the boutique resorts that are as delightful and distinctive as their famous beach town. Take a look at our expert picks for the best boutique hotels in Seminyak and start planning your trip!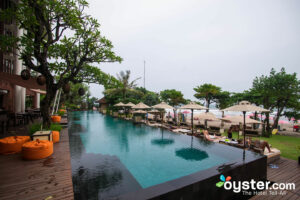 The Anantara Seminyak Resort & Spa is one of Bali's most luxurious resorts, and one of the top places to stay in Seminyak. Located right on the beach -- with panoramic ocean views from many of the 60 suites, both restaurants, and the infinity pool -- the hotel feels simultaneously modern and traditionally Balinese in its sleek, Zen-inspired style with clean lines and natural materials. The hotel has two pools, two acclaimed Thai-Indonesian restaurants (the rooftop one is among Seminyak's coolest nightlife spots), and one of the most decadent spas on the island. Free Wi-Fi, bicycles to borrow, and an area shopping shuttle are available, and both room service and the business center are available 24-hours a day.
Set in lovely, lush gardens, the Villa Air Bali Boutique Resort & Spa consists of 16 villas featuring modern Balinese architecture that includes sloped, thatched roofs and partially open-air designs. Room amenities include flat-screen TVs, DVD players, minibars (refilled daily), desktop PCs, and free Wi-Fi. Massive, modern bathrooms steal the show, though, with their beautiful soaking tubs, marble-topped double sink vanities, and luxurious walk-in rainfall showers. The gorgeous, lush grounds include a stunning outdoor pool and a restaurant, and though the beach is a bit far, the hotel offers free area shuttles (as well as airport transfers).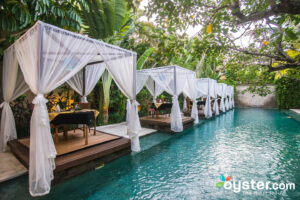 Tucked away down a narrow driveway that's lined with bamboo, The Elysian feels secluded and intimate despite being just minutes from Seminyak's main shopping, dining, and nightlife area. Each of the 25 one- and two-bedroom villas have a living area and spacious deck with a private pool and double padded loungers. Standard amenities include free Wi-Fi, king-size beds, minibars, electric kettles, safes, sound systems, Apple TVs pre-loaded with movies, and iPods with playlists. Property features include a long lap pool with cabanas, a small spa with treatments for two, and an intimate restaurant serving international cuisine.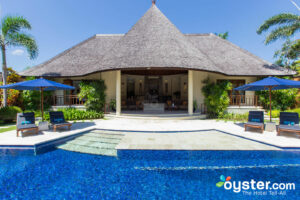 This upscale resort sits on beautiful, green grounds filled with lush vegetation, tropical flowers, and palm trees. Typical Balinese architecture includes sloped, thatched roofs and lots of open-air spaces. All 18 villas have full kitchens, dining areas, and bedrooms with romantic canopy beds and French doors that open onto the gardens and private pools. There's no restaurant on-site, but guests can book private dining services in their villas, and daily breakfasts are provided (continental, American, or Indonesian, which is made-to-order), as are daily afternoon teas and fresh fruit arrangements.
A wellness-oriented luxury hotel and spa, the Amala has 15 modern rooms and spacious villas with open layouts, private pools or jetted plunge pools. All rooms are assigned a 24-hour on-call butler. The health-conscious restaurant, beautiful spa treatment center (a daily spa treatment is included in Deluxe Room rate), outdoor mineral pool, and yoga room all make the Amala a restorative respite.
Located right in the heart of vibrant Seminyak and a short walk from the beach, this luxury boutique hotel draws couples and honeymooners with an upscale spa, a serene infinity pool, and a stylish restaurant serving traditional Balinese and international cuisine. The 24 stand-alone villas all come with a private pool and an outdoor lounge.Rates are steep for the area, but the hotel offers a number of great freebies including breakfast, Wi-Fi, airport transfer services, shuttles to local restaurants and shops, and afternoon tea with Balinese cakes.
The Maca Villas & Spa is a collection of 23 luxurious, private villas in the chic Seminyak beach area of Bali. Large and modern one- and two-bedroom villas offer luxury and respite, while still remaining close to the action and within walking distance of restaurants, shops, nightlife, and the beach. Private (but unheated) plunge pools and luxurious bathrooms with separate soaking tubs and rainfall showers are some of the restorative features provided in each villa. The hotel offers spa treatments, a communal pool, and the highly-regarded Masé Kitchen and Wine Bar, which serves fresh, organic fare accompanied by an impressive wine list. There's also a cafe on-site serving specialty coffee, as well as an array of free perks like afternoon tea, yoga classes, breakfast, and a local shuttle to the beach and around the area.
Surrounded by water features and tropical greenery, Amana Villas is a modern eco-luxury villa-hotel with a striking Zen-like style. All rooms are sleek and modern villas, constructed from locally sourced or recycled materials, and have private infinity pools, iPads and iPods, and soaking tubs. Some have fully-equipped kitchens, waterfall features, and outdoor soaking tubs. Plenty of free extras are also included in rates, including the excellent in-villa breakfast, Wi-Fi, and beach shuttles. There isn't a restaurant, fitness center, or business center on-site, but all guests get free access to the high-end Canggu Club, a country club with a large pool, gym, tennis and squash courts, kids' pool, and clubhouse with restaurant.
This upper-mid-range, 33-room villa hotel located on a main road in Seminyak offers plenty of privacy, even though it's in the midst of restaurants and shops in the heart of the entertainment district. All rooms feature their own private pools and kitchenettes, with full-size refrigerators with freezers. They also come with flat-screen TVs with satellite channels, iPod docks, and free Wi-Fi. With plenty of space to spread out (especially in the two- and three-bedroom suites), these rooms should suit families, groups traveling together, and couples. Bedrooms have their own bathrooms -- which are huge with deep bathtubs and separate rainfall showers in each. There is a small on-site restaurant and bar, as well as 24-hour room service. While the full-service spa advertised is not on the property but at a sister property nearby, the hotel provides transportation there in less than a minute via free buggy.
Le Jardin is an elegant, luxury property offering 11 luxury villas in the heart of Seminyak. It's set on a quiet street but is just a five-minute stroll from both the beach and a host of shops, bars, and restaurants. The villas are modern, spacious, and stylish, with traditional thatched ceilings and their own private pools. Features include a spa, a fitness center, and a small lounge bar, and while there's no restaurant on-site -- and the kitchens in villas are basic -- the hotel does offer some in-villa dining options, including barbecues and romantic poolside dinners.
Bonsai Villas is a small and charming boutique hotel with an outdoor pool and four Japanese-style villas with sitting areas, full kitchens, and outdoor terraces. This upscale property is located in the center of bustling Seminyak near restaurants, shops, and art galleries, yet it has a quiet and secluded feel. The hotel is smaller and less luxurious than many other Seminyak properties, is not located at the beach, and lacks facilities like a fitness center, spa, and on-site dining -- but it's more intimate and cheaper. It particularly suits couples and travelers who appreciate a serene setting in the middle of Seminyak and not too far from the beach.
The luxury Kanishka offers 27upscale villas, each with one or two bedrooms and a private pool or whirlpool hot tub. Units feel more like private houses, so a stay here differs from the typical hotel experience, and while there is much more privacy, there are also fewer facilities available at the property. However, there are plenty of in-villa activities on offer, including the chance to learn Balinese cookery from a pro. Those wanting to be near the beach may find the 15-minute walk too far, and should check out Le Jardin Villas as an alternative.
This mid-sized, upscale property is more like a tropical compound than a typical hotel. With 76 rooms in 52 separate villas, the property can accommodate parties of all sizes. There are two large lagoon-style pools (into which the Lagoon Villas open directly), and some rooms have private pools and whirlpool tubs. All villas have simple but modern decor and amenities, with large bathrooms that include huge tubs and rainfall showers. The full-service spa offers a wide variety of treatments and also has a sauna and whirlpool. Breakfast is included in most rates and is served buffet-style in the on-site restaurant, which stays open for lunch and dinner; room service is also available. While there is no direct access to the sea, several area beaches are within a five-minute drive away.
This upscale property has 17 private villas and is centrally located in a residential area with attractions a short drive away. Each large villa has a soft, modern Balinese design and includes kitchenettes, robes/slippers, minibars, and upscale sound systems. Additionally, all villas have outdoor spaces with small private pools and garden areas. Some guests have mentioned, however, that the outdoor bathrooms lack privacy. Spa Venus is a major plus and The Oasis Restaurant and Bar is generally well received, though prices are high. Wi-Fi, an area shuttle, made-to-order breakfast, bike rentals, and butler service round out the amenities.